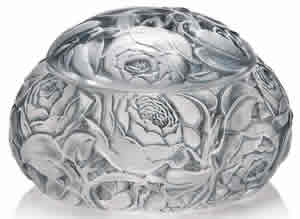 R. Lalique once again made a strong showing at the Christie's South Kensington semi-annual Lalique sale on November 21st.
Vases led the way with several world record prices, yielding a sale total including buyer's premium of £596,875 (all results are reported to include the premium), or about $960,000 at an exchange rate used throughout this article of about 1.61 U.S. dollars per British pound.
Of the total 157 lots in the sale, approximately 37 were modern crystal reproductions or just modern crystal designs, leaving 120 original R. Lalique pieces on offer. Of those 120 works of Rene Lalique, 20 failed to sell, for a take-up rate of about 83% on the original works. The 100 sold R. Lalique items added up to £484,724 or an average price of about £4850 ($7800) per lot.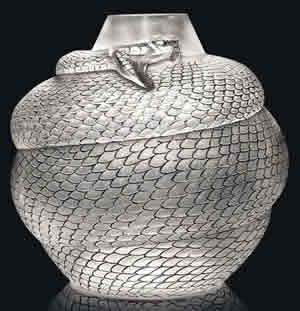 Top sellers were led by a Perruches Vase in blue glass that made a surprisingly strong £55,000, or about $88,500. Next was a tie between two lots: an amber glass Perruches Vase and a pair of Lausanne Light Fixtures. Each of these lots made £32,500 or about $52,500. Fourth place went to a frosted Serpent Vase making £30,000 ($48,500) followed by another Perruches Vase, this one in opalescent glass, which sold for £27,500 ($44,500).
The top five lots accounted for £177,500 or over 1/3 of the R. Lalique total. 4 of the top 5 prices were for vases, and 3 of those vases were Perruches Vases.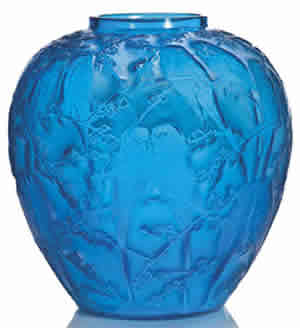 Some other notable prices include an opalescent Ceylan vase for £13,750 ($22,000), a Dinard Box at £11,250 ($18,000), and a Quatre Cigalas Perfume Bottle at £4,375 ($7,000).
The price of the blue Perruches Vase, the last lot of the sale, represents a world record price at auction for a blue Perruches Vase, and for any Perruches Vase, exceeding the price of approximately $75,500 set in these same salerooms just 6 months ago. The price on the Ceylan is also a world record price for any Ceylan Vase at auction, as is the price for the frosted Serpent Vase, though colored glass Serpents have sold higher. Finally, the Dinard Box total also is a likely world record.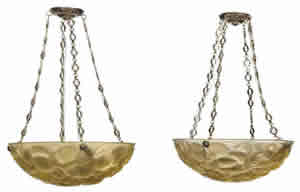 Here is a link to all the results (including the lot descriptions).
As usual, the staff at Christie's South Kensington, led by the experienced Joy McCall, did a great job of assembling a diverse group of attractive and desirable items, and working with all potential bidders in a pleasant and professional manner.
Another successful sale for Christie's South Kensington and another great day for the great Rene Lalique.