All About Us
Rene Lalique was the greatest glassmaker of the 20th Century. His output of glass spanned the time of Art Nouveau thru the Art Deco Period, and extended until the spreading World War II consumed all of Europe He was also the greatest jewelry designer of the late 19th Century continuing thru the first few years of the 20th Century as well. His moniker, RLalique, which appeared on most of his products, and which is commonly used worldwide to refer to works created by Rene Lalique or under his supervision during his lifetime, is the inspiration for our web address and everything we do here. We are first and foremost a gathering place and source of information for enthusiasts and collectors of RLalique items. We are an independent website not related to or connected to the family of Rene Lalique or the Lalique Company, or any other company, person or website using part or all of the name of Rene Lalique. We are simply all about RLalique, the fabulous artistic and industrial output of the great innovator, industrialist, designer, and artist, Rene Lalique.
Take your time and explore all of the areas of our site. The R.Lalique Auction Items section brings you information on RLalique items appearing for sale worldwide, and includes an extensive RLalique Buying Guide full of great tips and information to help you make informed buying decisions. The section on Fake Lalique works makes available to you a mountain of information on R Lalique copies, close calls, other pieces to be concerned about, and info on all kinds of items made by lesser lights but passed off as RLalique, Our R Lalique Sales and R Lalique Library sections offer the most extensive collections of RLalique items and RLalique reference materials found anywhere for sale on the planet. If you are a seller of RLalique, the R Lalique Seller Services section offers a myriad of options for you, including consigning your RLalique for sale in our R Lalique For Sale section, And for R Lalique sellers and buyers, our R Lalique Consulting Services section gives you the chance to bring our R Lalique Expertise to bear on your behalf, be it R Lalique sale or purchase consulting, R Lalique appraisals, R Lalique exclusive buyer's agent representation, or other arrangements tailored to your needs. The R Lalique News and Blog section gives you up-to-date news on the World of RLalique, and also our own observations and reflections on past, current, and future R Lalique related events. Comments on our R Lalique News and Blog postings are both welcome and encouraged. Take your time, see what we're all about, soak up the wealth of R Lalique information on the passion we all share, and let us know if you have anything to add to the information you find here. We welcome all suggestions, all information and most importantly, even the rare correction:), which we will make cheerfully and promptly. We've even created a special Lalique News and Blog Reality Check Thread where you can question or supplement any information on the website if you think we have our facts wrong! Grow with us, and we will continue to grow with you.
Click Here To See What Readers and Users of RLalique.com Have To Say About Us!
Our Management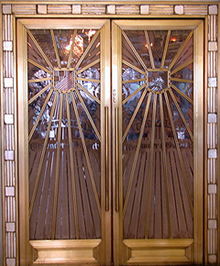 Our advisor and manager, Greg Zimmerman, has been involved with the output of Rene Lalique for 40 years. His collection of both one of a kind and commercially produced RLalique items, includes pieces that have been exhibited all over the word at exhibitions that spanned the 20th Century. He has consulted with and provided advice on the topics covered by the website to large numbers of sellers, buyers, experts and auction houses around the world, on subjects including authentication, valuation, condition and the state of the market for RLalique pieces. He has also helped document and authenticate previously unknown works by Rene Lalique as well as lost works, items known to have been produced by which had not been seen or photographed previously in the literature. Mr. Zimmerman is also the custodian of a massive and scholarly reference library of period material on the great Rene Lalique and his works.
An untold number of Rene Lalique enthusiasts have contributed countless hours to the operation of the website, providing information and assistance on virtually every subject throughout the site. These volunteers have helped to create a richer and more informative gathering place for the entire collecting community. Their contributions range from a one time note or email with specific information, ideas, or advice, to the efforts of several enthusiasts who have contributed literally hundreds of hours of their time and expertise in support of our efforts. While no contributor has asked for any recognition of any kind, which is in line with our philosophy to keep the focus on Rene Lalique and his works and not any individuals, the efforts and assistance of several people has been so extensive and so unselfish, that we mention them here.
Andy Feltz: Longtime collector. Andy may be the person that has owned more pieces of R. Lalique in the new millennium than anyone else in the world. Andy has provided extensive advice and information on a wide variety of R. Lalique subjects.
Michael Siscoe: Longtime collector. Michael has developed extensive information about fakes and forgeries and has provided invaluable assistance in the continuing effort to educate enthusiasts and collectors in the identification of problematic pieces.
Laurens Tartasky: Longtime collector and dealer in the works of Rene Lalique. Laurens has been involved with R. Lalique for approximately 40 years. He has provided expert advice and information on topics spanning virtually the entire collecting field.
John Nemeth: Longtime collector. John's continuing contributions began even before RLalique.com became an address on web. Much of the website, both what you see today and what you will see in the future, has benefited from the input and ideas sorted out with John's highly practical advice over many hours as the site progressed from bare outline to detailed implementation.
When you read the testimonials from the link above, some of the comments you see there are the result of the work of anonymous (and now a few not so anonymous) volunteers dedicated to providing education, help, and information to other enthusiasts and collectors worldwide. Their only expectation has been the satisfaction of knowing that they helped create a better collecting field and gave something back to the larger community involved with the works of the great Rene Lalique.
In that regards, we have many plans and projects to continue to improve the website, and we can always use more help. If you want to volunteer your time and expertise on projects big or small, on a one-time or continuing basis, send us an email. We'll be glad to talk over opportunities and areas we can work on together to create a better and even more informative gathering place for all enthusiasts and collectors.