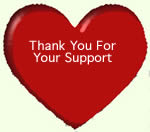 Back where I come from there are men who do nothing all day but good deeds. They are called phila...er -- er -- philanth-er -- er, yes...er .....good-deed-doers! And their hearts are no bigger than yours. But! They have one thing you haven't got! A testimonial! Therefore, in consideration of your kindness, I take pleasure at this time in presenting you with a small token of our esteem and affection. And remember, my sentimental friend...that a heart is not judged by how much you love, but by how much you are loved by others.                  From The Wizard of Oz
Testimonials
We thought we'd share some of the many kind and encouraging comments we've received about the website. Thanks to all of you who took a moment to offer words of support. We appreciate it.
Long live Rlalique.com! All the best!
Thank you for your learned, erudite, and sometimes light-hearted website. While I might not aspire to owning a piece, I have enjoyed reading so much of what you have to say. My initial interest was to research a work of fiction but I will return for the sheer pleasure of reading.

Thanks for your quick response. Helped immensely
Thanks, you guys are the best!
Thanks Greg that's brilliant
Wow! That's amazing. Looks like you are spot on. I really appreciate your time and effort on this. I glanced through parts of your website and you have done a spectacular job with it, so much great info and very comprehensive.
thank you so much!
for the quick reply
Thanks for the information!
thank you very much for your kind and quick reply.

Greg, thank you so much for your reply..
It was much appreciated.
I wish you well..
thank you for your support
Thanks for your prompt reply and I appreciate the information and your observations.
I am so glad I found your wonderful Rene Lalique website, it is so informative
I can't thank you enough for your wonderful advice. It is so very much appreciated! The ..... did very well, a true heaven sent for us.
Thank you so very much!
Greg -- you're the best -- thanks so much! Thanks for taking the time with this - I really appreciate it...
I can't thank you enough for your kindness in sharing the information and featuring the auction on the site. It has certainly caused a stir and I have already received emails about offers and Buy it now prices. I will follow your advice and let the auction run it's course.
With gratitude and wishing you great success in all your ventures,

Thank you for the information and for your kindness !

Hi, many thanks, what a great help this site has been, I wish there were more like that, quite amazing
I think you are doing a great job
Thank you for all your advice and help over the last week. It really has been appreciated.
Three cheers for RLalique.com! One up for the good guys!
I think your site is brilliant , a great place to find out whats going on in the world of R lalique . If they handed out medals for such things I would nominate you!!
You have been very kind, thank you.
Thank you! You have been incredibly helpful.
Thanks so much for your help
Thank you so much, you have been extremely helpful.. We REALLY appreciate all of your help.
Dear Greg, very well done.
Thank you so much for this service. You are a quality company that set the bar for all others to try and reach.
I love your website!
Thank you so much for your quick response. I do appreciate the help.
You are awesome! Thank you so much!
I would, of course, have not known of its existence without RLalique.com!
I AM VERY HAPPY TO FIND YOU ALL. THANKS,
WOW! Hooray!
Delighted to have found your site. Super service to the public. Especially like all the information about fakes and copies.
This without doubt the best Rene Lalique site on the web. It is well conceived and all of the sections have ready links making navigation throughout the site a breeze. Thanks to the creators for an excellent job.
Hi there thanks for that great site for info.
Brilliant!
FANTASTIC job as always, every section has something fresh to offer each week- WELL DONE
Hi, First I would like to congratulate you on your new site, it is very comprehensive and is a welcome addition to the world of Lalique.
Dear Sir/Madam, I am pleased to see that you have created such a website.
I'm very very impressed - it looks pretty good, is ok to use and full of useful information -Congratulations!
I'm impressed!
Thank you so much for this information
Thank you so much for your valuable information!! You put my mind at ease.
I think that your site is a wonderful idea .... I will most certainly do all I possibly can to assist from this side of the pond.
Always interesting to read what is going on. So much marvelous information!
Great to see your excellent and very well informed site . Congratulations!
I think your site is fantastic.
I am indebted to you. Onwards and upwards with your website.
It's so good to have a good reliable and well set out site as yours on this most interesting but complicated collecting subject.
I will bookmark site, very helpful.
Thank you for your help and your prompt response!!!
.........I was able to find your excellent site.
This site really is amazing!
I would like to thank you for a wonderful informative website I must have read every page and enjoyed every minute.
Thank you for your time, and Thank You for providing this service. I appreciate it.
Thank you so much for all your help. I am so glad there is a site like yours...I will recommend it to everyone I know, you guys are amazing!
You folks have a wonderful website and we thank you for putting it up.
Thank you that helps a lot. We hope you have a Merry Christmas and a Happy New Year.
Thank you very much have a blessed day.
....... we appreciate your information and (would) value your opinion.
God Bless. Thanks
I LOVE the way you are improving your FANTIASTOC site daily.
Hello, I love your site.
Hi. You have been most generous in assessing these modest pieces. I appreciate your service and the integrity you bring to the iffy cyberworld of antiquing. Now I will know what to look for the future. THANK YOU.
I know well rlalique.com, I often visit it. It is great website for the passionate persons!
Thank you very much for your time and the information you provided. It is very much appreciated. You gave me some great leads!
Thank you so much for your speedy reply and for the photos of the other plates. What a wonderful job you must have - I hope it is lucrative for you!
first bid is in and i am amazed that you even bothered to let me know what i had................ GOD BLESS YOU
thanks much for the feedback and words of wisdom.
thanks again, glad to know people like you are out there helping people like me!
Thank you for telling me. I didn't know about that ..... Appreciate the heads up and thank you again.
Thank you so much for your message Best regards from Paris
Thanks so much for the info and for the referral
Hi! Thank you SO MUCH for letting us know! I just tweeted (on Twitter) what you told me! How cool that you let us know what we didn't know. Love meeting people like you! Thank you again for the info and for the tips!
Again, many thanks for all you help.
Many thanks for your very kind email and the information therein
Merci beaucoup pour vos informations!!! Best Regards
Thank you very much for the information
THANKS FOR YOUR ADVISE. I APPRECIATE
BEST
I frequently visit the R Lalique website - it is a great reference site.
Bonsoir, un grand merci pour votre mail et les informations complémentaires que vous m'avez données.
A bientôt.
bonsoir
je vous remercie pour vos conseils et du site Rlalique
cordialement
Thanks so much for your email.
That really is interesting and definitely helps me in getting more information on the vase.
Thanks a lot,
Best regards and thank you again for this
Thank you so very much.
Your most Kind.
just wish to express my appreciation for your assistance thank you very much and your website is excellent certainly learning a lot kind regards
Bonjour et merci beaucoup pour ces informations précieuses
amicalement
Thanks again for all of your hard work. I appreciate it so very much.
Hi, thanks for the info
Thank you so much!!!
Thanks, you do a great job.
THANKS!
THANK YOU AGAIN AND AGAIN AND AGAIN.
merci pour vos conseils
Yes, thank you very much. That is exactly what I was looking for.
Merci beaucoup
Thank you very much. Very appreciated. I've used your website numerous times to help identify fakes and authentic pieces.
Wow, great. Thanks for the help and info,
Thank you for your time and your excellent website information.
Merci beaucoup pour vos conseils avisés. en effet je débute.
Thank you very much for your friendly and informative email.
WOW!!!, thank you
Thank you so very much for the information . . . I am so glad to finally know WHAT I have.
Have a great weekend!
Thanks what an education you gave me.
you are great thanks for your hard work.
Just wanted to say that your website is great and it is thanks to your information that we found the bowl in the first place.

Keep up the good work!
What a great help – I don't know if I would ever have found that! Thank you very much
I am amazed at the fast and personal response that you've given on a free service. Thank you very much.
Please receive my compliments and new interest in your site
Yes, thanks to you guys!
The services your firm offers are really wonderful.
bonjour, je vous remercie pour ces precisions. Cordialement.