R. Lalique Authentication Overview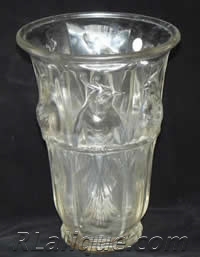 1. IT'S FREE for an item you own! Please take the following steps before contacting us:
A. The first step is to consult with our Rene Lalique Catalogue. Go to the right category in the catalogue for your item and open up the main page for that section. A picture catalogue will appear on that main page. If you see your piece on that page, click on the photo and check out all the information, compare the photos, the individual descriptions and the other information to your piece. Also, at the top of each category page are suggestions for other categories you might also check if you don't see your item in the category you are looking at..
The next step is to check out the photos in our Fake Lalique section. Take a look at both the Fake Lalique Intro to get an overview, and then find your item category in the R Lalique Forgeries Section to see if it's shown there. If your item is not pictured in our Fakes section, go to step B.
B. Take a look at the Lalique France Crystal Signatures page. Our site is all about Rene Lalique and the R.Lalique works created during his lifetime (he died in 1945). If you have a piece of modern crystal Lalique made after his death, we currently do not offer authentications on modern pieces. The modern crystal signature page is not yet complete, but we show examples of modern signatures that are on the majority of modern pieces and discuss the fine points of the modern signatures. If your piece bears a signature shown on the modern signature page, we cannot authenticate it. If you know for a definite fact that your piece is a post-war modern crystal piece, please do not submit it.
C. If your piece is not shown in the Forgeries section (Step A), and it's not signed with a Crystal Lalique Signature (Step B), take a look at the Identify Fake R. Lalique page. In just a few minutes, you can scan a handful of catalogues and websites which have photos of items that account for the majority of every fake we see.
D. Next check is the R.Lalique Copies page, which shows all of the pieces were we know that close copies have been created. If you see your piece on this page, it may still be authentic or may not, depending on if it meets the criteria for a close copy discussed for each particular piece.
If after taking the steps in A., B, C, and D, above you are unsure of the authenticity of your item, email or mail us a photo of your item, and any other info you have such as color and size, we will tell you (if we know from the photo) for no obligation, FOR FREE, if it's RLalique or not. Just click this Submit Photo link to get started or get our email address from the Contact Section if the submit link does not open your email program and put our email address on the "To" line. Photograph Submittal Guidelines are at the bottom of this page. Please read them. Also, please submit only two photo as discussed in the guidelines; one of the piece and one of the signature or mark on the item. If we need added photos to make a determination, we will let you know. By submitting a photo to us for a free authentication, you authorize us to use the photo in the normal course of things as specified in the Photograph Submittal Guidelines. Also please include a measurement: the height or length of the item to the nearest millimeter or 1/16 inch. Remember, there are no catches, no hidden charges, no charges of any kind. If we can tell you from the photo if your item is or is not RLalique, we will do it for free.
IMPORTANT NOTES TO READ BEFORE CONTACTING US: We reserve the right to limit the number of free authentications. Also, this service is for an item that you own. Our free authentications are for your use as the owner only, and not for third parties or subsequent owners. Our free authentications do not address condition or any other matter, only authenticity. If you are interested in having an item you are considering for purchase authenticated, please see our Rene Lalique Consulting Services and after reviewing the services we offer, contact us for a consulting fee quote. We cannot do free purchase consulting. Also, we do not authenticate signatures, only pieces. And we don't authenticate partial pieces, pieces with significant damage, or pieces that cannot be fully seen.
2. If we tell you your item is not RLalique, and you want additional information, such as getting the actual identity of the company that did make the piece, there is a small charge (typically $20), assuming we can identify the item for you. The email we send you after we see your photo will give you your options and how to select one if you are interested.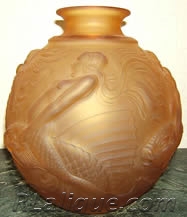 3. In the rare circumstance where we cannot say from the photo or photos if the item is RLalique or not, we will let you know what steps we recommend and/or what options there are to authenticate the item. And we may just steer you in what we think might be the right direction. But again, there is NO obligation of any kind.
4. If you require any additional advice or information such as a Lalique Appraisal, or advice on selling your item or items, check our R Lalique Sellers Services Section, where we offer a wide range of options for sellers of RLalique. Our Lalique Consulting Services Section may also be helpful if your requirements are more complex than just wanting to sell an item or items.
NOTE: All authentications are given in writing via email or letter. We do not give authentications orally or informally over the phone or in conversation. We only do so in writing. Nothing said in any conversation of any kind should be considered an authentication.
By the way, none of the pieces shown on this page are RLalique.
Photograph Submittal Guidelines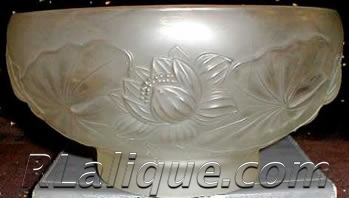 Any photo you send us should have the entire item in profile, showing the piece as it would be displayed on a shelf in your home, with the entire piece in the photo on a plain hard surface. For authentications, send one photo of the item (unless more are specified below) and a clear photo of any signature and all words, letters, numbers, and other markings on the item. And in your email, please state what all such markings say. Sellers may want to send several photos. If we need added photos after seeing the first email, we will contact you. For all pieces, this should be directly from the side or front. For bowls, plates and boxes, also submit a 2nd photo from above so we can see the entire design. For perfume bottles, if the design on the stopper is not fully visible from the side, also send a photo from above showing the design on the stopper. In addition, include a photo showing the backside of the bottle and stopper. For jewelry, three photos to include the front, the back, and the signature or markings. For a light fixture, one from below to see the design that would be visible from underneath the fixture, one from above, and one from the side.
For all photos, the closer the better (while still showing the entire piece in each photo) and only regular room or outdoor non-glare lighting. A dark room with a spotlight is not good. Blurry photos and tiny photos are not acceptable. The piece should be sitting as it would on display, not laid down on carpet etc. Photos should be of the piece as it would normally sit, not sideways. The plainest background you can manage behind and under the item, and no writing, signs or people in the photo are best. Do not send photos of other items. We only want to see the object you are asking about. Be sure to include the dimensions of the item (to the nearest 1/16 inch or millimeter) and your name and phone number in the email with any additional information you think might be helpful concerning the item.
We won't consider requests that have watermarked photos or photos with writing, signs or other distractions.
Please just attach the photos to your email. Do not send a link to another website for seeing photos and do not send a compressed file. We will not click on anything that launches another program or goes to another website. Basically, we will not click on anything in an email.
By sending a photo to us for a free authentication or for any other reason, sending us any unsolicited photo, or in all other circumstances where a photo is sent to us, unless we agree explicitly in writing to the contrary in advance, you are agreeing to allow us to use that photo in the normal course of things, including posting it on the website, using it an article or other published material, watermarking and editing it, or for any other reason.
Finally, we do not give off-the-cuff price evaluations. There are just too many factors involved in the value of an R. Lalique item that we cannot know from a photo or two. Please don't send us emails asking what something is worth. If want an appraisal, we will refer you to an experienced R. Lalique appraiser for which we receive no compensation of any kind from you or the appraiser.