René Lalique - A Giant Among Giants
Introduction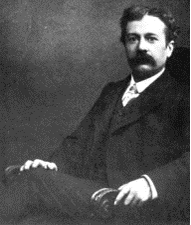 René Lalique was born a rural 19th century man in a pre-industrialized Europe. It was a time before light bulbs, and telephones, before automobiles and washing machines and electricity. But by the time of his death in 1945 at the dawn of the atomic age, he would have completed two careers spanning two different centuries. In 1900 at the age of 40, he was the most celebrated jeweler in the world and an art nouveau artist and designer of magnificent proportions. But by 1925 at the height of the art deco era he was the most celebrated glassmaker in the world. In between Lalique would leave his contemporaries behind as he turned from creating unique jewelry and objects d'art, to the mass-production of innovative and usable art glass. He brought glass into the home of everyday people where it had never been before, and he worked out the industrial techniques to mass-produce his useful art glass objects on a scale and cost to complement the spreading industrial revolution and resulting worldwide appetite for his products.
Lalique is remembered for his jewelry and his glass. But his greatest accomplishments were born in his recognition of the changing world in which he lived. His life spanned the entire period from before the American Civil War to the end of World War II in Europe. And as his world changed, so did Lalique. His amazing turn of careers and fields put him in the forefront of the new mass-production. He was a jeweler, he was a glassmaker, he was an artist. But his great accomplishment was to combine those talents with foresight and innovation to not just serve markets, but to create them. In the process, Lalique would become a world class industrialist with an industrial ability on par with any other of his rich talents and achievements.
The artist, the designer, the jeweler, the innovator, the glassmaker, the industrialist, the visionary! This is his story.

Jewelry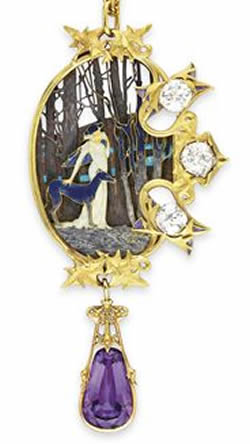 Born René Jules Lalique in 1860, in the small village of Ay, in the Marne region of France (the former Champagne Province), René Lalique would rise to the top of many fields before his long career would end with his death in 1945.
When René Lalique was just two years old, his family moved to the suburbs of Paris. There Lalique eventually went to school at the Lycee Turgot. After the death of René Lalique's father in 1876 when René Lalique was 16 years old, René Lalique became apprenticed to the jeweler Louis Aucoc. Aucoc was among the leading jewelers working in Paris at the time, and this provided a perfect opportunity for the young René Lalique to learn jewelry production and design from the ground up. While working for Aucoc, Lalique also studied at the Ecole des Arts Decoratifs in Paris. In 1878 he attended college in Sydenham England (now part of greater London), and returned to France in 1880. Upon his return to Paris, he worked designing jewelry for a relative, M. Vuilleret. René Lalique also spent time studying under the sculpture Justin Lequien at the Ecole Bernard Palissy. By 1881, Lalique was working as a freelance designer for many French jewelry firms, which came to include Cartier and Boucheron among others, and also for a growing list of private clients. By 1886 he had begun operations at his own workshop in Paris, the former workshop of Jules Destape. This is also the year that René Lalique married his first wife, Marie-Louis Lambert (some reports place their wedding in 1887). They would have one child born in 1888, a daughter named Georgette, who died in 1910. The couple were divorced in 1898, but may have been legally separated since 1893.
In 1890, René Lalique opened a new jewelry shop in the fashionable Opera district at 20 Rue Therese in Paris. Lalique also met his second wife, the daughter of the sculpture Auguste Ledru, Augustine-Alice Ledru in the same year. The ensuing time spent working at and living above this new shop, saw the creation of some of René Lalique's most celebrated jewelry designs, as well as his experimentation with, and increasing use of glass.
Lalique's primary jewelry design motif was the natural world. He was influenced not just by the natural world of the French countryside, but also Japanese natural world art motifs as well. And he incorporated into his jewelry many materials not widely used in his time for high end jewelry including glass, horn, pearls, semi-precious stones, enamel, and ivory. He only used the typical valuable gemstones of the period for what they brought to the piece artistically and not for their value as gems. Therefore his Lalique jewelry creations were not just holders for high value stones, they were artwork in their own right, creating a worldwide interest and a huge demand.
In 1892, Suzanne Renee, René Lalique's first child with Augustine-Alice Ledru, was born. By the mid 1890's. René Lalique was a notable figure in the world of jewelry and fashion in Paris. He was designing jewelry for his famous patron, Sarah Bernhardt, he exhibited at the Salon of 1895, and his Lalique jewelry could be found at such leading places as the store of Siegfried Bing, the Maison de l'art Nouveau. In 1897 Lalique received first prize at the Salon in Paris, where he exhibited ivory and horn hair combs. This same year he was also awarded the Croix de la Legion d'Honneur for the jewelry he exhibited at the World's Fair in Brussels. By 1900, at the Exposition Universelle in Paris, René Lalique jewelry was a sensation with the roughly 50 million visitors to the Exposition. But he exhibited not just jewelry, but also objects d'art made using bronze, ivory, and glass. By the end of 1900, René Lalique was recognized as the premiere jeweler of his day, and as a decorative artist of the highest order by both the public and his contemporaries.
Augustine-Alice's second child, Marc Andre was also born in 1900. René and Augustine-Alice were married in 1902. She would pass away only 7 years later at the age of 39.
1904 saw René Lalique exhibit at the World's Fair in St. Louis, and also saw the death of Emile Galle, one of the greatest glassmakers in the world, and the man who in 1897 had called René Lalique "the inventor of modern jewelry". Unfortunately, Galle would not live to see what Lalique would accomplish in the design and manufacture of glass.
In 1907 Lalique had a son by the name of René Claude Le Mesnil with a French woman Claudine-Juliette Le Mesnil whom he met in London in the period 1904-1905. Mr. Mesnil is listed by the Musee des Arts Decoratifs in Paris as the donor in 1960 of the famous brooch known as The Kiss which you can read about at the linked article. This brooch dates from about 1905 and carries a French language inscription which translates in English as follows: I dream of kisses which last forever!

Glass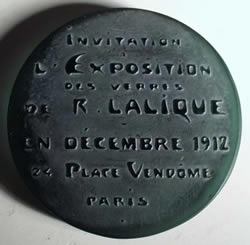 Near the end Lalique's jewelry career, he increasingly experimented with glass in both his jewelry and unique objects. Before his glassmaking career would end, Lalique would create an amazing array of over 1500 glass models including ashtrays, seals - cachets, clocks, paperweights, car mascots, vases, decanters, pitchers, glasses and stemware, plates and bowls, knife rests, lamps and all manner of light fixtures, pendants, brooches, necklaces, decorative objects including statues and plaques, architectural objects including glass panels, fountains, and doors, perfume bottles, boxes, menus and menu holders, inkwells and rocker blotters (ink blotters), mirrors, frames, and a stunning variety of decorative and functional tableware. He also produced unique glass objects including the prized Cire Perdue vases and other Cire Perdue pieces so highly sought after by collectors today. By 1902 Lalique was experimenting with and manufacturing glass at a country home in the village of Clairefontaine, not too far from Paris. Glass was still being made there at least through 1912. Before 1910 he was also producing glass at a factory in Combs-la-Ville. By 1912 René Lalique was producing an array of "Lalique glass" objects in addition to perfume bottles, and exhibiting successfully at the Salons in Paris. 1912 saw a significant all Lalique glass Exposition put on by René Lalique at his Place Vendome location. The pictured invitation is in the form of a green glass medallion with mistletoe decoration on the reverse, which Lalique used to promote that Exposition of Lalique Glass in December of 1912.
During World War I, the glass factory of René Lalique manufactured many practical items made necessary by the ongoing war, including plain glass bottles and containers for hospitals and medicines.
Overall, the period before 1920 saw a growing and varied production of René Lalique glass objects from one of a kind molded and cire perdue vases, to ashtrays, cachets, and tableware. Hundreds upon hundreds of different designs, both single, and large scale commercial production items were created during this period. René Lalique brought his design and industrial talents to creating just about anything that could be made artistically with glass. This also included car mascots, light fixtures, statues, fountains, and a dizzying array of other objects. René Lalique employed up to several hundred workers at one time, and brought art into the lives of ordinary people thru both useful and decorative glass creations which the public clamored to purchase. But René Lalique did not stop at just industrial production to create his magical glass. Many of his works were subject to post manufacture touches including enameling, patinating, frosting, and polishing; all designed to create even more unique and desirable objects.
Demand was already so great for Lalique Glass prior to 1920, that in 1919 work began on a new glass factory at Wingen-sur-Moder in the Alsace region of France. This new manufacturing facility was completed in 1921. Lalique's plans for his new his glass factory were spelled out in an interview he did in the mid 1920's when said he wanted to reduce the price of glass while making many different designs, so he could introduce his art (his art glass) into every home and make it available to everyone.
The mid 1920's also brought forth two more children for René Lalique, bringing the attributed number of children to a total of 6. 16 years after the passing of his 2nd wife, at or near the age of 65, he fathered a son Jean Raymond in 1925, the first of two children with Marie Anere. The second child, a daughter Renee Jeanne Georgette was born in 1927.
The most complete printed book available that inventories the majority of René Lalique's works in glass is the 1064 page nearly 4000 photo R. Lalique Catalogue Raisonne.

Perfume Bottles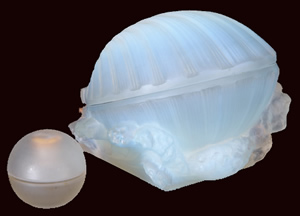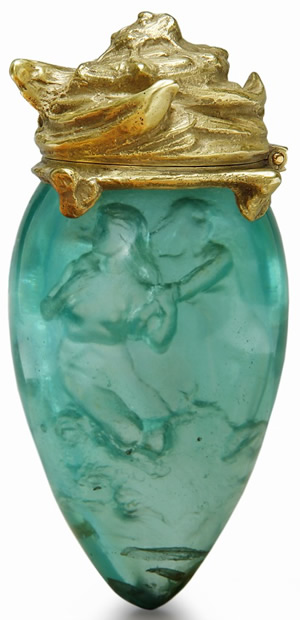 In 1905, Lalique opened a retail store in the Place Vendome in Paris. Lalique would keep this location for 30 years until 1935, when he moved it to 11 Rue Royal. Fortuitously, his new Place Vendome store was located very close to the shop of the perfume seller, Francois Coty. By 1908 René Lalique had already made significant experiments with the use of glass in his jewelry and in decorative objects, and it was that year that he designed the first perfume bottle labels and then the bottles themselves, for Francois Coty, changing the face of the perfume business forever. Prior to this time, perfume bottles were just plain flasks that held expensive perfumes. But with the invention of synthetic oils that could be used to mass-produce perfume, René Lalique saw the potential to take a plain everyday object and turn it into an art object. He became the preeminent manufacturer of perfume bottles, designing and producing hundreds of Lalique perfume bottles for dozens of firms. His very first designs for Coty were made by Legras Glassworks, but Lalique also rented a glass factory in 1908/1909 in the small town of Combs-la-Ville, a factory he would purchase by 1913. This confirmed his transition from designer and manufacturer of jewelry and objects d'art, to designer and manufacturer of glass objects.
In October 2012, the 10 centimeters tall tear-drop shaped Sirenes Cire Perdue Perfume Bottle with bronze cap made by Lalique in 1905 and pictured here, sold in Tokyo Japan for a world record price at auction for a René Lalique Perfume Bottle. The final price was a total of 28,750,000 Japanese Yen, or about $370,000 U.S. Dollars.

Vases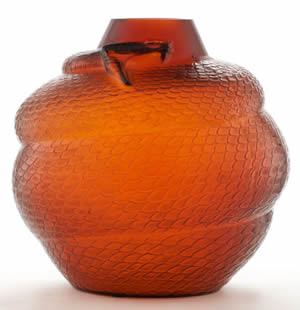 Perhaps the most widely known and often noticed works of René Lalique are his wonderful art glass Lalique vases.
As early as 1898, there is a René Lalique vase with an open metalwork frame in the form of serpents, with glass blown into it pictured in a period publication. That Serpents vase has never appeared publicly. A similar Lalique vase with a frame of swans recently appeared in South America and has been exhibited around the world. The next documented Lalique glass vase and the first completely glass vase dates to 1909, and is in the collection of the Musee des arts decoratifs in Paris. 1910 thru 1912 brought forth several more unique or nearly unique vases, and also the 1911 vase models Frise Aigles and Quatre Masques, the first vases known to have been made in production volumes of more than a few copies. The next 30 years brought forth an incredible array of vase designs which transitioned from art nouveau and natural world mold blown vases, to increasingly press molded art deco and geometric designs of the mid 1920's up to the start of World War II.
In all, over 300 vases (not including unique cire perdue vases discussed later) are documented, all but a dozen or two being production models that were intended for sale to a growing international consumer base.

Car Mascots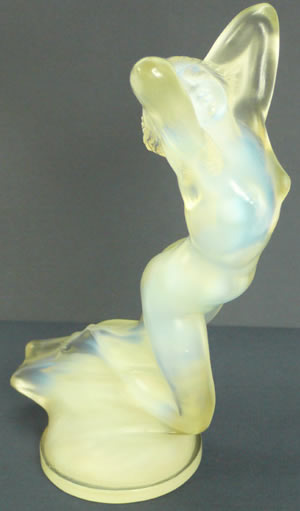 René Lalique's car mascot creations are legendary to this day, and can sell for well over $200,000 for the rarest of his works. Lalique's Glass car mascots (hood ornaments) are the most sought after of all car mascots, not just by collectors of RLalique, but also by general glass collectors and antique car collectors.
The most expensive and fanciest cars of his day were adorned with one of his mascots and even today his mascots grace the hoods of some of the greatest cars of the early 20th century at car shows, in private collections, and in automobile museums. He also designed bases to hold the mascots, and special wiring and lighting inside the base that could be adjusted using colored filters, so that the mascot would glow in any of several colors while the car was being driven. Mascot owners could also get a device that would cause the light to shine brighter as the car went faster!
One of the first of the René Lalique Car Mascots was the Cinq Chevaux (5 Horses), which was designed for Citroen for his 5CV car model in 1925 (see the Car Mascot News and Blog link in the Resource section below for more details on the Cinq Chevaux).
From 1925 through the ensuing 6 years, 28 more Lalique Car Mascots would be produced, including one non-commercial René Lalique Car Mascot named Levrier that was made for the Prince of Wales.
In addition to these 29 Lalique Mascots, the 1920 Statuette model Sirene (small Mermaid) was also sold as a Car Mascot, making the total 30 Mascots. Many collectors also consider the 1920 Lalique Statuette Naiade (large Mermaid) to be a Car Mascot as well, though this writer does not know of any evidence it was sold as such. This would make the grand total 31 René Lalique Car Mascots of which 30 were commercial models.
The most rare and attractive of Lalique's Mascots command a great amount of attention when they appear for sale at auction. The Vitesse Mascot shown here appeared in a regional auction house in the UK in 2009. It attracted worldwide bidding interest with several phone bidders competing with left bids and bidding in the auction room from collectors and dealers. It sold for approximately $29,000.
In November 2011 a world record price for an R.Lalique Car Mascot at auction was achieved at a small auction house in Pennsylvania when a rare Renard Car Mascot appeared outside of Philadelphia. You can read about the final price of $204,750 and all the other details in our News & Blog article about the: R.Lalique Car Mascot World Record Price. This price was topped by over 50% just 9 months later on August 16, 2012 when another R. Lalique Renard Mascot sold for a new world record price of $338,500 at a Bonhams auction in Carmel, California. And in March 2012, there was an auction sale of $805,000 for a complete R. Lalique Mascot Collection.

Cire Perdue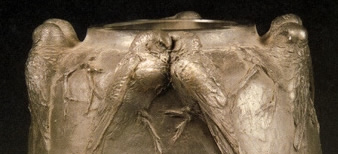 The period from 1900 to 1933 (but mainly 1912 to 1932) saw the creation of roughly 700 Lalique Cire Perdues, with the vast majority emerging during the 5 year period 1919 to 1923. The years 1912 to 1914 saw the production of two of the great works of René Lalique, both of which are partially pictured on this page. The René Lalique Cire Perdue Vase Huit Perruches (Eight Parakeets) shown here, and the Lalique Cire Perdue Wasps Vase pictured at the top of this page are two of the enduring legacies of artistic and technical achievement of this great artisan.
Cire Perdue glass pieces were made by first carving the design into a block of wax. A plaster or clay mold was then formed around the wax and left to dry. This would imprint the design in the wax model onto the interior of the mold. Once the mold was dry, it would be heated to melt the wax which would be allowed to run out of the mold. Hence the name cire-perdue, which means "lost wax"! After the wax is gone, the glassmaker is left with a mold that can only be used one time, and which has the design on the inside of the mold. Molten glass is then blown into the mold (it can be poured in if the desired object is to be solid glass) and the glass forms up against the design under pressure from the blowing. After the glass cools to the right temperature, the mold is broken open to reveal the object. This technique allowed Lalique to create objects that could not be made in his typical 4 part mold, where the mold would have to be pulled away from the glass object. Look at the birds in the Huit Perruches Cire Perdue Vase pictured here and envision how this could be made with a re-usable metal mold that has to be pulled away from the vase. It's only possible with a mold that can be carefully broken open, and in this case, many little pieces from the mold would have to be picked out from the back and underside of the extremely high relief birds.
Lalique Cire Perdue objects are extremely rare and much more rare in good condition. Well over half of all Cire Perdue that has appeared at auction in the last 15 years has had significant damage. Examples of these (as well as basically undamaged ones) can be seen in the News and Blog articles on Cire Perdue linked from the Resource section below. Lalique's Cire Perdues that are in original condition or with minor incidental condition issues are incredibly valuable both monetarily and artistically and hotly contested when they are auctioned.
In September of 2012 a likely world record price for any Lalique Cire Perdue Vase at auction, and any Lalique Vase at auction, was set when the vase Deux Figures Femmes Ailees sold for approximately $555,000. You can read our report about the sale at Lalique Cire Perdue Vase Record Price.

Architecture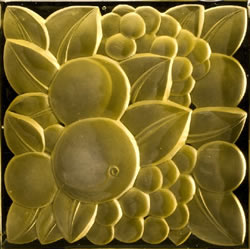 1902 saw probably Lalique's first, and surely among the most significant of Lalique's architectural achievements. His unique design contributions to his own townhouse at 40, Cours la Reine in Paris (this is now renamed Cours d'Albert 1er). Lalique did not design the house, but many of the unique and creative design enhancements were created by Lalique, including the famous Lalique glass panel doors, the design of which, showing pinecones and pine branch, continues into the walls around the doors. This townhouse also was used as a showroom and workshop.
In 1911, René Lalique designed many of the glass components, including the great Lalique windows, for the Coty Building on Fifth Avenue in New York City. This building now houses part of the Henri Bendel store, but the great Lalique windows are still there, and can be seen from both inside and outside the building at 712 Fifth Avenue in Manhattan. He was also undertaking architectural commissions for the incorporation of glass objects in various buildings around the world, The early 1920's saw René Lalique expanding his glassmaking to include the design and manufacturing work on the interior of several ocean liners including The Paris (1921) The Ile de France (1927), and most famously, The Normandie (1935), said at the time to be the largest object ever put in motion by man.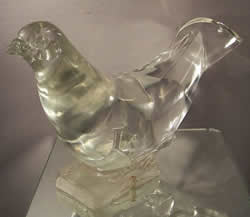 By 1925, the year of the Paris Exposition des Arts Decoratifs, René Lalique was without equal in the field, and his participation in this Art Deco Exhibition was a highlight of his career. His glass fountain Les Sources De France was a huge success at the Exposition. Lalique would create many more glass fountains both for exhibitions and for everyday use, such as the fountains for les Ronds-Points des Champs-Elysees (roundabouts on the Champs-Elysees) which were later taken down due to the high cost of maintenance. A glass pigeon element from the 1932 Champs-Elysees Lalique Pigeons Fountain is pictured here. The appearance in 2009 of this rare Pigeons element, long thought lost, is the subject of a News and Blog Article accessible from the Resources list below. In 1927, as part of a large number of architectural commissions, René Lalique designed many architectural components for the Oviatt Building in Los Angeles, shipping 30 tons of his R. Lalique glass through the Panama Canal to get it to Los Angeles including the yellow architectural glass panel shown here. Lalique was also asked in 1927 to design the interiors for the famous Orient Express Railroad dining cars. In 1929 he did the decorations for the famous Peace Hotel in Shanghai. The early 1930's saw René Lalique doing significant design work in several churches including the commission by Lady Trent for the incredible glasswork at St. Matthew's Church at Millbrook in Jersey. This commission was completed in 1934 and as a result, Saint Matthew's is better known today by its nickname the "Glass Church". Lalique also provided the iconic doors for the Imperial Palace of Prince Asaka in Tokyo. This palace is today the Tokyo Teien Metropolitan Art Museum, and the great René Lalique Doors and Chandeliers can still be see there.
In November 2011 at Sotheby's in Paris, another set of doors achieved a world record price for a single R. Lalique item at auction making €1,750,000! You can read about this great sale in our News & Blog article: R. Lalique Price Record For Lady Trent Doors.

Signatures And Marks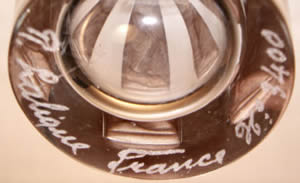 Lalique's signature was affixed to nearly every piece created by him or under his supervision. Most pieces were signed RLalique in one form or another, though some were simply signed Lalique. Others could have more extensive markings such as the signature shown here which includes the country of origin (France of course) and the René Lalique Et Cie model number of the item.
It would normally be a mistake to authenticate any R. Lalique piece from the signature. Let the piece help authenticate the signature once you have determined that the piece is authentic. Signatures can be faked; some quite well and quite easily.
A page with additional information and scores of examples of authentic R. Lalique signatures is available thru the links below, as is an article discussing authentic signatures of the great Lalique and giving answers to frequently asked questions about authentic R. Lalique Signatures and Marks.
René Lalique Signatures Information at RLalique.com

| | |
| --- | --- |
| Lalique's Signatures News and Blog Article Including Answers to Common Questions | Lalique's Signatures and Marks |
| Authentic René Lalique Marks and Signatures - Information & Photos of Lalique's Signatures and Marks | René Lalique Signatures |

Death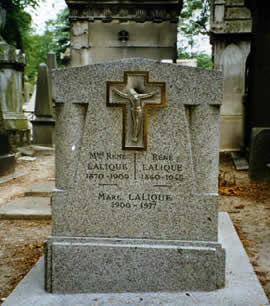 World War II shut down the main production and most of the business of René Lalique. Here is a link to a Blog post about René Lalique discussing a poignant article from Time Magazine's October 30, 1939 Issue, documenting Lalique's rush to his Wingen Factory to save what he can as war spreads.
Lalique died on May 1st, 1945 at his home with the famous glass panel doors, at 40 Cours la Reine in Paris. It was just days before his death that Lalique got news that his Wingen factory in Alsace had been liberated and saved by Allied troops, and that his valued molds were intact!
He is buried in a grave at the Le Père Lachaise Cemetery in Paris, under a gravestone - headstone inset with a glass crucifix of his own design.
Lalique's second wife, Augustine-Alice who died in 1909, shares his grave and burial site. She is buried beside him under the same headstone as shown in the accompanying photo. His son Marc Lalique is also buried there as well.
If you are in Paris and have time to stop by Lalique's burial site, think about taking a flower to leave at the grave site in memory of this great man.
René Lalique Death Information at RLalique.com

| | |
| --- | --- |
| News and Blog Articles Related To René Lalique Death | René Lalique's Death |
| Biographies on René Lalique, most with Information About Lalique's Death | Lalique Biography Books |

Crystal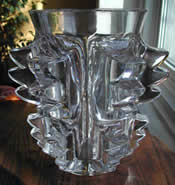 After the death of René Lalique his son Marc began operating as M. Lalique, and then Cristal Lalique. Marc did away with the famous Lalique Glass, and changed the output from glass to a heavier lead crystal. The Cristal Lalique Vase Agadir shown here in the photo is one example of the lead crystal designs of Marc Lalique. The crystal making business would find it's way into the control of Marc's daughter Marie Claude Lalique when Marc died in 1977. It was sold in 1994 to the French firm Pochet. Marie Claude Dedouvre died on Captiva Island In Florida at the age of 67 on April 14,2003.
In 2008 Cristal Lalique was acquired jointly by the Swiss company Art & Fragrance and the Paris based Holding Company Financière Saint-Germain (FSG). FSG also controls Haviland Porcelain and Cristallerie Daum. Art & Fragrance and FSG began to integrate the marketing and the business management of Cristal Lalique with the products controlled by FSG. This included the opening of Lalique - Haviland stores that carried both products. However, at the end of 2010, the partners announced they were dissolving their partnership with 100% ownership of Cristal Lalique reverting to Art & Fragrance.
The Lalique Crystal introduced by Marc Lalique is sold in stores all over the world, and the product line includes several crystal reproductions of original René Lalique glass designs, such as the Iconic Bacchantes Vase. The reproduction of original René Lalique designs appears to have increased markedly in the period 2009 - 2010. Here is a sampling of René Lalique works that have been reproduced in crystal and marketed by the modern Lalique company:
The car mascots (sold as paperweights) Vitesse, Victoire, Chrysis, Perche, Sanglier, Tete de Paon, Tete D'Aigle, and Coq Nain.
The vases Languedoc, Serpent, Bacchantes, Mossi (this vase also in an oversized version), Boulouris, Royat, Ibis, Courlis, Beauvais, Tourbillon, Sauterelles, Acacia, Avallon, Languedoc, and Bagatelle.
The bowls Nemours, Sirene, Volubilis, Marguerites, PInsons, and Cote d'Or.
The statue Grande Nue Socle LIerre (commonly just called Grande Nue).
The perfume bottles Hirondelles and Sans Adieu (the latter in an oversized version).
The decanters Sirenes Et Grenouilles and Cep.
The medallion Gui.
The panel Figurine Et Raisins De Profil.
Additional re-creations by Cristal Lalique can be found through the resources below.
Lalique Crystal is also sold in company owned "boutiques" in London, New York and elsewhere. You can read more about the modern "Cristal Lalique" company and modern Lalique crystal through the resources below.
René Lalique Biography Video with Gerard Tavenas, former top executive at Cristal Lalique discusses René Lalique's place in art history and his R. Lalique works. Mr. Tavenas also discusses his efforts to introduce other fashion accessories and decorative arts into the marketing mix at Cristal Lalique taking guidance from René Lalique's activities in areas other than decorative and useful art glass objects.

Today
Today, the output of René Lalique, commonly referred to by his moniker, RLalique, is highly sought after in many different fields of collecting. Over 60 years after his death, there is worldwide activity every day in the works of this prolific industrial artist. As you will read below, Auction Houses, Museum Collections, and Exhibitions augment the vibrant and widespread private market for René Lalique's creations. From Ebay to Christies, from Paris to Tokyo, and from the smallest museum to the New York Metropolitan Museum, the works of René Lalique flourish and remain in the public eye.
Perfume bottle collectors value RLalique bottles most highly. RLalique glass architectural commissions, windows, glass panels and the like, are fiercely competed for in their rare appearances on the auction block. Collectors of cachets (seals) highly value the wonderful RLalique designs, and the jewelry of René Lalique creates huge prices at auction when it crosses the block. His production vases are collected by people all over the world, and René Lalique's one of a kind Cire Perdue creations are found in a handful of private collections, and in René Lalique Museum Collections worldwide, where one can also find the entire variety of his artistic talents. René Lalique Car Mascots are the most sought after in that field, and everything from Lalique's Ashtrays, Tableware, Plates, Bowls, Light Fixtures, Inkwells, Clocks, and the entire array of his works are collected around the world. He was in his time, and remains even today, over 60 years after his death, THE MAN in many fields. The entirety of his output, his RLalique, is what this website is all about.

Auctions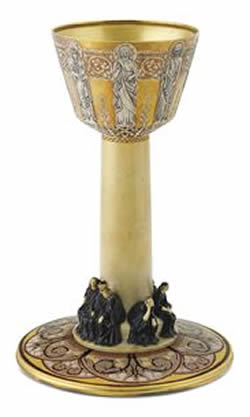 RLalique.com cataloged and reported on about 1000 live auctions in 2009 that sold thousands of René Lalique glass and other items in dozens of countries worldwide. Through the end of 2014 that number grew to over 10,000 auction reports! In addition to live auctions, many thousands more of R. Lalique antiques were sold at online auctions as well.
The most prevalent Lalique auction item is tableware, reflecting the huge volume and the incredible variety of models and sizes produced by René Lalique. Lalique plates, bowls, glasses and stemware comprise the greatest volume by numbers of Lalique's auction sales.
In dollars per piece, unique Lalique jewelry items lead most auctions sales records, with many great examples of Lalique's jewelry selling for hundreds of thousands of dollars each. The leading sale in total dollars for 2009 was an auction containing only 5 Lalique Jewelry items along with a unique Lalique Chalice at Christies New York in October 2009. The sale of the six items totaled almost $1,800,000 or roughly $300,000 per piece! The René Lalique pendant shown above was one of the items in that sale, making $554,500 as reported in the News and Blog at RLalique.com. The René Lalique Chalice shown here was also one of the items in the same sale.
The highest selling René Lalique Perfume Bottle at auction prior to 2012 is the rare 1936 Perfume presentation, "Tresor de la Mer" made in limited edition of 100 for Saks Fifth Avenue. It consisted of a glass pearl form bottle inside an opalescent glass oyster shell as pictured above. A basically complete original example with tags and box sold for $216,000 in November of 2006 at Rago in New Jersey as reported in the News and Blog at RLalique.com. The original retail price was $50! This record was surpassed in October 2012 by another R. Lalique Perfume Bottle also pictured and discussed above.
Lalique's vases are another highly popular auction sale item. In 2009, the 1909 vase Deux Cigales sold at auction for over $300,000 as reported in the News and Blog at RLalique.com, and highly coveted production vases routinely achieved prices in the $10,000 to $50,000 range such as the Amber Serpent Vase pictured previously which sold for $48,000 at a Heritage auction. At the same time, thousands of Lalique vases in lesser demand appear at auction all over the world every year, making prices from the low hundreds of dollars to several thousands of dollars. Even to this day, there is an R. Lalique vase for ever taste, for every budget, and in nearly every color.
Lalique architectural items such as glass panels, doors, or fountain elements do not come up as often as the much more numerous decorative arts intended for use in the home or office. But they do find their way into the market place, including the René Lalique architectural element Fruits, made for the Oviatt Building and shown above. This panel appeared at auction in 2009 as reported in the News and Blog at RLalique.com.
Lalique's Cire Perdue auction sales include the 1913 Cire Perdue Vase Roses which sold for over $400,000 at auction in 1998 and the 1914 Lalique Cire Perdue Vase Lutteurs, which sold for over $300,000 at auction in 2006.
You can read about most auction sales mentioned here and other significant Lalique auctions in the News and Blog Articles link in the Auction Resources section below.

Exhibitions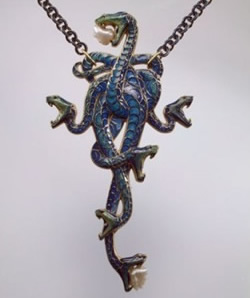 Lalique exhibited in Paris and around the world during his career, notably the Expositions in 1900 and 1925. In 1933, an extraordinary retrospective exhibition for the still living artist and industrialist was held in Paris to honor the great Frenchman.
In addition to exhibitions previously mentioned, Lalique exhibited (at least) at the following:
1894 - Salon de la Societe des Artistes Francais Paris France thru 1911
1897 - Universal Exhibition Brussels Belgium
1897 - Salon des Beaux-Arts Paris France
1901 - International Exhibition of Decorative Arts Turin Italy
1903 - Salon d'Automne in Paris France thru the 1930's
1903 - Crafton Gallery London England
1904 - Louisiana Purchase Exposition St. Louis Missouri United States
1905 - Exposition Universelle et Internationale de Liege Belgium
1905 - T. Agnew and Sons London England
1907 - Salon des Artistes Francais Le Grand Palais Paris France
1910 - Exposition Internationale Brussels Belgium
1911 - International Exhibition of Decorative Arts Turin Italy
1911 - Salon de la Societe Nationale des Beaux-Arts Paris France
1912 - Societe des Artistes Decorateurs Pavilion de Marsan Paris France
1912 - Place Vendome Paris France
1919 - Museum of Industrial Arts Copenhagen Denmark
1919 - Brooklyn Museum and Knoedler Galleries New York United States
1930 - International Exposition Antwerp Belgium
1931 - Colonial Exposition Paris France
1932 - Exposition of French Decorative Arts Rabat Morocco
1935 - B. Altmans Department Store New York United States
1937 - Exposition Internationale des Arts et Techniques Paris France
1939 - World's Fair New York City United States

Today there are René Lalique Exhibitions throughout the world on a regular basis. For example, the year 2009 saw a great Lalique Exhibition in Cleveland, Ohio and San Francisco, California; another extensive Lalique Exhibition in Tokyo and Atami Japan, and an amazing exhibition of dozens of unique pieces of Lalique's Jewelry in Boston, Massachusetts and Cincinnati Ohio. In 2010 a major exhibition dedicated to René Lalique was mounted at the Kremlin in Moscow, Russia. These major exhibitions are in addition to pieces of R. Lalique that have appeared as part of more general exhibitions around the world. For 2011, the exhibition highlight was the opening exhibition of the new Musee Lalique, a national museum of France, on July 2nd. And in 2014 a significant exhibition of both commercial production pieces, unique pieces, and work pieces used in the manufacturing process was mounted by the Corning Museum.
Information on any Lalique Exhibition can be found in the René Lalique Exhibition News and Blog archive, which contains all articles that have ever appeared at RLalique.com relating to exhibitions of Lalique's works. In addition, there is a special R. Lalique Books and Library Section which contains books and catalogues from nearly 50 Lalique Exhibitions that have been held around the world! In these Lalique Exhibition Books you will find not just amazing photos of rare Lalique Glass, Jewelry, and other objects, but also informative articles written on various aspects of the life and life's work of the great René Lalique. The Serpents Pendant pictured here was displayed at the Cleveland and San Francisco Lalique Exhibitions as reported in the News and Blog at RLalique.com, and is also shown in the Lalique Exhibition Book available from the Books and Catalogues Resource link below.

Museums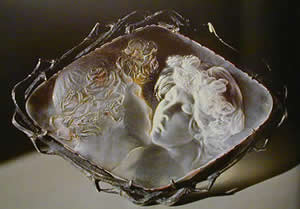 René Lalique museum collections are all over the globe. A partial listing with over 80 museums owning R. Lalique is accessible from the Lalique Museums Collections link below. Small regional museums such as the Gilmore Auto Museum in Michigan, to the largest museums in the world such as the New York Metropolitan have developed Lalique Museum collections.
And there is now a Musee de France (a National Museum of France), the Musee Lalique, located near the site of Lalique's biggest factory in Wingen Sur Moder in the Alsace region of France.
Many museums share and lend their items to the active exhibitions around the world discussed previously. This allows René Lalique collectors to see a great selection of many unique and/or extremely valuable and rare works as they are transferred from around the world on loan among museums for display and exhibition.
Shown here is the Lalique Brooch Le Baiser, which was exhibited in 3 cities in the United States in 1998/1999, and also in Tokyo in 2000/2001 having been lent to those exhibitions by the Musee des arts Decoratifs in Paris. This brooch is discussed in detail in the News and Blog at RLalique.com and is pictured in the relevant Exhibition Books available from the Resource Link below.

Fakes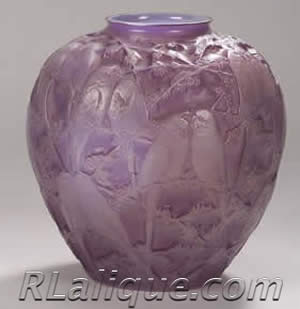 Fake Lalique works are not nearly the problem for René Lalique Collectors as fakes are in many other collecting fields. But they still pose a problem and with increasing values, more fake items appear on the market. Broadly speaking, fake Lalique can be grouped into four categories. First and most typical, is where a fake Lalique signature is put on an item that any collector would know is not the work of René Lalique. Second, are pieces with fraudulent Lalique signatures where the piece is somewhat in the "style of Lalique". In this category, even the occasional or novice collectors can be fooled. Third is where post-war reproductions in crystal by the modern Cristal Lalique Company of original René Lalique designs are sold with forged R. Lalique signatures added. This category can fool even some experienced collectors. Reproductions of original Lalique designs by Cristal Lalique are being catalogued in the René Lalique Fakes Section at RLalique.com so that collectors will be aware of the possibilities when they purchase a piece made by René Lalique in glass, that was then later reproduced in crystal by Cristal Lalique. The last category and by far the smallest of the four, is where copies of René Lalique's works, either very close or nearly identical to the authentic originals, have appeared. Fortunately, this literally is only a handful of pieces, which are being documented piece by piece at the René Lalique Copies link below.
The Consolidated Glass Lovebirds vase shown is one such very close copy.

Reference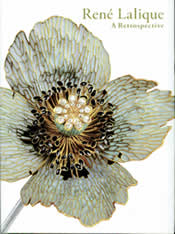 For more information about René Lalique and the wonderful R. Lalique items he created, the first two Resources below take you to News and Blog articles related to the Biography and History of René Lalique. They include links to videos about Lalique.
The third Resource will take you to the Lalique Books and Library Section. There you will find nearly 1000 different books, catalogues, magazines and other publications about René Lalique or related to René Lalique and his R. Lalique creations and designs, including the rare and great Lalique Exhibition Book shown here from the 2009 René Lalique Retrospective held in Tokyo and Atami Japan.
We also suggest you explore the vast amount of information available at RLalique.com which is the fourth Resource. Take your time going through the website section by section, Blog post by Blog post, page by page. You'll find news you want to keep up with, tons of valuable information, and reference material that you can refer to over and over again as you research everything RLalique!