In only one week, on July 2nd, the Musée Lalique will open to the public in Wingen-sur-Moder as a National Museum of France to honor the French national treasure Rene Lalique. This is the third in a series of articles about the new museum based around an interview with Museum Director Veronique Brumm. Previous articles are accessible at Musée Lalique – 1, and Musée Lalique – 2.
In our first two articles, Veronique discussed her background and how she came to be the Director of the Musée Lalique. She also told us about the background of the Musée and described its operational and organizational structure. In this third article, we focus on subjects related to the imminent opening of the Musee Lalique!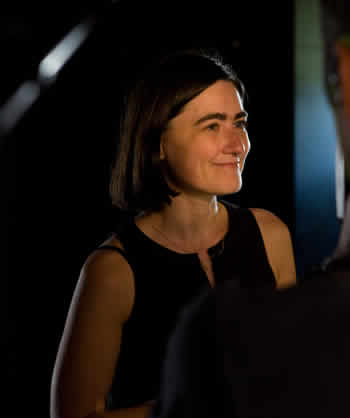 Hello Veronique. Can you tell us about the layout and structure of the museum space and grounds and how it relates to the focus and purpose of the museum? Will there be special or temporary exhibitions or just a big permanent one?
The Musée Lalique has been created on a former glassmaking site that operated in the eighteenth and nineteenth centuries. It will therefore include a renovated section but a new building is also under construction to accommodate the permanent exhibition and the equipment rooms. The permanent exhibition space will extend over 900 m² while the temporary exhibition room has a surface area of 200 m².

We will show jewels, of course but the heart of the museum will be devoted to glass because the link of Lalique with Alsace is glass. We will show perfume bottles, tableware, and we will also show the great themes that inspired René Lalique, particularly the female body and flora and fauna (birds, fish, snakes, beetles, bats). These motifs adorn vases, bowls, clocks, radiator caps and glassware for the table.
His creative genius, his industrial talent and, of course, his imagination, are all brought to the fore here. The creations of his successors, Marc and Marie-Claude Lalique, and from today's design studio, are also on display. Finally, a special tribute is paid to the men and women who perpetuate glass-making skills at Wingen-sur-Moder today. The museum presentation aims to combine pleasure, discovery and learning. The museum is designed not just to showcase art objects, but also to teach. The pictures and audiovisual and multimedia documents that energize the sequence are also designed to help visitors relate to the artistic, cultural, social and technical context in which the works were created. It is hoped that they will arouse curiosity and open up new vistas.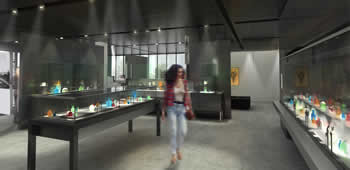 Naturally, the Musée Lalique has all the facilities one would expect to find in a museum created at the dawn of the twenty-first century. In addition to spaces for permanent and temporary exhibitions and storerooms, We have planned a café and a shop where visitors will be able not only to buy postcards, books and other related products, but also items of Lalique crystal. We also have an 85-seat auditorium where we will show a film on the history of René Lalique or his expertise, as well as specific programs in line with temporary exhibitions. This auditorium will also enable us to organize cycles of conferences and symposia. In addition, we have the advantage of three rooms to host educational workshops. A broad range of activities will be offered for children.
I would also like to talk about the gardens. The museum is set in quite remarkable landscaped grounds and we have undertaken significant work with the landscape designers to ensure that the choice of species offers a reminder of the natural world that so inspired René Lalique. Two gardens have been laid out, one with a pronounced floral character, the other one more wooded. They contain a selection of plants that will help visitors see the connection between Lalique's art and nature, which he so loved to observe. We also offer an explanatory trail that will enable visitors to understand that it is located on a former glassmaking site and link in with the local glassmaking tradition.
Will visitors be able to take a factory tour of the modern Lalique company factory to see crystal being made?
The factory is unfortunately not open to visitors.
How will the museum acquire objects in the future to add to its collection?
The Musée Lalique project is very particular in that it was born of the desire to create a museum and not a collection. This means that, in 2002, there were already plans for the museum, but no works. Bit by bit, an acquisition policy has been developed. We are trying to continue to develop our collection with the support of the Département du Bas-Rhin, Région Alsace and the State as sponsors. Our acquisition policy is based on the museum's scientific and cultural aspirations but also depends on market opportunities. It's important to stress that, prior to any acquisition, we undertake a price study – based on the results of sales in past years.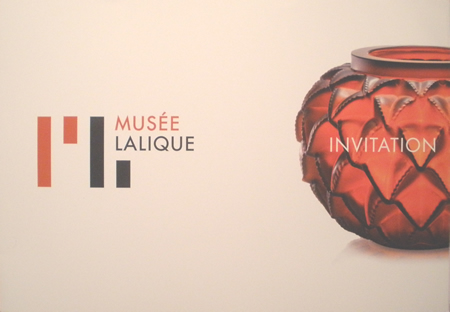 In our first article, you said that the Musée owns around 400 pieces and will show around 650 for the opening exhibition. Can you provide a few more details?
We bought our first item in 2002! And among the last pieces we bought were the surtout Deux Cavaliers and a lustre Passiflore. In addition to pieces we own, we will have many loans both from private collections, the Lalique Company, and also loans from other museums; especially from the Musée des Arts décoratifs de Paris.
Will you have either porcelain or crystal items from Suzanne, Marc or Marie Claude on exhibit?
Yes, we want to display the work of Suzanne, Marc and Marie-Claude in its best light. We are also planning to organize an exhibition devoted specifically to Suzanne, an exhibition that will, of course, feature her work in the field of glass and porcelain, but which will also enable us to demonstrate her contribution to the fields of textiles, painting and the theatre.
Can you preview a highlight or two of special items in your opening exhibition?
I could mention several, but I'd prefer to put the accent on two cire perdue works: the decorative Dolphin motif created in 1912, on the one hand, and the entwined Cherubs that adorn Mrs. Paquin's dining room, on the other. I'd also like to give a special mention to a work by Marc Lalique: a monumental chandelier – almost 3 meters high and 2 meters in diameter – exhibited at the Paris Museum of Decorative Arts in 1951, which will adorn the entrance hall of our museum.
Will the museum lend its own items to exhibitions around the world in the future?
For the time being, our collections are not sufficiently large in number to allow us to part with our items, but we hope to be able to do so in the not too distant future.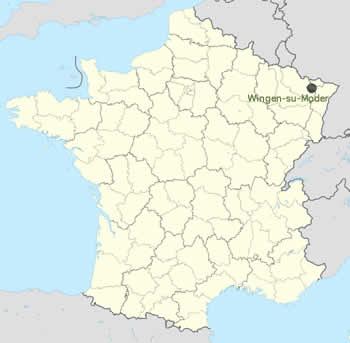 How far a drive is the museum from Paris and what is the best way for a visitor to get to the museum if they are visiting from the UK, from France, or from overseas?
By car, Wingen-sur-Moder is around 4 hours from Paris. The high speed train is also an excellent way to get to Alsace – stations in Strasbourg, Saverne and Saarbrücken (D). Wingen-sur-Moder is situated on the Strasbourg-Sarreguemines-Saarbrücken railway line. There are also several airports nearby: Strasbourg, Saarbrücken, Zweibrucken and Baden-Baden.
What will be the cost of admission?
6 € for adults, 5 for group (more than 15 persons), 3 € for children.
What will be the days of the week and hours the Musée will be open?
April-September everyday from 10 am to 7 pm; from October to March from Tuesday to Sunday 10 am to 6 pm; closed in January.
How much time should a visitor plan to spend on the site?
The tour of the museum itself should take around one and a half to two hours. But thanks to the full service that we offer – gardens, café, etc. – we hope that the visitor will spend more time with us. We are also working with other sites in the area to offer collective tickets, passports, etc. to encourage the visitor to explore and spend time in our beautiful region.
If someone wanted to make a donation of any item to the museum, whom would they contact?
We are quite happy to accept loans, deposits and donations. I can be reached by e-mail: veronique.brumm@musee-lalique.com, telephone: 00 33 3 88 89 08 14 or by post: Musée Lalique – 29, rue de Zittersheim – 67290 Wingen-sur-Moder – France.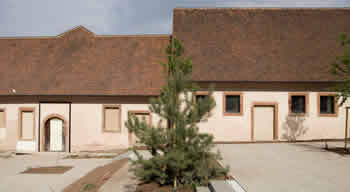 Is there any information not covered by our questions that you would like to convey?
We hope to reach lovers and collectors of Lalique works through comprehensive scientific work, but we also hope to bring them to the largest possible audience. To do so, we offer various levels of lectures and diverse mediation tools. Although we will pay particular attention to the quality of the display cabinets and the lighting, we will also be using modern museum techniques: video guide, multimedia, large format photography etc.
In addition, we want to welcome an international audience: our texts will therefore be not only in French, but also in German and English. Likewise for the video guide.
As far as content is concerned, I also find it important to stress that we will be very keen to situate Lalique's work in its context – Art Nouveau, Art Deco Movement etc. Manufacturing techniques also will be discussed and homage will be paid to the men and women who still today, perpetuate the know-how in Wingen-sur-Moder.
Veronique, we appreciate your time in answering our questions and sharing your expertise with our readers, and we wish you well in this great endeavor. Hopefully you will get some sleep in the week leading up to the opening.
We will talk again with Veronique just after the Musée opens to the public and we'll plan to follow-up with a final Musée Grand Opening article, discussing the opening and possibly additional travel and area details for visitors.
* Editor's Note: On July 1st, the day before the official opening to the public, there is inaugural opening for invited guests. We managed to wrangle one of those invitations from a serious mucky-muck ** VIP on the down-low ***, so that we could photograph it and our readers could see one for themselves. That is the invitation pictured above.
** The urban dictionary defines mucky-muck as: A pompous person of importance! Of course, it can be real or imagined self-importance. Which of those fits the person we got the invite from? Opinions vary.
*** down-low is an American slang describing an activity that is kept discreet. Often shortened to "DL".
Photo Credits:
Veronique Brumm: David Desaleux
Architect's Concept: Wilmotte- Artefactory
Invitation to VIP Opening: Downlow
Map of France: Wikipedia – Eric Gaba
Musee Construction: David Desaleux