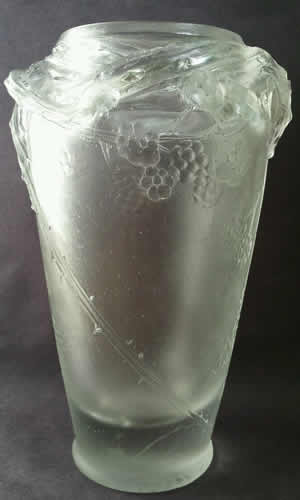 Cire Perdue Vases don't come up for auction very often. Usually just a few a year. And to say they don't usually appear at the online auction websites such as Ebay would be an understatement. But a great looking Cire Perdue did just that this week when it appeared from a Wisconsin seller (with over 18,000 positive feedbacks) that had purchased it at an estate goods shop.
The starting price was $999 with no reserve.
The online auction Item I.D. is 381432155308.
The new arrival is the vase Branches De Mures Formant Deux Anses. The vase has been unknown in modern times, likely purchased back in the day and not having come back to market. It appears in the Catalogue Raisonne only as a drawing.
The mold number 193 and the year it was made 1920 both properly appear on the underside in the glass as 193-20 and match the information in the drawing of the vase.
The vase features a wonderful blackberries motif and is represented by the seller to be basically in original condition, save minor fleabite type stuff with no cracks or chips. Obviously there are manufacturing imperfections caused by the nature of the process used to create the great Cire Perdue.
The copious photos included in the auction listing appear to confirm the condition description.
We were alerted to the offering around an hour after it appeared online, and immediately posted the vase in the Worldwide Auctions Section here at RLalique.com.
There is also a close-up picture in the highlight photos at the top of the auction page with a text link to take you straight to that listing and save having to scroll through all the other listings that are on that page (82 as of this writing).
The vase is 6 and 1/4 inches tall and a bit over 4 inches wide at its widest point.
Several bidders and interested parties have contacted World Headquarters to talk about the vase.
Judging from the level of chatter (with possibly some educated surmise thrown in), it seems that the vase should do quite well.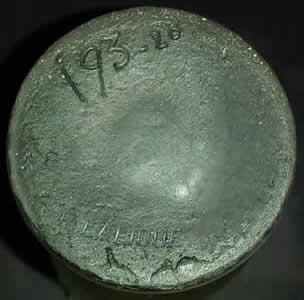 Of course as usual it will likely be a bit of a nailbiter** at the end as the hoped-for pre-arranged automated bids come in (or not) with seconds to go.
Additional information about Cire Perdue pieces, including an explanation of how they are made, as well as links to all areas of the website that might be informative on the subject, can be found in the Cire Perdue Section of the biography of Rene Lalique!
UPDATE 10-18-15: The vase sold for $65,100. Four different contenders had bids in at $45,000 or more.
**A nailbiter (or nail biter) is a tense or anxious situation, which is why many people chew on their nails to begin with.
Medically speaking, the habit of nail-biting is referred to as onychophagy. So if you bite your nails in public, you can rest assured that medically trained passersby may very well be referring to you in a smarmy manner as an onychophager, a word we just made up but seems right and it could even be a word.
And if all this is not bad enough, you might as well know that the American Psychiatric Association classifies nailbiters as OCD (obsessive compulsive disorder) and words like "pathological" have often been used in conjunction with nail-biting behavior.
Basically it's literally, figuratively, and literarily, about as close as you can come to wearing your bad habits on your sleeve (reaching back over 500 years to Iago in Shakespeare's Othello – "But I will wear my heart on my sleeve").