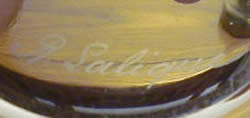 Rene Lalique pieces show many different authentic R. Lalique signatures and we get regular inquiries asking where R. Lalique owners or collectors can go to see samples of actual R. Lalique signatures. In response, we've developed a page where readers can review the different signatures found on genuine pieces of R. Lalique. This new page showing how R. Lalique pieces were signed can coincidentally be found at this link: R.Lalique Signatures.
We also thought this would be a good time to answer some questions that come up quite regularly about the signatures found on R Lalique. This is not intended as a comprehensive discussion, but merely to answer common questions about Lalique's signatures on his R. Lalique glass and other items. Jumping right in: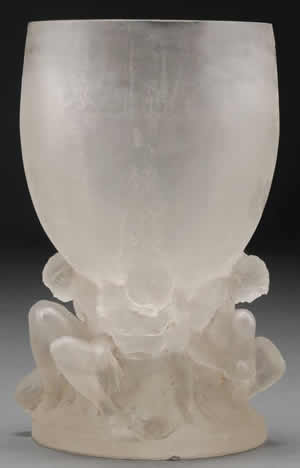 1. Is every piece of R. Lalique signed?
In the big picture of Rene Lalique's works that were produced, by the percentages it is fair to say that the overwhelming majority of R. Lalique was signed in one form or another. However, Lalique produced a lot of pieces, so just a miniscule unsigned percentage can mean that many pieces were not signed with an R. Lalique mark. It appears that architectural items, especially parts of larger installations can be unsigned with some regularity (considering how irregularly these types of pieces appear that is :). And an apparently authentic (and original) piece appears without a signature from time to time. However, it would be a mistake in our opinion for the average collector to think they had found the pot of gold at the end of the Rene Lalique rainbow each time or any time an unsigned something or other popped up represented as R. Lalique, on one of the slim chances mentioned (or not mentioned) above. So we typically advise collectors to proceed in life as if everything was signed and should be signed. Basically, nearly every single piece percentage wise was signed, so why mess around. And when you go to sell, it's usually much better to have a signed piece of R. Lalique than an academic explanation of why the unsigned piece is authentic. Note: The apparent cire perdue vase shown here appeared at auction advertised as unsigned and sold for over $100,000. We didn't have the vase in-hand, so we don't know one way or the other if it was in fact an unlikely unsigned R. Lalique Cire Perdue vase. However, it appears that at least two bidders were satisfied on the subject.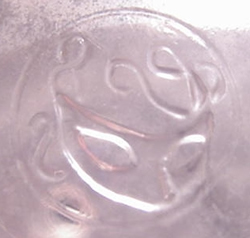 2. Does every authentic signature contain the phrase "R Lalique"?
No, not all signatures or marks contain the phrase "R. Lalique". Some exceptions would be jewelry with metal backing is many times stamped LALIQUE in the metal, and may or may not be signed on the glass.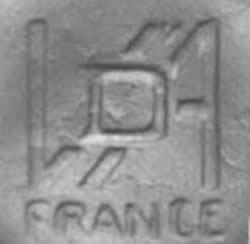 There are a couple of marks; the VDA and the Masque marks shown here, that do not say R. Lalique. There are also some pieces signed just Lalique in the glass, either inscribed or in the mold. And there are a small number of items with just R L in the mold. So while most of what appears is signed R Lalique in one form or another, many pieces are signed differently.
3. Is each example of the same R. Lalique model signed the same way, or can the same models have different signatures?
Many models can be found with different signatures that were used over time. It seems that the more popular a piece, or the longer it was in production, the more different signatures are seen.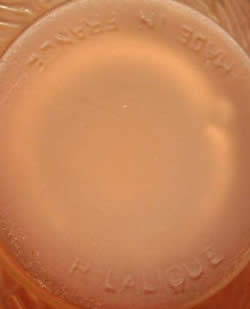 4. Is it true that no R. Lalique piece has "Made In France" signed on it?
No, there are a few pieces that have the phrase "Made In France". For example, some Palmes Vases have a molded R. Lalique and Made In France on the underside as shown here. Another example is one of the Figurines Atomizers with a similar molded signature.
5. Do any R.Lalique pieces have more than one signature or mark?
Yes, a good number of pieces (but again, small percentage wise in terms of overall production) have more than one signature. Three examples: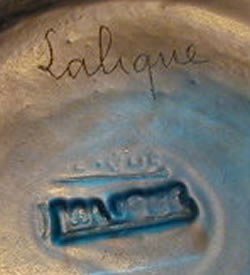 A. We sometimes see pieces with molded signatures that are perfectly readable, with a full R. Lalique France engraved or etched signature present as well. On the R. Lalique Signatures Page linked in the first paragraph above, we currently have a couple examples of double signatures at the end of the page, and more may be added over time.
B. The molded signature is faint or unreadable, so an inscribed signature is added. This is pretty typical on the Escargot Vase for example, where the molded signature is often quite faint, and a script Lalique is added. Shown here is a Courges Vase with the added script Lalique, as well as multiple signatures relevant to the following paragraph.
C. Whatever instrument or technique was used to impress an intaglio signature skipped (or who knows what), and more than one signature was impressed in the piece. We have seen up to six identifiable signatures on one piece. Shown following is a somewhat typical Courges Vase signature, a model that is often seen with multiple signatures.
6. When a piece is signed in script: R Lalique France #888, what does the number stand for?
This is the Rene Lalique et Cie model number to identify the model of the piece, which in this case is a Sauterelles Vase.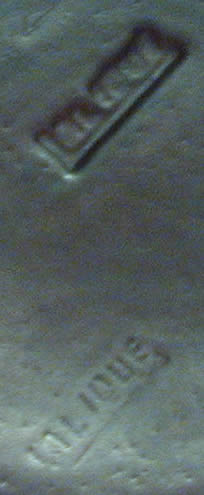 7. Do all pieces contain the word France in the signature?
No. Early produced pieces do not contain the word France. Our understanding is that no later than with the Tariff Act of 1930, the United States required the country of origin to be marked on imported goods. The USA being the biggest import market in the world on an overall basis at that time (and it still is the largest by far to this day if you were wondering), stuff all over the world that might be exported started getting the country of origin marked on it at the time of manufacture. This would naturally include Lalique's great pieces.
8. Are any pieces signed "Rene Lalique"?
Well, never say never. But we are joining the Missouri crowd on this one….. show me.
9. Where were R. Lalique pieces signed?
In France of course!
Seriously, Lalique's signature appears in many different places on his R. Lalique pieces. They can be signed on the bottom half of the side of a vase for example, anywhere on the underside of the base of nearly any piece, right in the design somewhere, or on the edge of something such as the edge of a box cover or on the side edge of the upper part of a disk shaped seal.
10. Were any pieces made after the death of Rene Lalique signed with an R. Lalique signature?
After World War II, small numbers of pieces were made from old molds that incorporated a molded R. Lalique signature before these molds were updated. However, most of these pieces were also given a modern Lalique France signature to indicate they were post war production. Notable among models that fall into this category are the Coq Nain Car Mascot, the Perche Car Mascot, the Sanglier Car Mascot, the Tete D'Aigle Car Mascot, the Saint-Christophe Car Mascot (all marketed only as paperweights post-war), the Quatre Perruches Frame (also used pre-war only for the Inseparables Clock), and Marienthal Plates. The Meudon Box has been seen several times with the molded R. Lalique signature on the side of the top, but the bottom is engraved Lalique France indicating it was produced after the war. And we have seen the Worth "Stars" Dans La Nuit Perfume Bottle with the molded R. LALIQUE signature but then with an engraved Lalique France as well. Keep in mind that the added post-war signature on any of these examples could later be polished off by an unscrupulous person, leaving only the molded R. Lalique signature. In addition to the above, there are also the molded R. Lalique CREATION signatures on some perfume bottles where the word CREATION tells you it's post-war.
If readers that check out the page of Lalique's signatures have photos of signatures or variations we are missing on that page, please email those in using the link and directions on the signature page. And if you have a question omitted here, or additional information you feel is important to this discussion, please email us using that same link.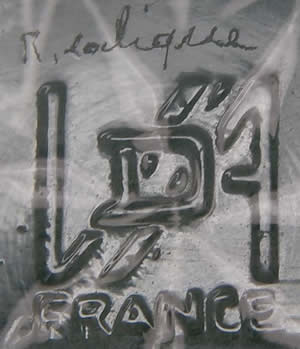 If you are looking for examples of faked, forged, and copied R. Lalique signatures, see them on our site at this link: Faked, Forged, and Copied R Lalique Signatures! You'll find that many of those faked signatures are quite good
In that regard, we wrap up this article with our constant admonition: Signatures do not authenticate pieces, it's the other way around. Pieces authenticate signatures. Make a decision about the piece first, and then see if the signature fits. Just because a signature looks right, does not mean it is right. And signatures in most cases are far easier to fake than authentic pieces.
To put an emphasis on this point, once or twice a year we see authentic pieces with forged signatures! Usually it's clearly an attempt to "boost" the signature from modern to pre-war when no such boost is necessary. For example, a great early vase that was originally signed just Lalique on the lower part of the side in script, and someone adds the R. in front not realizing they have a great and rare thing that does not require further enhancement. And then there's the example shown here, where someone not realizing the great molded VDA FRANCE signature is an authentic R. Lalique mark, decided to improve things a bit with the R. Lalique addition above it. And there is also the occasional piece that for whatever reason (never signed originally, minor polishing or major repair or wear and tear removed the original signature, etc.) that has just a forged signature and none other.
So enjoy your collecting, but do it with your eyes open!