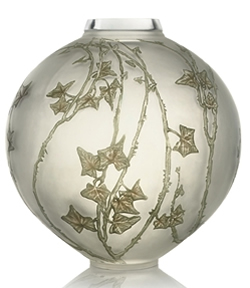 Lalique: The Catalogue For The Semi-Annual Sale Of The Works Of The Great Rene Lalique (with some modern Cristal Lalique thrown in) At Christies South Kensington On May 20th Is Now Online: Lalique at Christies South Kensington will have the smallest number of lots in recent memory and likely in the history of this R Lalique auction sale mainstay. The mix of 62 offerings contains several noteworthy items. In addition, all but half a dozen of the 62 lots were produced during the lifetime of Rene Lalique and all but two are original Rene Lalique designs. Top estimated lots are the Rene Lalique Cire Perdue Vase Chardons carrying an estimate of £25,000 to £30,000 British Pounds; the Rene Lalique Peacock Lamp Paons, a wonderful R Lalique design estimated at £35,000 to £40,000;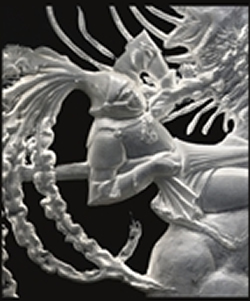 the huge and striking Rene Lalique table centerpiece Deux Cavaliers, estimated at £40,000 to £60,000; the large R Lalique Hirondelles Lighting Fixture estimated at £20,000 to £25,000; and the great early Rene Lalique Vase Grande Boule Lierre, carrying a £20,000 to £30,000 estimate. There's a furniture specialist in London working for Christies that can tell you a great story about a drive thru the Australian countryside after leaving a house inspection meant to look at furniture, but instead departing with an R.Lalique Grande Boule Lierre Vase belted into the passenger seat for the ride back to the office!
Of course the most attractive lots are not always the most expensive, depending on your tastes and R Lalique collecting interests. For example, there is a great Tananarive Enameled Covered Box. There is also the classy Deux Danseuses Cachet, and a pair of wonderful, almost Frank Lloyd Wright (who's southwestern desert seat, Taliesin West, is but a stone's throw from the ancestral home of RLalique.com) style Grand Depot Lamps! All three of these are amazing R Lalique lots in their own right, though they don't command the prices of some of the items previously mentioned.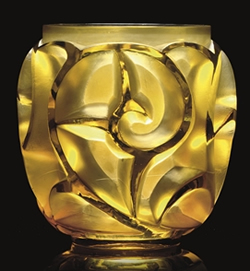 The sale is notable not just for small numbers but also for the lack of colored R Lalique items. There's an R.Lalique Tourbillons Vase in yellow/amber glass, an R.Lalique Bacchantes Vase in Gray Glass, the R.Lalique Vase Albert in Topaz Glass, as well as a Topaz Coq Nain R Lalique Mascot, a single lot containing the R Lalique Seal and Ashtray (Cachet and Cendrier) Lapin in Topaz, and the Blue Glass R.Lalique Pendant Serpent. That is all the colored glass in the sale. Thankfully, gray and topaz are considered colors; else we'd have only 2 colored R.Lalique lots to discuss instead of 6! That is less than 10% of the sale, and of course, it's a 6, not a 26 or a 36 or a 46. Rene Lalique colored vases and other colored production pieces are in great demand and short supply, and this line-up is just another indicator of the difficulty in obtaining great colored RLalique items.
With the smaller numbers, some areas of Rene Lalique collecting are almost totally absent. Lalique perfume bottles, Lalique statues and Lalique car mascots are few or non-existent among the offerings. But as in many R Lalique Auctions, vases are the most prevalent offering. Roughly 60% of the lots in this sale are vases.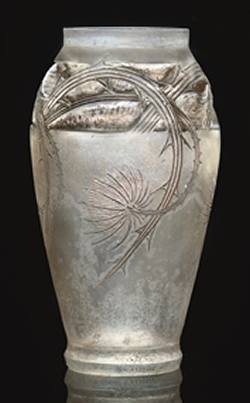 You can check out the Lalique Sales catalogue at the Christie's website!
And also, don't forget to keep us in mind here at RLalique.com if you require assistance or consulting on any or all of the items in this sale, or any other sales listed in our Rene Lalique Auctions Worldwide Section. You can find out the details of our buyer consulting services on our Rene Lalique Consulting Page.
All Articles on These Topics: R Lalique Cire Perdue And Rene Lalique Cire Perdue, R Lalique Rene Lalique Auctions News and Results, R Lalique Vases and Rene Lalique Vases, Rene Lalique Lighting: R Lalique Lighting Fixtures