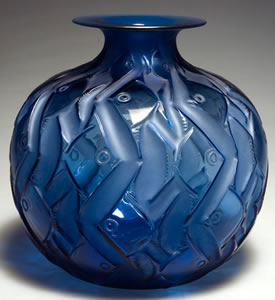 Rene Lalique Vase Prices Were Strong In Munich At Auction on April 28th – The Susan Lalique Havilland Designed R Lalique Vase Penthievre in Blue Glass Was The High R Lalique Seller: At Quittenbaum Auction House in Munich on April 28th, over 20 lots of R Lalique Glass were included in their Art Nouveau – Art Deco Sale. Garnering the biggest price was the Rene Lalique Vase Penthievre, going for a hammer price of €20,000 Euros against an estimate of €9000 Euros. With the 27.5% buyers premium and VAT for EU private buyers (which we used to estimate all results), the dollar equivalent total all-in was approximately $34,000 dollars. The auction house summarized the Lalique results in their written sales report as follows:
Lalique glassware proved popular all round, especially the cobalt blue 'Penthièvre' with a fish decoration, bid up by a young German collector to €20,000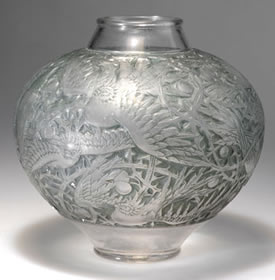 Next highest seller was the Rene Lalique Vase Aras in clear and frosted glass with patina, making a hammer of €4500 Euros against an estimate of €3300 Euros. The all-in dollar price was approximately $7500 dollars. A frosted Saint Francois Vase with patina sold for a hammer of €1700 Euros against a €1200 Euro estimate, for about $2800 dollars all-in, and a patinated frosted R Lalique Gui Vase made €2000 Euros against an €800 Euro estimate, for approximately $3300 total dollars.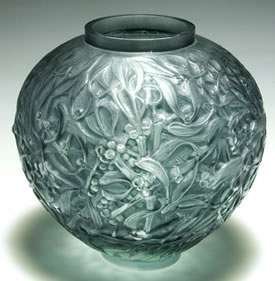 You can see all the results by going to the Quittenbaum website and typing Lalique into the search box in the upper left corner of the home page.
This is yet another in a continuing solid string of sales results for R Lalique glass as we exit the Spring auction season and head into early Summer.
All Articles on These Topics: R Lalique Rene Lalique Auctions News and Results, R Lalique Vases and Rene Lalique Vases