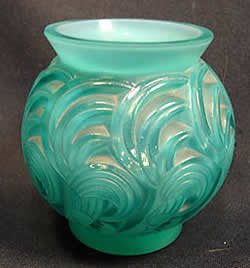 Rene Lalique Cased Turquoise Glass Bresse Vase Appears Online: Signed R.Lalique, with a $9.99 starting bid and no reserve, a good looking R Lalique Bresse Vase was listed for auction this morning. We love these kinds of sellers: Smart Sellers! Here is what they have to say:
Hi, Congratulations on finding Us. We run a Fair and Honest auction. We start ALL at $9.99. If after a few days without an opening bid….there's a good chance we will Pull it Off and smash it on the ground!! We're not asking for a kidney here…….so if you Want it……make SURE it has at least an Opening bid and we will never end it Early. You DON'T see a buy it now button… so please don't ask. We let the E-Bay community tell us what its worth.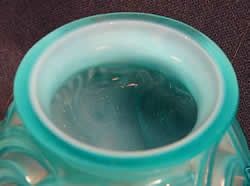 How great are these guys. Over 7000 feedbacks, 99.9% positive. So, they come up with the sharp little R Lalique Vase Bresse in a striking and rare Lalique color, and here it is at $9.99 starting bid and going to the highest bidder. Looks pretty clean too from the photos, except for one issue about what appears to be a very short factory wandering line, which they have shown in the photos in their listing, and which we asked about, and are awaitng further details, which will be added to this post when we get them. Of course, as always, fully check this vase out for yourself if you are interested in bidding on it. But if the little line is just a factory short wandering line on the surface, and there are no hidden issues, this seems to be a great R Lalique Vase and a wonderful Rene Lalique design in the most preferred color (well, red or cased electric blue might be most preferred:).
Here is a link to a saved/cached image version of the original Rene Lalique Vase Bresse At Auction listing online. You may have to use the zoom function of your browser (or whatever program opens images for you) to get the cached image to expand in the window if it does not appear full size. After clicking on the link to the item, a new window will open with the cached image in it. On a Mac, just press the apple key and click on the cached image in your browser window. On a PC, hold down the alt key while clicking on the cached image. We've also listed this vase in our R Lalique Worldwide Auctions Section.
Update on April 30th: The seller has reported the following:
Question: Hii. The swirl…. can you feel it, does it go all the way thru to the inside, and does it reflect light as a crack would? Thanks
Answer: Hi, Its a tiny crack on surface, doesn't even come close to going all the way through. Maybe as thick as a small sewing pin. Maybe smaller. You can only tell its a crack when you look at a veery hard side angle, otherwise it looks like a dark line. Seems to be a factory thing to me but I'm no expert. Its not sharp, as if it was still hot glass and seeped into space. Its a tiny thing but when in your hands i think you will understand. Thanks,. mike
Answer: Hi, it only reflects light when you look at it from an extreme angle. Its tiny but there. Hope this helps. Thanks, mike
July 19th, 2009 Update – Switched item link to cached version.
All Articles on These Topics: R Lalique and Rene Lalique on Ebay, R Lalique Rene Lalique Auctions News and Results, R Lalique Vases and Rene Lalique Vases