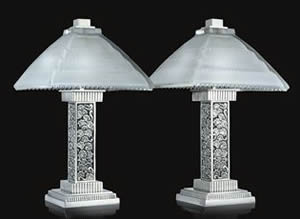 Rene Lalique's R.Lalique Glass Auction Sales Results Continue Strong: At Christie's South Kensington Semi-Annual Lalique Sale on May 20th, a sale we discussed in this Rene Lalique Auctions Preview (and where you can see more photos of R Lalique items mentioned here), sales prices showed once again that the market for R Lalique is quite strong with firm to high prices achieved throughout the entire range of the works of the great Rene Lalique. Christies offered a small 62 lot selection, of which 44 lots sold, resulting in a take-up rate of 71% by volume. The sale totaled a premium inclusive £265,541 British Pounds, or approximately $415,000 US dollars at today's estimated 1.56 dollars to the pound exchange rate. The average lot price was over $9400!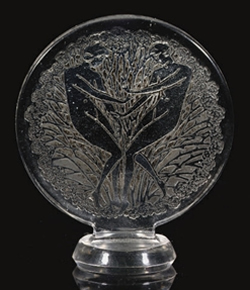 High seller was the stunning R Lalique Centerpiece Deux Cavaliers, sold at £55,000, and totaling £67,250 with premium, or around $105,000. Next was the fresh to market unique Rene Lalique Cire Perdue Vase Chardons, making a bid of £40,000 against an estimate of £25,000 to £30,000, for a premium inclusive total of £49,250 or approximately $77,000. Surprisingly in 3rd place, was the final lot in the sale, an R Lalique Opalescent Alicante Vase, estimated at £10,000 to £15,000, but which made a bid price of £25,000, for a premium inclusive total of £31,250 or around $49,000. All three of the preceding lots were reported to be in good condition with only the most minor issues if any. Fourth highest seller was the large and early Lalique Vase Grand Boule Lierre which made a bid of £17,500 with polishing to the base, or a total of £21,875 or around $34,000. Fifth place went to the pair of Rene Lalique Grand Depot Lamps at £14,000/£17,500/$27,500, followed in sixth place by a good looking yellow amber R Lalique Tourbillons Vase at £11,000/£13,750/$21,500.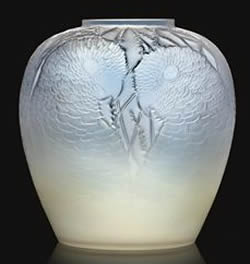 The top six lots accounted for all in total prices of £162,500/£200,875/$313,500 or roughly just over 75% of the total pounds or dollars of the sale. After these six lots prices dropped off substantially, as these six were the only lots making more than £10,000 or $10,000. The next highest selling prices were £5000 with premium for a Rene Lalique Aigrettes Vase and £4750 all-in for an opalescent R Lalique Ceylon vase with seemingly minor issues.
Only two of the hoped for high selling lots failed to find new homes; a wonderful looking R Lalique Paons Lamp estimated at £35,000-£40,000, and the R Lalique Chandelier Hirondelles, estimated at £20,000-£25,000.
There was also strength in the middle market as well, with an opalescent Spirales Vase making an all-in £2,500, an opalescent Rampillon making an all-in £1,375, and the seal cachet Deux Danseuses making an all-in £3,000.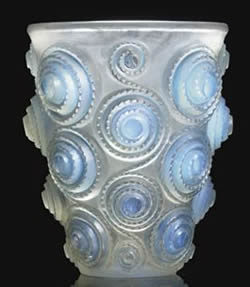 All in all, a very strong sale put together by Department Head Joy McCall and the rest of the highly competent (helpful and friendly!) staff at Christies South Kensington. It follows on the heals of several solid to strong performances for the works of Rene Lalique at auction around the world this Spring. And of course it's great news that Christies continues these longstanding and highly successful dedicated semi-annual Lalique Sales, even as the major auction houses make adjustments and consolidations in other areas due to the current economic climate.
Complete results can be found at the Christie's website.
All Articles on These Topics: R Lalique Cire Perdue And Rene Lalique Cire Perdue, R Lalique Rene Lalique Auctions News and Results, R Lalique Vases and Rene Lalique Vases, Rene Lalique Lighting: R Lalique Lighting Fixtures