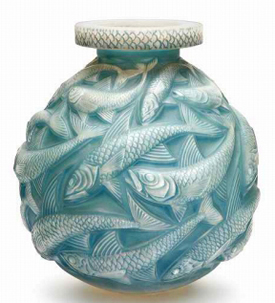 Rene Lalique Glass was represented by 19 Lalique auction lots at the Hong Kong Auction of Est-Quest, the venerable Japanese auction house, which took it's Tokyo based show on the road to the ballroom of the JW Marriott Hong Kong Hotel for a 2 day auction May 15th and 16th! It's not too often you find the works of Rene Lalique at auction in Hong Kong, so we thought a report was in order.
Est-Quest put together a pretty good selection of Rene Lalique Glass items for the May 15th session, consisting of the Rene Lalique Lamp Gros Poisson Vauge; the Lalique Car Mascot, Pintade; the Rene Lalique Bowl Calypso; the Lalique Perfume Bottle Hirondelles; the great Rene Lalique Glass Quatre Grenouilles; the Lalique Centerpiece Oiseau De Feu – Firebird; and 13 Lalique Vases, only one of which was colored glass. The auction was conducted in Hong Kong Dollars (HKD), which are worth about 13 cents U.S (.129 USD) at current exchange rates. While most buyers pay 3% to 5% more than published exchange rates depending on their method of payment as explained in Terms of Sale section of our Lalique Auctions Buying Guide, we use published rates for computing currency exchange prices here in the Lalique News and Blog.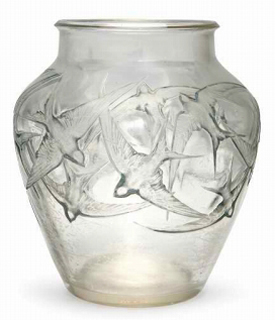 The total low estimates for the 19 lots were 1,326,000 HKD/$172,400 USD. 12 of the 19 lots sold, for a take up rate of 63%. The total Lalique sales were 1,195,000 HKD/$155,400 USD at the hammer prices, and including the 15% buyer's premium they were 1,375,000 HKD/$178,700 USD. The result is that with a 63% sales rate, the total still exceeded the low estimate for all the Lalique auction lots.
High seller was the Rene Lalique Vase Salmonides in opalescent Lalique glass. Sporting a blue patina, this Lalique vase made a premium inclusive 322,000 HKD/$41,900 USD against an estimate of 100,000 – 150,000 HKD. Recall that a similar Salmonides Lalique Vase made over $50,000 at the Christies South Kensington Lalique Sale in November 2006. A close second place was the Rene Lalique Centerpeice Oiseau De Feu (Firebird), which against an estimate of 270,000 – 370,000 HKD, made a premium inclusive 299,000 HKD/$38,900 USD. The good looking R Lalique Vase Perruches in blue glass, was the third highest seller at a premium inclusive 132,300 HKD/$17,200 against an estimate of 125,000 – 150,000 HKD. Rounding out the top 5 were the Rene Lalique Vase Aigrettes at 126,500 HKD including premium, and the Lalique Vase Hirondelles at 115,000 with the premium.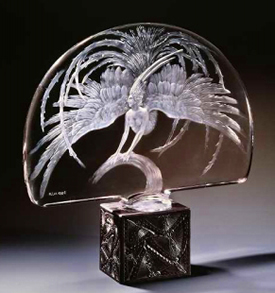 Overall, we judge these good results, especially for this somewhat unusual venue. This marks another solid performance in a long list of successful auction sales for the works of Rene Lalique this Spring, and bodes well for future demand in Asia for Lalique glass.
All Articles on These Topics: R Lalique Rene Lalique Auctions News and Results, R Lalique Vases and Rene Lalique Vases