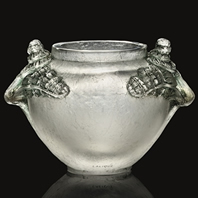 Christies South Kensington's Semi-Annual Sale of the works of the great Rene Lalique, posted a very respectable sale total of £318,450 including buyer's premium. The sale had a catalogued 126 lots, but a couple were withdrawn and not offered. A total of 90 lots sold, for a respectable take up rate of 71%, which would be bit higher if the withdrawals were removed from consideration. High seller was of course the fresh to market R Lalique 1929 Cire Perdue Vase Feuilles Fougeres, CP551, which appears in the R Lalique Catalogue Raisonne only with information that it exists, and without even a drawing, let alone a picture. A photo of this vase has graced our home page for the better part of the past month. Measuring around 4.75 inches high (slightly smaller than a Rampillon Vase), this unique vase had a high relief design, and was in nearly original condition. The buyer was a London dealer in the room, thought by some observers to be acting on behalf of another dealer that wished to remain anonymous (intrigue). Big question – Who will step up to tell Christie's "I saw it at RLalique.com"? These concerns aside, it sold for £32,450 including the buyer's premium, against an estimate of £20,000 to £30,000.
Here is the video from the British Antiques Roadshow when they appraised the newly found Cire Perdue for the consignor:
For more info on the unique cire perdue creations of Rene Lalique, visit the Lalique Cire Perdue section of the Rene Lalique Bio.
Colored vases dominated the rest of the high selling list, comprising 5 of the 7 other lots to break £10,000. These included R Lalique Red Poissons, Blue Perruches, Blue Tuileries, Blue Milan, and an Green Languedoc Vases, in addition to an R Lalique Opal Bacchantes and a Boule De Gui Chandelier. A successful and solid sale with much bidding activity in the room from dealers and collectors, and phone bidders active on a very high percentage of lots.
All Articles on These Topics: R Lalique and Rene Lalique Estate Garage Sales, R Lalique Cire Perdue And Rene Lalique Cire Perdue, R Lalique Rene Lalique Auctions News and Results, R Lalique Vases and Rene Lalique Vases