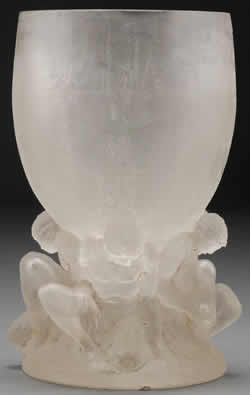 The apparent Rene Lalique Cire Perdue Vase at Skinners in Boston Massachusetts, shown in the first photo, sold as Lot 289 in their sale on March 27th, 2010. Sporting a conservative estimate of $10,000 to $15,000, the vase according to Skinners was unsigned, had no numbers on the underside, had only the word France written on the bottom, had some damage including a visible small chip in their photos, and caused enough doubt in the minds of Skinners that it was catalogued as "Attributed to R. Lalique"!
The final price for the 6 and 1/2 inch vase was $105,000 plus a buyer's premium of $19,425.
The figures on the vase according to the auction house were males, yet the vase bore a striking resemblance to CP 409, the vase Quatre Figurines Femmes Formant Soutien, a 1921 Cire Perdue that was exhibited at the 1925 Exposition des Art Decoratifs and which is shown in the second photo. The documented vase CP 409 has a clear signature visible in the photo in the R. Lalique Catalogue Raisonne. It also featured female figures according to its name and description.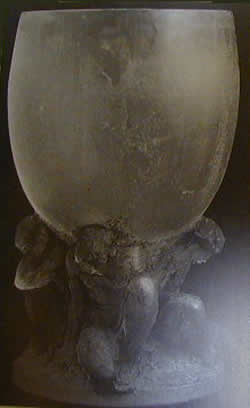 All these questions could of course have been answered by a short in-hand inspection, which we were unable to make. And the vase does look quite compelling from an authenticity standpoint in the auction house photo notwithstanding any obvious damages or concerns.
Not surprisingly, at least a couple of bidders thought it was worth a pretty good go, raising the final price to roughly 10 times the auction house estimate.
In the Lalique Biography at RLalique.com you can read all about the famous Lalique Cire Perdue pieces, and find links to all the Cire Perdue resources, articles, and information contained on the website including Cire Perdue auctions and Cire Perdue fakes.
All Articles on These Topics: R Lalique Cire Perdue And Rene Lalique Cire Perdue, R Lalique Rene Lalique Auctions News and Results