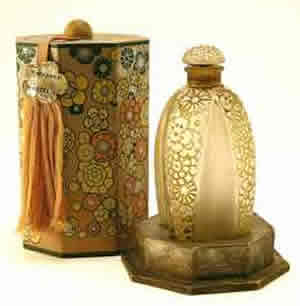 Rene Lalique Perfume Bottles will highlight the Perfume Bottles Auction at the 22nd annual convention of the International Perfume Bottle Association (IPBA). After a successful auction at last year's convention in Albuquerque, Ken Leach returns with a great selection of Lalique Perfume Bottles (and a few bottles by other makers as well:) bringing the total offerings to over 350 bottles, which include approximately 25 superb Rene Lalique perfume bottles.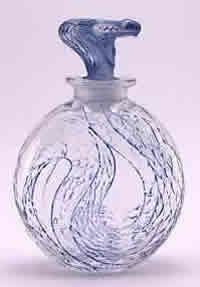 The auction is Friday April 30th at 5:00 P.M. in Reston Virginia, during the four day IPBA convention which runs from April 29th to May 2nd. Nick Dawes will be the auctioneer.
The highlights of the Lalique perfume bottles include the perfume bottles Lilas and Mimosa (Toutes Les Fleurs) for Gabilla with original Gabilla boxes, and an amazingly rare Worth Egg Perfume Bottle (see Lalique Perfume Bottles by Utt Page 78 or Catalogue Raisonne 2004 Page 952 Worth – 9), as well the Lalique perfume bottles Serpent, Telline, Pan, Le Jade with original box, Capricornes, Petites Feuilles, Le Parfum de Anges (made to commemorate the opening of the Oviatt Building in Los Angeles), Misti, Sous le Gui, Camille, Narcisse for Forvil, and others.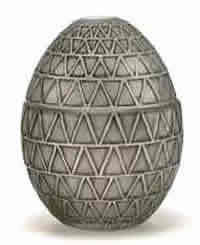 Both the Utt Lalique Perfume Bottles book and the 2004 Catalogue Raisonne are available in the modern Lalique Books section of the Library at RLalique.com, where you will also find other books and great exhibition and auction catalogues showing the wonderful perfume bottles created by Rene Lalique. All other resources at RLalique.com related to Lalique's perfume bottles can be accessed from the Lalique Perfume Bottles section of the Rene Lalique Biography. And finally, for more information on the relationship of James Oviatt and Rene Lalique, you can read the Oviatt Building history article here in the RLalique.com News and Blog.
You can reach Ken at 800.942.0550 or 917-881-8747, or by email to KenLeach47@aol.com.
All Articles on These Topics: R Lalique Rene Lalique Auctions News and Results, Rene Lalique Perfume Bottles - R Lalique Perfumes