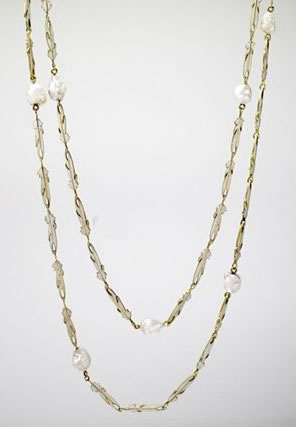 A great looking Rene Lalique original necklace that came up for auction as Lot 33 at Sothebys New York on April 20th sold for $77,500 including the buyers premium.
At the auction titled "Always in Style: 150 Years of Artistic Jewels" (what an appropriate title for the unique jewellery works of Lalique), Sothebys presented an elegant Rene Lalique Necklace described as follows:
"18 KARAT GOLD, ENAMEL AND FRESHWATER PEARL CHAIN NECKLACE, RENÉ LALIQUE, FRENCH, CIRCA 1900
Composed of baroque freshwater pearls, interspersed with white enamel feather links, length 58¾ inches, signed Lalique, French assay marks.
A sketch of a feather link chain is illustrated in René Lalique: Schmuck und Objets d'art 1890-1910, Monographie und Werkkatalog, Sigrid Barten, p. 256, cat. no. 398.2; and a description of this necklace (not illustrated) under cat. no. 398.1."
A timeless and elegant Lalique design and another great auction sale result for the enduring works of the great Rene Lalique.
To learn more about the jewels of Lalique, see the Rene Lalique Jewelry section of the RLalique.com Lalique Biography.
And you can find information about this necklace, as well as every Rene Lalique past auction item previously listed on RLalique.com, in the new Lalique Auctions Past section of the website!
All Articles on These Topics: R Lalique Rene Lalique Auctions News and Results, Rene Lalique Jewelry and R Lalique Jewelry