Lalique Hood Ornaments -Lalique Car Mascots in Hickory Corners: How did that happen?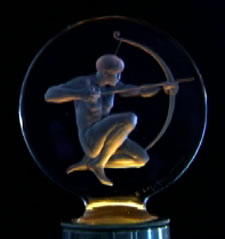 In July 1966, the Gilmore Car Museum in Hickory Corners Michigan opened to the public. It was the love affair of Michiganders (that's right, they're called Michiganders*) Don Gilmore and his wife Genevieve. Where is Hickory Corners you might ask? Well, it's kind of midway between the Michigan Cities of Battle Creek (think cereal – cold breakfast cereal was invented here by Dr. John Harvey Kellog and it is still the headquarters of the company founded by his brother that bears his name, and Post Cereals is headquartered there as well), Lansing (Michigan State University and the childhood and football home of President Gerald Ford, who played on two Michigan State National Championship Football teams, before the big war of course), Grand Rapids (Autos and Furniture: Austin Automobile Company started there in 1901 and lasted near 20 years), and Kalamazoo (Gibson Guitars was founded here, as was the pharmaceutical giant Upjohn, and it's still home to Checker Motors Company, who used to make the Checker Cab!).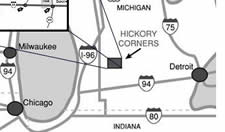 Basically the former heartland of the industrial Midwest during the salad days of U.S. manufacturing! A lot of money was made here and stayed here in the form of public projects by wealthy people and companies. The Gilmores established a foundation that owns the museum and carries on, despite the passing of both Gilmores several decades ago.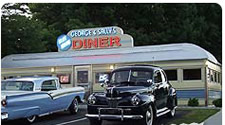 So, what does the Gilmore Car Museum have? Where to begin, hmmm. Let's start with the Blue Moon Diner, a real 1941 diner, picked up in toto from Meridian Connecticut, and moved here to the Michigan countryside! And yes, they serve pecan pie and frozen custard. Over 200 autos, from a 1948 "Waltz Blue" Tucker (number 47 out of a total production of only 51), to a Dusenberg! There's a re-created 1930's Shell gas station (including memorabilia from a Shell station just 3 miles from the Gilmore that closed during WWII), a small town train station, nine antique Michigan barns, and three miles of paved roads, as well as a huge collection of vintage pedal cars and miniatures. You may see their authentic London Double Decker bus tooling around the property when you visit, and it's rumored (though not advertised) that a ride in a cool old vehicle might be had from time to time!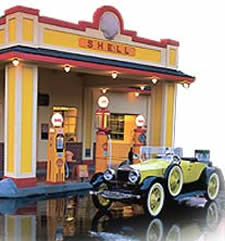 The museum is important in many other respects. For example, The Pierce-Arrow Society (the Roadshow video linked below features a Pierce-Arrow with the Rene Lalique Car Mascot Archers) established its museum at The Gilmore. As a result there are a wide array of Pierce-Arrows on display, one of the coolest of which is a 1912 motorcycle. Note that the entire museum grew out of a gift from Mrs. to Mr. Gilmore of a Pierce-Arrow project car needing renovation. Also, the Tucker Historical Collection and Library, a project of the Tucker Automobile Club of America (the "Car of the Future") is at the Gilmore. Heck, they even have a Chrysler Turbine Car!
Why do we R.Lalique types care about all this? Well, because they also have one of the largest hood ornament/car mascot/auto badge collections in the United States. It contains over 1600 items, some of which are Rene Lalique Car Mascots!
And why are we writing about this now? Well, because in August 2008, the U.S. Antiques Roadshow was in Grand Rapids and made a little trip down memory lane to Hickory Corners for a short Video Special at the Gilmore. In the video, Eric Silver (formerly of the auction house Doyle New York, and now with Lillian Nassau LLC) and Antiques Roadshow Host Mark Walberg spent a few minutes talking car mascots, including a little Rene Lalique Car Mascot talk, with some good video to go along with the chitchat.
So check out the Museum Website, where you'll find a ton of great info and cool photos in addition to the ones here. And if you're ever in Kalamazoo, take a pleasant half-day, put the top down and head over to Hickory Corners, where you'll cruise into American Automobile and Rene Lalique History!
* The demonym (that's a word used to describe local people which uses some local stuff in the word) Michigander is credited to Abraham Lincoln! Yes, The Abraham Lincoln! On July 27, 1848, Lincoln was making a speech in the U.S. Congress as a member of the Whig Party and a representative from Illinois, when he made of fun of Lewis Cass, the Governor of the Michigan Territory, by calling him "The Great Michigander!" If Lincoln only knew how well it would stick! What the heck, he carried Michigan in both his Presidential elections.
All Articles on These Topics: R Lalique and Rene Lalique Antiques Roadshow, R Lalique Videos and Rene Lalique Videos, Rene Lalique Car Mascots and R Lalique Car Mascots, Rene Lalique Museums: R Lalique Museum Collections