Rene Lalique Seal Moineau, a nice looking colored Lalique Cachet has appeared for sale online at auction with a low starting price and no reserve!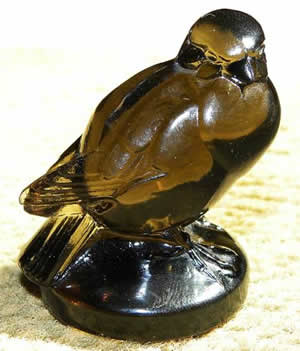 A great R Lalique seal, the Moineau Cache is a classic Rene Lalique design. This same Lalique seal was also affixed to a dish and sold as an ashtray, or as it's called in Lalique's mother country, a Rene Lalique Cendrier.
The U.S. seller of this great little item (a Michigander no less – see the recent Rene Lalique Car Mascots Post for a Michigander explanation) is a high feedback, 99.5% rated powerseller. He states "THIS IS A BEAUTIFUL PIECE IN EXCELLENT CONDITION. NO CHIPS, CRACKS OR SCRATCHES." He also provides a good number of photos so you can see for yourself. The starting price is $50 and no reserve, which makes this Lalique auction especially attractive for the apparently fresh to market Rene Lalique cachet.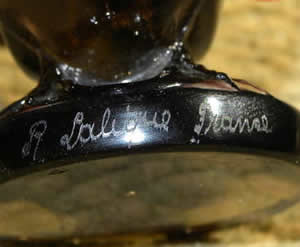 Here is a link to a saved/cached image version of the original 360171442480 listing online. You may have to use the zoom function of your browser (or whatever program opens images for you) to get the cached image to expand in the window if it does not appear full size. After clicking on the link to the item, a new window will open with the cached image in it. On a Mac, just click on the image and see if that expands it. If not, press the apple key and click on the cached image in your browser window. On a PC, hold down the alt key while clicking on the cached image.
We've also put the seal in our Rene Lalique Auctions Worldwide Section.
And of course, in our Rene Lalique For Sale section here at RLalique.com, you can usually find a great selection of Rene Lalique Cachets-Seals For Sale.
And our usual caution applies: If you are considering bidding on this or any Rene Lalique antique item, check it out thoroughly! Look at everything from the condition to the signature, to the terms and the shipping costs, and the reputation and return policy of the seller. Everything! A little bit of diligence goes a long way toward avoiding regrets.
All Articles on These Topics: R Lalique and Rene Lalique on Ebay, R Lalique Rene Lalique Auctions News and Results, R Lalique Rene Lalique Seals Cachets