Rene Lalique Jewelry: In the top tier of Lalique's jewelry creations, made before his turn to mass production of glass, are the Rene Lalique unique Serpents motif objects. Two great variations of this striking R Lalique Jewelry design are in world-class museums and their survival provides a great chance to compare and contrast follow-on implementations by Lalique of one of his most amazing design ideas.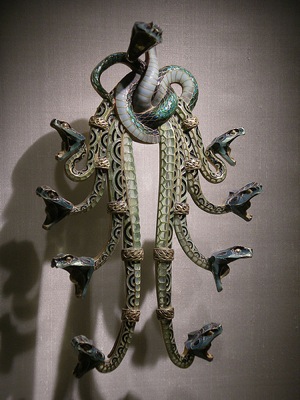 The piece most often appearing in exhibitions and photos around the world (including the accompanying photo from Wikipedia Commons) is the 9 Serpents pectoral* owned by the Gulbenkian Museum in Lisbon. This amazing piece was acquired by Calouste Gulbenkian directly from Rene Lalique in 1908 and it resides in the museum specifically built to house the collections he amassed during his lifetime, including his collection of over 100 of the works of Rene Lalique. The Gulbenkian Serpents creation is classified as a pectoral instead of a brooch due to its amazing size of 21 cm, or over 8 inches long. A similar piece to the Gulbenkian's was exhibited in 1900 with strings of pearls hanging from the mouths of the serpents.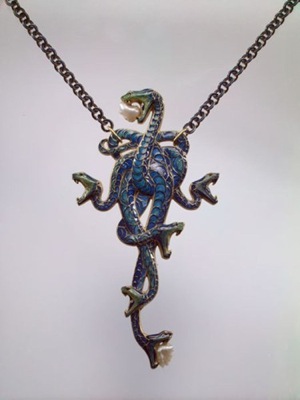 But another great Serpents motif jewelry piece also appears at exhibition from time to time, this one owned by the State Hermitage Museum in St. Petersburg Russia. The Hermitage is housed in the former Winter Palace of the Czars, and contains over three million art objects in its collections including several works of Rene Lalique. The Hermitage Serpents design takes the form of a pendant, and features 6 Serpents, two of which retain the natural pearl in their mouths, so often used by Lalique in his jewelry. This pendant form Serpents design is roughly half the size of the Gulbenkian's Serpents pectoral, measuring only 11 cm long. It recently was on loan to the Artistic Luxury Exhibition which appeared both in Cleveland and San Francisco and which ended in May.
Lalique would often make variations of his great jewelry designs, using and re-using similar implementations of the same motif to create unique objects. In this example, Lalique created objects with different uses and size, but both retain the look and feel so to speak, of the original artistic creation. A study of these two great objects shows not just the influence of Art Nouveau on Lalique's jewelry, but also how the same basic design was adapted by Lalique to different purposes, not just of use, but also of effect.
Here are two short videos, one taken at the Gulbenkian showing some of the works of Lalique on exhibit there, and another taken at an exhibition of some of the Art Nouveau masterpieces of the Hermitage. Both videos show the Lalique Serpents Jewelry owned by the respective museum.
The Bible of Lalique's Jewelry, Rene Lalique Schmuck und Objects d'art 1890-1910 by Sigrid Barten shows several variations of this great Serpents design. It's of course available in our Rene Lalique Books and Library Section on modern books about Rene Lalique and his R Lalique works. In this Library section and others, you will also find various books and catalogues on Lalique's jewelry, the hardback edition of the great Artistic Luxury Exhibition book, as well as several different publications documenting the Gulbenkian's RLalique collection.
*Pectoral really means breast-plate, and is used to describe what in effect is a really big brooch. Think brooch on steroids!
All Articles on These Topics: R Lalique Exhibitions and Rene Lalique Exhibitions, Rene Lalique Jewelry and R Lalique Jewelry, Rene Lalique Museums: R Lalique Museum Collections