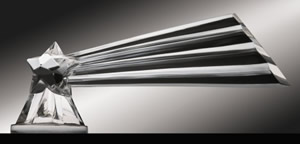 A complete collection of the 30 Lalique Mascots *** sold at RM Auctions on March 10th for $700,000 plus a buyer's premium of 15% or $105,000 for a total sale price for the great Lalique Glass Collection of $805,000. In addition to the mascots, Lot 111 at the auction also included two custom made cabinets specially configured to display the collection. The lot was offered without reserve as part of the regular Amelia Island Florida collector cars auction put on by RM Auctions.
The appearance at auction and the history of this particular Lalique Collection are discussed in a previous news article at Lalique Mascots!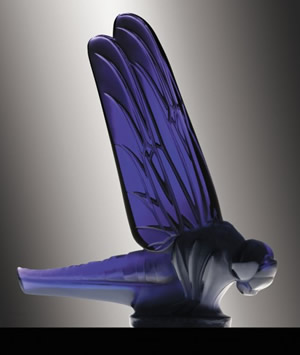 At an auction of over 100 high end collector cars, Rene Lalique managed to outsell all but 8 of the other lots in the auction, including squeaking by the 10th highest seller, Lot 168, a great looking Duesenberg Model J Convertible Berline by LeBaron with a storied and detailed provenance dating back to its original owner. It was truly a "Doozie" **** and it made just $2000 less than the Lalique, coming all-in at $803,000.
The stunning wrap up: What Rene Lalique created in glass as artful accessories, have now become more valuable than many of the very autos that his mascots were intended to accessorize! 🙂
You can find links to all of the mascot resources here at THE Worldwide Gathering Place for R.Lalique Enthusiasts by visiting the Lalique Car Mascots section of the Rene Lalique Biography.
*** 30 mascots is considered a complete collection. See the linked article above, as well as the linked Mascot section of the Rene Lalique Bio for details.
**** "It's a doozie!" is a roughly 100 year old expression of debated origin. However, after the appearance of the Duesenberg Automobiles, it's use and meaning to designate anything remarkable, one of kind, or the unusual, was cemented into the American lexicon as the phrase became associated with the great motorcars. Today it's sometimes spelled Duesy, Doosy and Doozy in addition to the spelling we use here.
Photos: Michael Furman courtesy of RM Auctions
All Articles on These Topics: R Lalique Rene Lalique Auctions News and Results, Rene Lalique Car Mascots and R Lalique Car Mascots