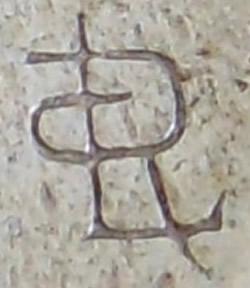 On almost any day of the year, somewhere in the world there is a medal, button, pendant, cufflink, locket, hatpin, or similar object for sale with the mark you see in the first photo here, represented to be the work of Rene Lalique. The hard evidence is the signed "RL" signature. And the soft evidence is the style of the piece, and the likely period of its creation.
But the hard evidence is wrong. The signature is not RL, it's LR and it's the mark of Louis Armand Rault, a Frenchman who lived from 1847 to 1903. Rault was a sculpture, a chaser, a jeweler and a medalist. Born the son of a shoemaker in St. Calais in the Pays-de-la-Loire region of northwestern France, by the age of 21 he was working for Boucheron in Paris. The great Henri Vever believed that Rault might have been the most talented chaser of all time! Rault created many unique and attractive objects, a number of which are in major museums.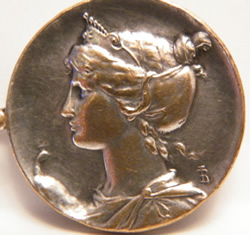 But his most often seen works are in a handful of designs that were apparently licensed for use by many different manufacturers. So for example, one of his females in profile designs, may appear in a gilt metal stickpin stamped out in France, or on Sheffield Silver buttons made in England, or on a pendant with the addition of gems around the neck of the female. In addition to sometimes being enhanced with various gems and stones, Rault's medals also appear inside intricate surrounds or incorporated into other objects such as ashtrays.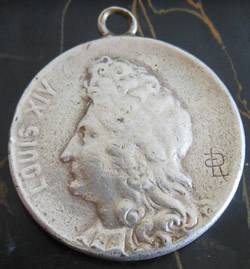 The objects with these designs all have two things in common. They all sport the LR mark shown here. And they all often appear advertised as the work of Rene Lalique. This is true for direct sales ads, online auctions, and at auction houses.
In the very active Fake Lalique section at THE R. Lalique Worldwide Gathering Place, we receive a steady steam of reports from buyers, sellers, and interested parties about the never ending offers of Rault signed LR works improperly attributed as being signed RL for Rene Lalique.
Keep in mind that a false attribution does not always mean purposeful malice by the seller. With that supposed RL mark, a seller may think it's truly R.Lalique, or maybe it's just their best guess or wishful thinking. Or maybe the did some research and found the same design attributed to Rene Lalique by other sellers.
Whatever the seller's motive or knowledge or lack thereof, the only thing that should concern you as a buyer is to be armed with enough information to dodge these kind of bullets. What the seller knows or doesn't know is of little import.
We decided that the best way to minimize the continued occurrences of these false claims was to create a Louis Rault reference page that can be easily found by owners and potential buyers of these Rault items who are looking for information and photos to identify these signed LR pieces. And so has been born the LR-RL Signature-Mark confusion page. Check it out.
All Articles on These Topics: R Lalique - Rene Lalique Authentication, R Lalique and Rene Lalique Fakes-Copies-Frauds, Rene Lalique Jewelry and R Lalique Jewelry