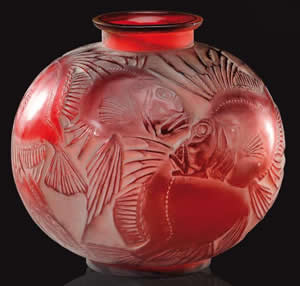 Rene Lalique items continue to get strong prices throughout the world at auction, a good-looking Red Poissons Vase on April 4th in Paris being no exception. Aguttes auction house offered a nice selection of around 15 R. Lalique items at their sale of 20th Century Decorative Arts that day, with the high seller being a Console Table made by Charles Bernel from drawings by Rene Lalique for the Lalique Pavilion at the 1925 Art Deco Exposition In Paris. The rectangular marble table with carved supports made just over €50,000 all in.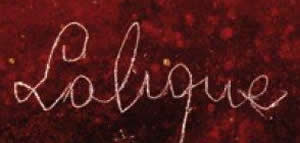 But it's the next high seller, at €41,628 all-in against a pre-sale estimate of €16,000 – €18,000 that is most interesting in terms of the current market. That price was paid for Lot 67, the patinated red glass Lalique Vase covered with fish. The price for the Poissons Vase translates into about $55,000 which is almost certainly a record price for a Red Poissons at auction. The Lalique signature shown here was inscribed on the vase.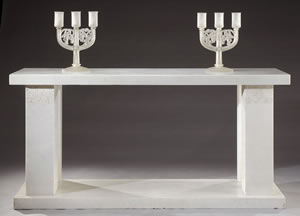 Third high seller in this same sale was a great looking rare candelabra pair in the model Trois Branches Raisins, selling for €31,627 all-in.
The sale of the good looking R. Lalique Poissons Vase makes yet another mark on the trail of higher and higher prices. We've written previously about the demand and pricing for Rene Lalique glass when Lalique buyers see red, but this price strength, fueled by worldwide bidding interest at auctions, is evident across much of the collecting field. Once again, another great result and a great day for the great Rene Lalique.
All Articles on These Topics: R Lalique Architecture - Rene Lalique Architecture, R Lalique Rene Lalique Auctions News and Results, R Lalique Vases and Rene Lalique Vases