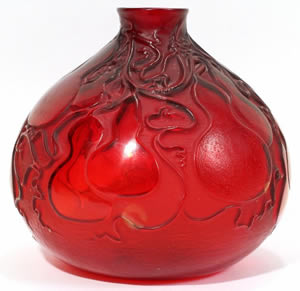 Rene Lalique Red Vases do extremely well at auction, as evidenced by a string of world record prices for different R.Lalique Vase models in red glass over the last few years. Recent examples include a red glass Perruches Vase which sold at Bonhams in London on November 16th, 2011 as Lot 157 in their sale, "Rene Lalique: Designs in Glass" for £42,050 (about $68,000 at that time), as well as the red glass Rene Lalique Hirondelles Vase which famously made a world record auction hammer price for any R. Lalique colored glass production vase in November of 2010. And also on December 9th, 2010 a Red Ronces Vase selling as Lot 56 made £10,000 British Pounds at Christie's South Kensington (about $16,000 at the time); also a likely world record price at auction for the Ronces Vase model.
And while red glass vases have done extremely well as of late, the world records have not been limited to either red or rare, as shown by the opalescent glass Rennes Vase, which made a world record price for that model selling as Lot 10-875 on November 17th, 2011 at Christies South Kensington in London for £18,750 or about $30,000 at the time! A person (and a hat-tip to our confederate "Pol" from south of the equator for being that person and bringing this to our attention) could make the case that in some respects, the relatively common Rennes Vase making that kind of price is more impressive than any of the red stuff.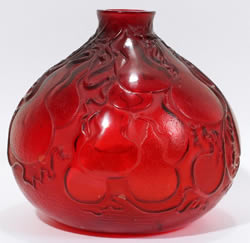 But be that as it may, the numbers are much bigger when bidders see red; red and rare being an explosive combination in the price department. February 11th, 2012 in Detroit at Dumouchelles auction house was no exception. For on that day, an R. Lalique Courges Vase appeared in Lalique's red glass. Introduced in 1914, the Courges Vase is one of Lalique's earliest production vases. Red Courges are rarely seen at auction, the last time being the Red Courges at Davidson Auctions in Australia on August 8th, 2008 where it sold for AUD41,940 all-in against a pre-sale estimate of AUD9,000 to AUD11,000. The final price was about $38,000 U.S. at that time.
And note that there is an active private market as well for all models and colors of R. Lalique, the red Courges being no exception (well activity is limited a bit by rarity:). We placed a red Courges Vase through the Lalique Wanted section here at RLalique.com near the end of 2011 in a transaction between clients of two different countries. That placement came after over 2 years of searching for one of course.
The Courges is one of Rene Lalique earliest vases, with both the shape of the vase and the design on the vase being in harmony with the vase's gourd motif.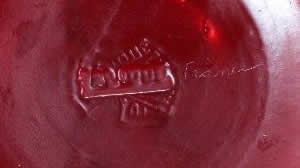 Another great thing about the Courges is that it many times has multiple interesting signatures, owing to the manufacturing techniques of the period; the Dumouchelles example being no exception as shown in the accompanying photo. Other Courges multi-signature examples can be seen in the linked article on authentic R Lalique Signatures here on the website.
The auction house reports that there were at least 8 serious bidders, with a handful still bidding near the end.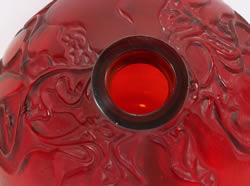 We talked to some of those interested parties and they all had great things to say about the professionalism and excellent service they found at Dumouchelles, something we at World Headquarters have also experienced in our contacts with everyone at Dumouchelles. The active bidders included collectors and dealers from continental Europe, England, the U.S. and at least one other continent. Hopefully, several of the bidders will have remembered to tell Dumouchelles what auction houses around the world have been hearing for years on their R.Lalique items; "I saw it at RLalique.com!".
One final note from the auction house: On Wednesdays, Dumouchelles holds open consignment days, where people just walk-in with what they have to offer, and the auction house never knows what might appear. Well, the great Red Courges Vase walked-in on a Wednesday (and flew out on a Saturday). Go figure.
Against a pre-sale estimate of $3000 to $6000, the final price was $47,500, and with the buyers 20% premium, $57,000. The world record for this vase model, and a great R. Lalique result.

How rare is the red glass Courges Vase? Well, after leaving the factory and the retailers back in the day, it's unlikely that two of these vases have ever been together in the same room again …… until recently. The accompanying Two Red Courges photo shows a pair of the great and rare vases sitting together on a window shelf. They are part of an extensive current collection of R. Lalique items. One of the two pictured Courges is the vase acquired thru the Lalique Wanted section here at RLalique.com, having appeared quite literally out the blue (out of the red?) in an email a while back that began; "I am in possession of a vase that appears in your Wanted Section …. ". True enough the writer was.
And yes we know; several of the underbidders this week on the Dumouchelles Red Courges are seeing double red themselves after viewing this great double Courges photo!
A red hot market for the great Rene Lalique.
All Articles on These Topics: R Lalique Rene Lalique Auctions News and Results, R Lalique Vases and Rene Lalique Vases