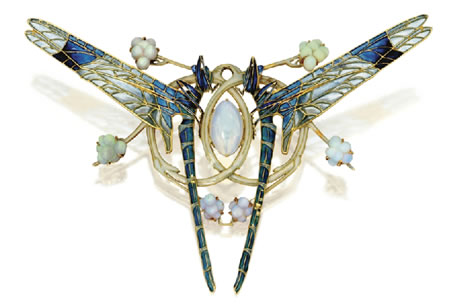 Rene Lalique Jewelry hit another auction sales home run at Sotheby's Important Jewels auction on February 9th, 2012 in New York City. Tucked into the middle of the two session sale were four R. Lalique jewelry items, all thought to be unique pieces from the period before 1905.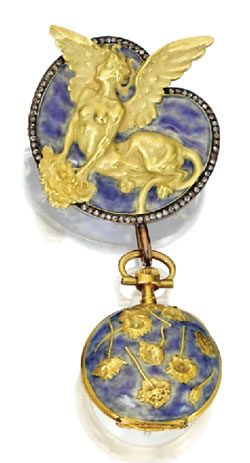 In summary, the four lots were estimated in total at $255,000 to $340,000. Against this estimate, the four made $652,000, or over 2 and 1/2 times the low estimate and nearly double the high one.
Lot 253 was the high seller of the group; a wonderful combination Lalique pendant-brooch, with a small watch where you might typically find the trademark suspended natural pearl.
Two coherent pieces, finished well both back and front, they made $188,500 against and estimated $75,000 – $100,000.
2nd high seller and a personal favorite of this writer was Lot 252, a typically designed and presented Lalique Pendant with an off-white enamel face, blue enamel poppies, yellow-green enamel leaves, and sporting a gray-lavender drop pearl. This wonderful Lalique Jewel is shown in a drawing on Page 274 in the seminal work by Sigrid Barten titled Rene Lalique Schmuck und Objects d'art which is available in the Lalique Books section here at RLalique.com.
This amazing piece of R. Lalique artwork made $176,500 against an estimate of $60,000 – $80,000.

3rd place went to the Dragonfly Pendant-Brooch selling as Lot 254 and featuring two facing dragonflies done up in blue, teal, white, and plate blue plique-a-jour enamel, and having a central oval cabochon opal, white opal spindleberries, and stems enameled in white.
The missing pin did not deter bidders from pushing it up to $170,500 against an estimate of $60,000 – $80,000.
4th in price, was Lot 255, a two part offering consisting of a matching Lalique Brooch and Lalique Clasp. Each piece had a central amethyst, each featured white, cream and pink enamel work, each had a well worked mirrored gold patterned back, and the Brooch additionally showed clusters of iridescent glass raspberries.
The nice matched pair made $116,500 again the thrice low $60,000 – $80,000 estimate.
The nearly 400 lot sale at the company's York Avenue salesrooms totaled just over $10,000,000, with the Lalique Jewelry comprising but 1% of the offered items, yet making over 6% of the sale total.
Once again, the market continues strong as more buyers recognize not just the attractiveness of the works of Rene Lalique, but also Lalique's importance in art history and the art nouveau and art deco movements. You can find out more about Rene Lalique Jewelry and entire amazing story about the life of the great man by visiting the Rene Lalique Biography, here at RLalique.com: THE Worldwide Gathering Place For Rene Lalique Collectors and R. Lalique Enthusiasts!
All Articles on These Topics: R Lalique Rene Lalique Auctions News and Results, Rene Lalique Jewelry and R Lalique Jewelry