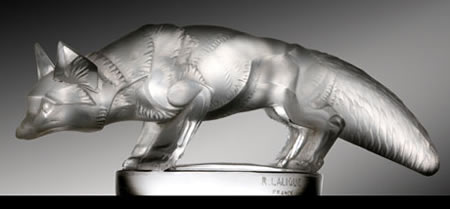 Rene Lalique Car Mascots are among the glass maker's most sought after artful objects.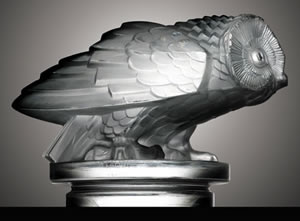 It all started in 1925 with several mascots including the R. Lalique Cinq Chevaux Car Mascot, a mascot you can read a little bit about in the linked Blog article, and it ended just 6 years later as the spreading global depression changed the buying habits of both decorative glass and automobile buyers.
Lalique mascot collectors today that are attempting to assemble a complete collection, generally try to acquire 30 items, to include the Naiade paperweight along with the 29 objects that were marketed as car mascots. Note that some of those 29 objects were dual marketed as paperweights.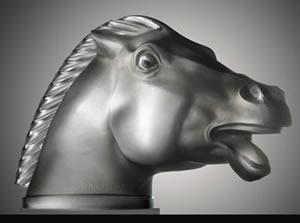 And there actually is a 31st Lalique Car Mascot, the mascot Levrier-1, believed to have been made as a non-commercial model for Prince George, the younger brother to Prince Edward (later King Edward VIII, and Prince Albert (later King George VI). This mascot is extremely hard to find.
In French, Lalique was selling Bouchons De Radiateur; radiator caps. Today they are referred to not just as Car Mascots, Bouchons De Radiateur, and Radiator Caps, but also Mascots, Mascottes, Hood Ornaments, and Figureheads.
A brief history of R. Lalique Car Mascots appears in the Biography of Rene Lalique here at RLalique.com, where you'll also find useful links to all the Car Mascot resources and information on the website.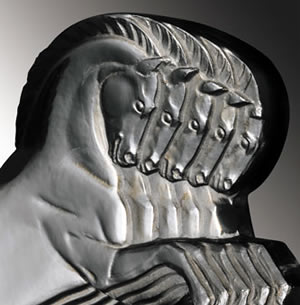 The R. Lalique collector market is only a part of the demand for these great art glass mascots. Car collectors comprise a huge part of the market, car mascot collectors are also a big part of the demand, and to a lesser extent there is museum interest as well.
As is true in several other collecting areas (such as perfume bottles and opalescent art glass to name a couple), if you are a collector of Hood Ornaments, the most sought after are the ones from the great Rene Lalique.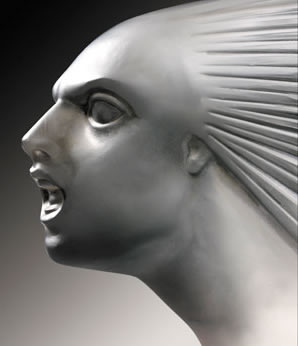 Complete R. Lalique Mascot collections rarely appear at auction.
There are only two in recent memory, one of which was part of the amazing Gerald Pulver R. Lalique collection. Before he passed away. Gerry lived in Key Biscayne Florida and at one time may have had the greatest collection of R. Lalique in the world. He was also a great guy and did a couple of great (unsung) things for the whole collecting field. A complete set picked from Gerry's mascots was offered by Bonhams on May 1st, 2004 at their sale in Brookline Massachusetts along with additional lots of individual mascots from his deep collection. The catalog from that auction is available in the Lalique Library. It can be found in the Library section on modern auction catalogues that partially contain R. Lalique. It has photographs of the entire collection as well as all of the individual lots and the sales results. The catalog stock number is 657 and we only have two left to sell.
The other complete collection, and the one we are most interested in, appeared at RM Auctions in September 2000.
It was said to be one of two complete collections owned by Marvin Tamaroff, and it sold at that auction for $550,000.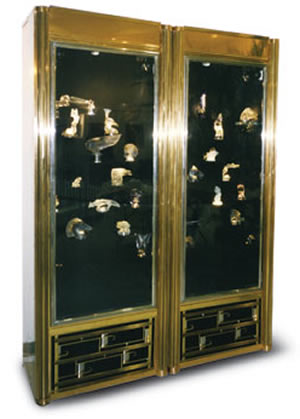 We are reliably informed that the collection coming up for auction on March 10th at RM Auctions in Florida is that same collection.
The pre-sale estimate is $800,000 – $1,200,000 but the collection is offered with NO RESERVE!
The collection on offer is currently owned by Ele Chesny.
She is known throughout the antique auto world as one of the great car collectors, and she may be the foremost female collector in the field.
Without reserve and therefore definitely selling, it should be an interesting and exciting sale day for the works of Rene Lalique.
All Articles on These Topics: R Lalique Rene Lalique Auctions News and Results, Rene Lalique Car Mascots and R Lalique Car Mascots