$100,000 for an R. Lalique Perfume Bottle! How many times have you heard that?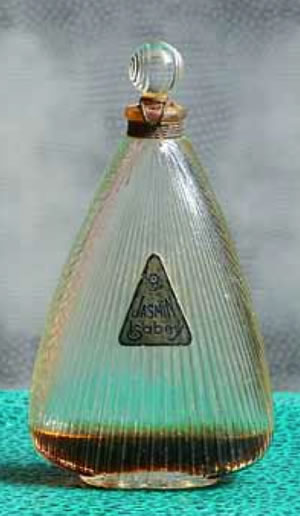 On March 26th, at the Paris auction house of Olivier Coutau-Bégarie, on offer were about a dozen R.Lalique Perfume Bottles and Boxes. It was a nice selection of perfume bottles and included Le Jade for Roger & Gallet in the well known jade green glass, Fleurs D'Amour, Narkiss and Cigalia for the same perfumer, a nice black Ambre D'Orsay Perfume Bottle, also a clear Ambre bottle, the bottle Camelias, the bottle Le Lys, the perfume bottle Fleurs De France, and the bottle Violette also for D'Orsay, Marjolaine for D'Heraud, Bouquet de Faune for Guerlain, the perfume tester La Renommee again for D'Orsay, and to take the D'Orsay cake, the rare and wonderful Grace Perfume Bottle in original box, which made €17,000 hammer plus 23% buyers charges**, or a total of €20,910 or about $28,000 at the approximate exchange rate of 1.3325 on that day. On most R.Lalique Perfume Bottle days, the great Grace would carry the day in the high price department.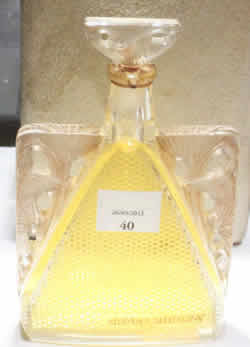 But on this day, Coutau-Bégarie had one more bottle up their sleeve. Lot 138, estimated below the Grace at €10,000 – €15,000 was a 8.5 centimeters tall soft triangular shaped bottle on low oval base, the bottle ingrained with a light almost ribbed design, topped by a pearl shaped stopper with a contrasting swirl motif on each side. This bottle, previously known to have been produced experimentally but not commercially, is shown in the R. Lalique Catalogue Raisonne on Page 947 under the name Striures (striations) in the section for perfume bottles that may have been produced, but for unknown perfume companies. As we now know from the appearance of this Lot 138, the bottle was used for the perfumer Isabey's Jasmin scent.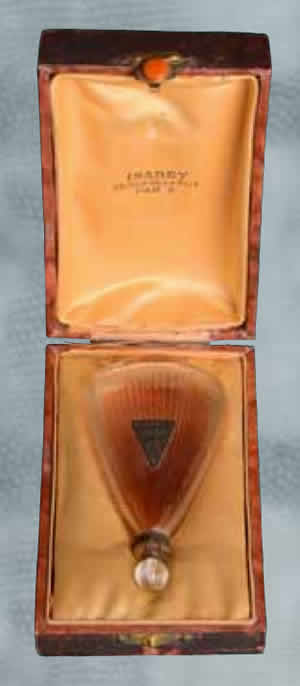 Isabey was founded in 1924, and the design of this bottle is from 1925. The company was named for an early 19th century artist. Isabey was owned (or financed) by Baron Henri James de Rothschild who was married to Mathilde Sophie Henriette von Weissweiller. Mathilde died at the age of 54 in 1926, while Henri (who was a playwright under the name Andre Pascal) lived thru the end of World War II and died in 1947 at the age of 75. Isabey was acquired in 1941 by Marcel Guerlain.
The rare Jasmin Perfume Bottle with its original box and label crushed the pre-sale estimate making a hammer price of €61,000 and with the 23% listed in the catalogue for buyer's expenses**, made a total of about €75,000 or approximately $100,000 based on the day's exchange rate. In a well-stocked sale of around 250 lots, it accounted for 1/3 of the sale total and was obviously the high seller of what was another great day for the great Rene Lalique and his wonderful R.Lalique glass.
If you want to know more about perfume bottles and Rene Lalique, head straight to the R.Lalique Perfume Bottles section of the Lalique Bio here at RLalique.com, where you'll find information and links to all the resources about Lalique's great perfume bottles here at THE Worldwide Gathering Place for R.Lalique collectors.
** The buyers charge of 23% in addition to the hammer price) is an estimate.
All Articles on These Topics: R Lalique Rene Lalique Auctions News and Results, Rene Lalique Perfume Bottles - R Lalique Perfumes