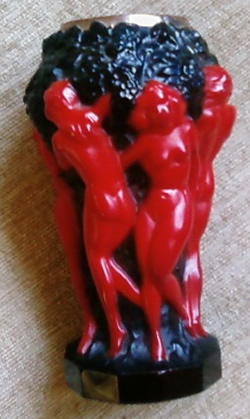 Identify Fake Lalique is a new sub-section of our information packed Lalique Fakes section here at THE Worldwide Gathering Place for R.Lalique Collectors and Enthusiasts.
Through this new sub-section, we've made available three different kinds of information on the sources of items that turn up with forged R.Lalique signatures and items just misrepresented as R.Lalique. We estimate that the items accessible from this new sub-section account for as many as 75% of all such items that appear.
First, we have put relevant old catalogues of Czech glass online, and linked to other sites having such catalogues. These catalogues document the source of a great percentage of later forged pieces. Keep in mind that the pieces shown thru the Identify Sources pages were not created with the intent to fool anyone. It is only the later addition of a fake Rene Lalique signature of some kind, or the false representation that the item is the original work of Rene Lalique that makes the piece a fake as far as R.Lalique collectors are concerned. But many of these items have value and are collectible in their own right, and again, were not produced with the intent to deceive anyone.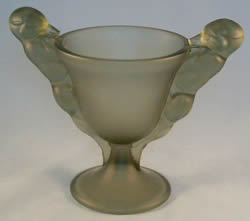 Second, we've linked to websites that currently sell new pieces that sometimes end up with forged signatures and sold as R.Lalique.
Third, we've linked to one general information website (with hopefully more to come) which is helpful in identifying Fake R. Lalique.
We've also created an outline on our Authenticating Lalique page, which directs interested owners of possible problem pieces or potential purchasers of any R.Lalique piece, through a four-step process utilizing the resources available here at RLalique.com. The process steps through the resources on Lalique Forgeries, the Modern Lalique Crystal Signatures page, the new Identify Fake R. Lalique sub-section, and finally to the documented R.Lalique Copies that are known to exist.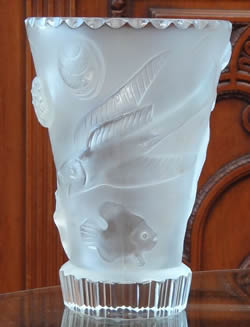 We also placed online and accessible from the navigation bar on every page of the main RLalique.com website (all pages except the Blog) a new section on Lalique Signatures! The signature section is broken down into three sub-sections: Authentic Rene Lalique Signatures, Fake R.Lalique Signatures, and the previously mentioned Lalique Crystal Signatures. Actual signatures from actual pieces are shown on all three of these sub-sections. It's worth keeping in mind that signatures do not authentic pieces as many signatures are easily faked. However, armed with knowledge you can differentiate between modern Lalique Crystal and authentic Rene Lalique signatures. And of course, some signatures are so far off the reservation that being able to spot those saves a lot of time (and possibly money and headaches) as well. Previously the reference literature had but a handful of mainly line drawn signatures for collectors to examine. Now there are hundreds of real examples taken from real pieces. And for the Rene Lalique Signatures and the Cristal Lalique Signatures sub-sections, if you put your cursor over any photo in those two sub-sections, a text window will appear telling you what piece the signature was found on.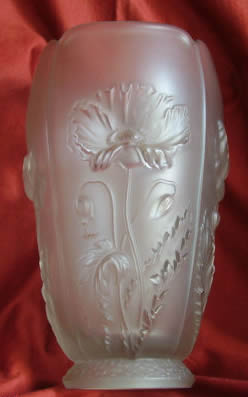 In the future, time permitting as always :), we'll add over 1000 more photos to the Forgeries section of items that have appeared falsely represented as R. Lalique. And we'll be breaking the Forgeries section down into more categories to make it faster to look just for the type of piece you have instead of having to scroll thru photos that may show items unrelated to the specific type of item you are researching.
As the value of the great authentic R.Lalique glass and other items continues to appreciate, more and more vigilance is needed to become educated and watchful for the increasing number of fakes entering, or attempting to enter the market. Our Suspicious Lalique Auctions page continues to grow with more and more listings on a continuous basis as fakes and questionable pieces come up for auction in greater numbers. The good news is that this problem is minor for R.Lalique when compared to many collecting fields, some of which have been greatly damaged by the intrusion of fakes and forgeries. But only through information, education, and vigilance by the entire collecting community, can the fakes and forgeries be kept at bay**. This is an effort that benefits everyone involved with the works of Rene Lalique.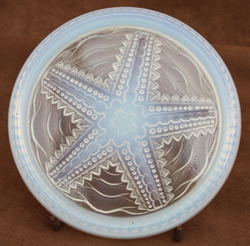 In that regard we are actively soliciting additional sources of information for the new Identify Fakes section; for help in finding and exposing current fakes at auction; in getting information on any other R.Lalique copies that appear; or about ongoing scams as they develop. Also for example, if you have a photo of an R.Lalique signature that we do not show, or of a Cristal Lalique signature we are missing, we would gladly accept help in that area as well. If not for the generous contributions of time and information from many R.Lalique collectors, the information on fakes that we have organized and highlighted here would be just a fraction of its current volume. We have accomplished a lot, but more work remains, and we can use all the help we can get.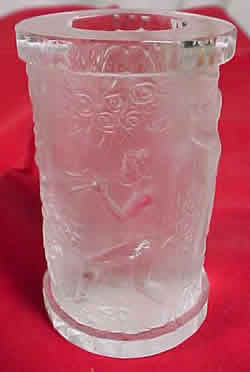 And finally related to this topic, we have a major sub-section where we are assembling photos of known Lalique Crystal Reproductions by the modern Lalique Company of original Rene Lalique designs. This information lets collectors know on which R.Lalique pieces they need to be even more vigilant to ensure they don't have a modern crystal piece with an altered signature. This sub-section is nearly complete for reproduced vases, but far from complete in other types of items, and we would welcome photos from anyone having pictures of modern crystal reproductions not yet shown on that page.
We are quite hopeful that these latest steps to augment and organize the vast information on Fakes here at RLalique.com will make it easier and faster for potential buyers to get the added information they may need to make better informed decisions about a potential purchase, or for owners to get information about the true nature of a piece they possess.
Oh ya, none of the items pictured in this article are authentic R. Lalique glass.
** "keeping at bay" is an idiomatic expression which means to keep something or someone away from you that might be harmful or unpleasant.
All Articles on These Topics: R Lalique - Rene Lalique Authentication, R Lalique and Rene Lalique Fakes-Copies-Frauds