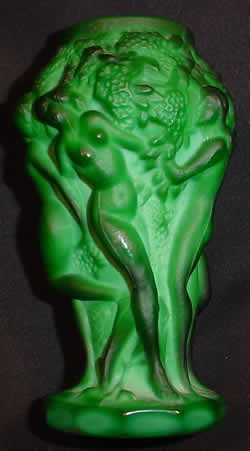 Most of the pieces falsely represented as the work of Rene Lalique are made with no intent to deceive anyone. It is only after they leave the respective company's factory, that a fraudster affixes a forged R.Lalique signature, or a seller wrongly claims the item was made by Rene Lalique.
Most of these pieces are collectable in their own right, and have value independent of the false signature or false claim. While it is true that most of these items would be more valuable if they were the work of Rene Lalique, we have seen the rare circumstance where the false claim actually lowered the price of an otherwise collectible item. This can happen where the collectors in the field for the true maker of the piece are not aware of the offering for sale because the seller has listed it only as R.Lalique. The piece may then be ignored by educated R.Lalique collectors and sell for little or no money, while the people that actually collect pieces from the true maker might have paid more if they had a chance to bid.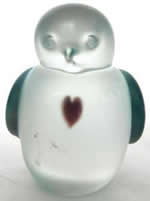 Here is a link to one funny example that we reported about, where a regular seller on Ebay, regularly making false claims, sold a piece of Zellique Studios glass as "Lalique Studios" glass. We show the "Lalique Studios" original listing in the article, and also show a listing for an identical item accurately described by another seller where it got over twice the price of the Naim Bouchareb-Dounial False Claims piece.
We have three categories of information that follow. First is Catalogues, where we have either created pages or linked to other websites showing older catalogs of manufacturers or wholesalers of glass, some of which has appeared with later forged signatures or just falsely claiming to be R. Lalique. The nex category, Websites, has links to other companys' sites where you can see what they are selling new today, some of which has appeared with the false signatures or representations. Finally, there are information websites that we thought would also be useful and those are also linked.
We are actively looking for additional resources to add to the listing here, so that we can have the most information possible available to owners wanting to research or to know the true identify of their items. In that regards, any suggestions will be greatly appreciated and can be made thru the Contact page link at the bottom of this page.
Note: The links below are in the order we think reviewing them would be most productive if you are trying to locate your piece to identify its true source. Catalogues marked "may download" are PDF files that may appear on your screen or download to your computer depending on your browser settings.
Current Catalogues With Models That Have Appeared Forged:
Desna Glass 2013 Sales Catalogue (Czech/Bohemian) - may download
Catalogues From The Past With Models That Have Appeared Forged:
Weil Ceramics Catalogue of Czech Glass
Glassexport Jablonecglass Catalogue of Czech Glass
Curt Schlevogt 1939 Ingrid Catalogue of Czech Glass - may download
Hoffman 1927 Catalogue of Czech Glass - click to enlarge any catalog page of interest then navigate thru the large pages with previous/next
Verlys France 1934 - click to enlarge any catalog page of interest then navigate thru the large pages with previous/next
Websites With Current Items For Sale:
Websites With Information: