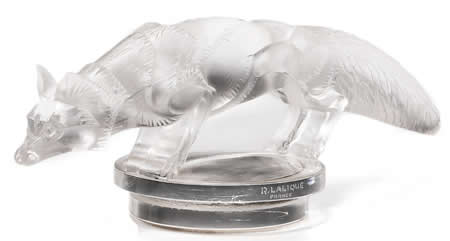 It was just 9 months ago, that an unsigned Lalique Renard Hood Ornament appeared in the Pennsylvania countryside and made a world record price for any Rene Lalique Car Mascot at auction of $204,750. High prices and hounds are apparently the two things that can flush out a fox, and a signed example in apparent good order dutifully appeared in the sale announcement for the annual sale of automobiles and related items that Bonhams holds in Carmel California, timed around the Pebble Beach Concours d'Elegance Car Show held each year.
Bonhams usually offers up a good supply of R. Lalique Mascots at this auction, and accompanying the Renard for the August 16th sale were about 20 other Rene Lalique Mascots as well as two brass copies of Rene Lalique Paperweights and Person Majestic copies of the Longchamp and Victoire Car Mascots.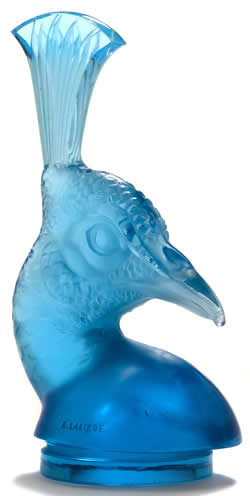 High seller was the great Renard as Lot 230 making $338,500 including the buyers premium, and topping the previous record by just about 65%. This example had the block letter signature on the side of the base, a little bit of scuffing, and was said by Bonhams to have great mold definition.
Note that we are reliably informed that this price fell just short of the highest price ever paid at auction for ANY car mascot of any manufacture. That record is said to be held by a Bugatti Royale silver plated standing Elephant mascot that made £205,000 in 2010.
Selling just before the Renard and making a likely World Record price of its own was Lot 228 the horse head Epsom Car Mascot which made $68,500 all-in against a conservative pre-sale estimate. Third place in price department went to a striking blue peacock head Tete De Paon Mascot, one of a pair that surfaced several months back, the first one of which was also sold by Bonhams earlier this year. This example made $43,750 all-in, outselling the first of the pair which had made a premium inclusive $40,000 in April.
Looking at price strength across the board, you might skip over the good all-in prices paid for the small dragonfly Petite Libellule Mascot ($17,500), the greyhound Levrier Mascot ($8,750), the guinea fowl La Pintade ($15,000), the frog Grenouille Mascot ($23,750) and even the ram's head Tete De Belier ($12,500) and go straight to the usually more price restrained Lot 223 swallow Hirondelle Car Mascot, which made a strong $9,375 affixed to a custom base.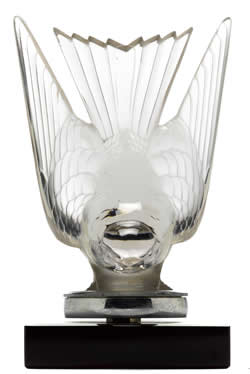 Overall, a pretty good run of results for the great Lalique Hood Ornaments ranging form the somewhat common to the extremely rare.
One more general comment about the Renard. It has become commonplace for folks to talk about there being only 5 or 6 or a "a small handful" of these fox hood ornaments in existence. And Bonhams had a catalogue note concerning the Renard to this effect. However, this writer would steer you to double digits, and whether that's likely 20 or 30 or whatever is a discussion that will have to be left for another day. But take note that 3 have appeared at auction in the past nine months alone, the third being part of the complete Lalique Car Mascot Collection sold in Florida in March 2012.
In the meantime, check our Rene Lalique Car Mascots page here at RLalique.com. It has photos of each mascot in a catalogue format, and links to individual pages of photos and information for each Lalique mascot model.
All Articles on These Topics: R Lalique Rene Lalique Auctions News and Results, Rene Lalique Car Mascots and R Lalique Car Mascots