Rene Lalique Hood Ornament Vitesse, in opalescent glass sells for $29,000!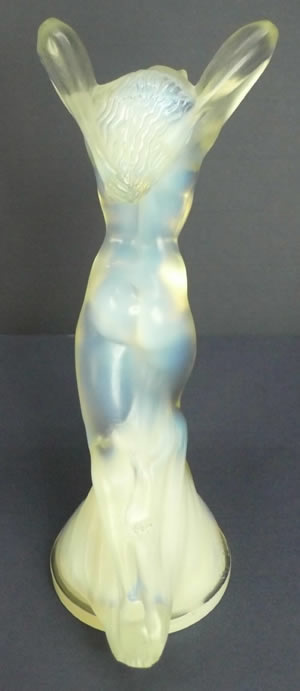 The sale today of several Rene Lalique glass items at Arthur Johnson and Sons in Nottingham (in the Hood, for those readers of our pre-auction report on this Lalique Mascot Sale) was quite successful. This sale information arrived on short notice just a couple of days before the sale, but there was worldwide bidding activity, and great R Lalique sales results.
Leading the way was the nice looking Lalique Mascot Vitesse. The auction house put out a condition report saying "There appears to be a chip to the big toe on the left foot (extended leg) and a crack (we thought it might have been a moulding fault initially) …". This report did not discourage all bidders as opinions differed on the mysterious line! Both the auction house and our man on the ground in Nottingham reported half a dozen phone lines in play, at least 2 bidders in the room, and left bids. Here is one account from the saleroom:
"The next Lot 631 was the 'Vitesse' car mascot. It did have……. damage near the 'feet'. Again … a commission bid, (opening the bidding at £4,000) a strong bidder in the room contesting and a few others, plus bids from 3 telephone lines. It quickly rose in price. Bids ricocheting around the saleroom and then selling for £14,500 to a telephone bidder (spontaneous applause in the saleroom)."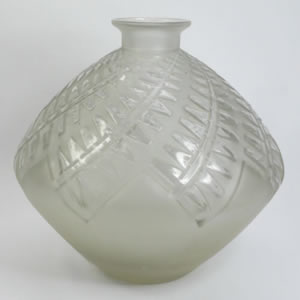 Apparently everyone agreed the Vitesse was a real "cracker", it was just a difference of inflection that encouraged or put-off particular bidders. The premium inclusive sale price of 17,400 Brit Pounds, was against a conservative pre-sale estimate of only 5000 to 8000 Pounds.
The sale featured two other Rene Lalique glass pieces; the rarely seen Montargis Vase and the always popular and large, opalescent R Lalique Calypso Coupe Plate. The Montargis sold at a premium inclusive 1880 Pounds, or around $3100, and the Calypso made an all-in 3407 Pounds, or about $5700.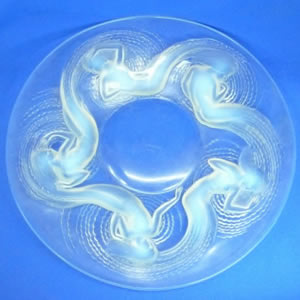 The auction house also reported to us that prospective buyers were mentioning RLalique.com when inquiring, and we can only hope that the winning bidder remembered to tell them the same! This sale is a perfect example of the benefit of telling auction houses when you inquire about lots, that you saw the item on RLaique.com. The more customers tell them, the more likely they are to make sure we get their sale information. It's a win-win-win-win for you to know about more upcoming items, for the auction house to have more bidders, for the consignor to realize more proceeds, and for the entire R Lalique community, to have more successful sale results.
All Articles on These Topics: R Lalique Rene Lalique Auctions News and Results, Rene Lalique Car Mascots and R Lalique Car Mascots