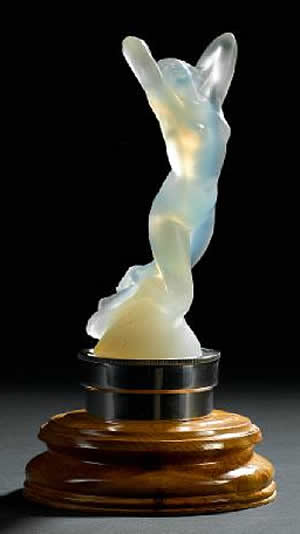 Speaking of Rene Lalique Car Mascots: The Lalique Hood Ornament Vitesse, again in opalescent glass, along with a small group of Lalique Mascots is coming up for sale on August 14th, at the annual Bonhams Sale of "Exceptional Motorcars and Automobilia" at the Quail Lodge Resort in Carmel, California. The sale is scheduled to coincide with the Pebble Beach Concours d'Elegance being held on August 16th after several days of pre-show activities.
It may appear from events this week, that the Rene Lalique Hood Ornament Vitesse in opalescent glass appears at auction all the time, but nothing could be further from reality. A Lalique mascot collector could go years without having a chance to purchase a great looking Opalescent Vitesse, so this week is a bit of an exception in that regard!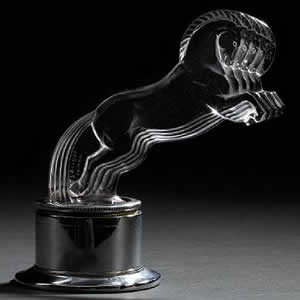 In addition to the Vitesse, Bonhams has assembled a small group of mascots, several of which are hard to find. Notable among these is the Cinq Cheveaux with amethyst tint, which has graced the RLalique.com home page for a couple of weeks, and which sports a pre-sale estimate of $15,000 to $17,000. Also included is the ram's head mascot Tete de Belier, with an estimate of $6000 to $7000, as well as a small handful of other Rene Lalique Mascots.
Details and contact information regarding the sale, can be found in our Lalique Auctions Worldwide Section here at RLalique.com, and at the Bonhams website.
All Articles on These Topics: R Lalique Rene Lalique Auctions News and Results, Rene Lalique Car Mascots and R Lalique Car Mascots