The Rene Lalique Box Saint-Nectaire has appeared in apparent great condition at auction online with a starting price of $9.99 and no reserve!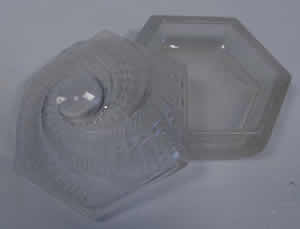 A nice looking circa 1925 Lalique Box Saint-Nectaire showed up on Ebay this morning, from a high volume seller (a consignment store) with good feedback, starting at just under $10 and no reserve! The seller states:
"This is a No Reserve Auction! Measures approx. 3″ Diameter x 2" High. Marked on the bottom "R. LALIQUE, FRANCE". Excellent displayed condition with no chips, cracks or signs of repair."
The shipping charges seem reasonable ($8 and change to Arizona), but the seller says they will not ship international. Of course, most anyone has a friend in the US that can take delivery and forward the box if you live in a far flung place and just have to have this box!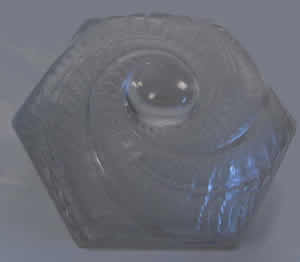 Of particular note (or vague esoteric interest if you are not into the details) is that the Lalique Box Saint-Nectaire is the only production Maison Lalique box in the shape of a hexagon! That's six sides for anyone that skipped geometry class in high school. To top it off, it appears from the photos to be a 'regular hexagon"; six equal sides of course! Hmmmmmmm. No, we aren't moving on to the Pythagorean theorem (Pythagoras' theorem across the pond) … enough geometry for now.
Geometric considerations aside, it looks like a good opportunity for you Lalique box collectors that haven't yet added this box to your collection.
The auction runs through August 18th. Here is a link to a saved/cached image version of the original 200372693037 listing online. You may have to use the zoom function of your browser (or whatever program opens images for you) to get the cached image to expand in the window if it does not appear full size. After clicking on the link to the item, a new window will open with the cached image in it. On a Mac, just click on the image and see if that expands it. If not, press the apple key and click on the cached image in your browser window. On a PC, hold down the alt key while clicking on the cached image.
You can also find this Lalique Saint-Nectaire Box, along with R Lalique Auction items from around the globe, in our R Lalique Auctions Sales Worldwide Section.
October 20th, 2009 Update: Switched Item Link To Cached Image Version
All Articles on These Topics: R Lalique and Rene Lalique on Ebay, R Lalique Rene Lalique Auctions News and Results, Rene Lalique Boxes and R Lalique Covered Boxes