Rene Lalique Hood Ornament Vitesse in Opalescent Glass Appears in Nottingham England!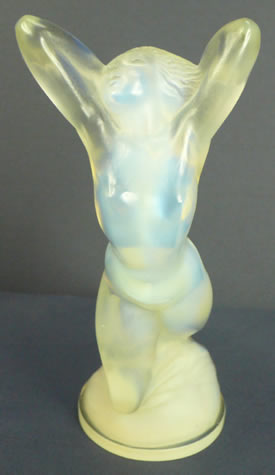 The Arthur Johnson and Sons Auction House in Nottingham are offering a few nice looking Rene Lalique Glass items at their sale on August 8th. An opalescent R Lalique Car Mascot Vitesse is the Lalique headliner, but two other R Lalique designed lots are also in the sale; the reasonably rare Rene Lalique Vase Montargis, and the attractive and sizable R Lalique Coupe Plate Calypso in opalescent glass. The 8 inch Montargis sports an estimate of 700 to 1050 British Pounds, and the 38 cm Calypso 900 to 1350 pounds. The Vitesse is estimated at 5000 to 8000 pounds, which seems pretty reasonable barring any "issues" of note.
We've listed this auction in our Rene Lalique Auctions Worldwide section, and we also have added photos of the Vitesse and Calypso posted in our Rene Lalique Auctions Highlight Page.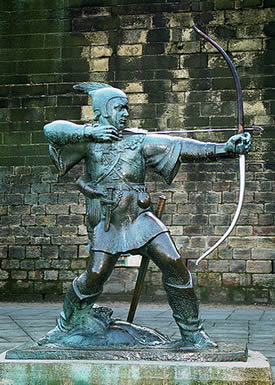 A couple hours north of London in the heart of the East Midlands, and pretty close to the center of all of England, Nottingham is rich in history. And yes, they still elect a Sheriff there. His title, if you can believe it, is Sheriff of Nottingham! Coincidentally this is the same title as the historical bad guy and adversary of Robin Hood, whose folklore fame has continued to grow since medieval times. Mr. Hood, is shown here in the hood (both literally and figuratively) in a memorial statue in Nottingham. The only thing we don't know about all the hood stuff, is if his arrow is pointing toward the location of the hood ornament. 🙂 A bit rough, but it all ties together pretty well. And of course, there is the totally unsubstantiated rumor, which we just started, that Rene Lalique used Robin Hood as the sentimental model for the Lalique Car Mascot Archers! Seriously, notice the resemblance?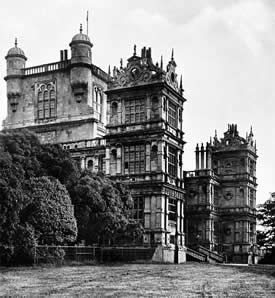 And if you are going to make the trip to try and snag the Vitesse, take some time to stop by the circa 1550's Wollaton Hall and it's famous deer park (probably no deer hunting there by commoners; where is Robin when you need him?). The Hall, shown in the photo here, is the site of numerous events each year, and has a rich history all its own which is a bit long for this post. But you can find more info at the Wollaston Hall Website or in the Wollaton Hall Wikipedia article.
Finally, our usual caution: Check these great looking R Lalique items out if you are interested. The pictures might look nice, but as always, the devil is in the details! So investigate the items and be a smart R Lalique Buyer. Some guidance in that respect can be found in our Rene Lalique Buyers Guide!
If you contact the auction house, please remember to tell them where you saw these great looking R Lalique pieces. The saleroom manager is Lorna Wrigley. The contact details are: +44 (0) 115 986 9128 and collectables@arthurjohnson.co.uk. And here is link to Arthur Johnson and Sons website. Good luck and good hunting!
All Articles on These Topics: R Lalique Rene Lalique Auctions News and Results, R Lalique Vases and Rene Lalique Vases, Rene Lalique Bowls and R Lalique Bowls, Rene Lalique Car Mascots and R Lalique Car Mascots