Rene Lalique Ashtray Pelican in Opalescent Glass: A Great Lalique Auction Item!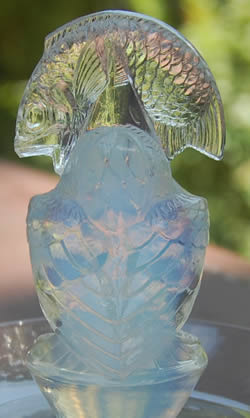 The illusive RLalique Pelican Ashtray in opalescent glass has appeared at auction on Ebay. With a starting price of $65 and no reserve, it seems like a great opportunity to acquire one of the unique Rene Lalique Glass designs which is rarely seen at auction, and even more rarely comes out in opalescent Lalique glass.
The seller of this apparently great piece (remember the continuing caution to check it out for yourself) states: Some wear from use on the bottom. No chips or cracks. The seller has over 1000 feedbacks with 100% positive. Shipping is only $7.20 in the U.S.
Here is a link to a saved/cached image version of the original 390075810498 listing online. You may have to use the zoom function of your browser (or whatever program opens images for you) to get the cached image to expand in the window if it does not appear full size. After clicking on the link to the item, a new window will open with the cached image in it. On a Mac, just click on the image and see if that expands it. If not, press the apple key and click on the cached image in your browser window. On a PC, hold down the alt key while clicking on the cached image.
If you buy this rare R Lalique ashtray, a summer trip to Nashville for a personal pick-up, and a few great stops like the Grand Old Opry, the Jack Daniels Distillery, or a great ride down the Cumberland River on the General Jackson Showboat, a 300 foot Paddlewheel Riverboat, would make the buying and the traveling well worth the purchase! Nashville is a cultural wonderland and one of the South's amazing attractions. And who knows what other great R Lalique glass lurks in the shops along the waterfront!
You can also find this pelican, along with R Lalique Auction items from around the globe, in our Rene Lalique Auctions Sales Worldwide Section.
October 7th, 2009 Update: Switched Item Link To Cached Image Version
All Articles on These Topics: R Lalique and Rene Lalique on Ebay, R Lalique Rene Lalique Auctions News and Results, Rene Lalique Ashtrays and R Lalique Ashtrays