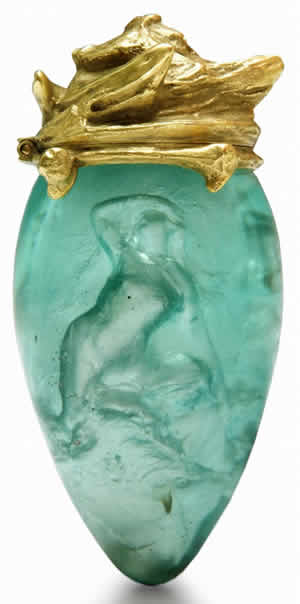 There is a saying in Japan, "食欲の秋", that describes the harvest season thusly: "Autumn, a season for strong appetite!" Occurring from late September to late November, Autumn is the harvest time in Japan for everything from rice, to Matsutake mushrooms and sweet chestnuts. Apparently Rene Lalique Perfume Bottles will have to be added to that traditional list :). For in Roppongi Hills, located in the Minato Ward of Tokyo, at Est-Ouest's ** annual Autumn Sale, buyers from around the world displayed a whole lot of appetite for the great Rene Lalique Perfume Bottles which were the heart and vast majority of the over 100 R. Lalique glass lots offered on October 6th, 2012.
The Est-Ouest sale got off to a great start, with the first 98 lots being R. Lalique Perfume Bottles. All but 5 sold, for an over 90% sales rate to start off the sale. There were a few more perfume bottles offered later in the sale mixed in with a handful of other R. Lalique items, but these did not fare as well as the great opening run.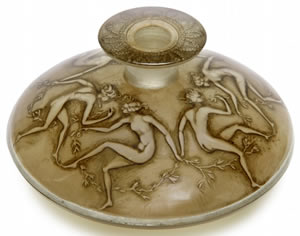 Prices were solid to strong across the board, perhaps echoing the French literary figure and philosopher Albert Camus closer to their ancestral home: "Autumn is a second spring where every leaf is a flower".
Two world record prices were set when the 10 centimeters tall Lot 41 came under the hammer. Sirenes, the 1905 mythical sirens and algae motif glass bodied near tear dropped shaped Cire Perdue Perfume Bottle under the bronze sympathetically designed cap, may have peaked the interest of just one bidder at its lofty pre-sale estimated price. It sold for about 90% of the low estimate (Est: JPY28,000,000 – JPY40,000,000) for a hammer price of JPY25,000,000 and a total price of JPY28,750,000.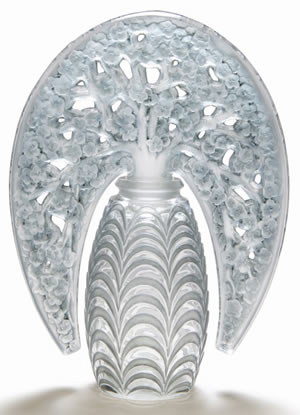 The premium inclusive total is about $370,000 at an exchange rate (used throughout this article to estimate the dollar cost) of 77.7 yen to the dollar. A world record price for a Rene Lalique Perfume Bottle at Auction, and likely the world record price for any perfume bottle at auction regardless of manufacturer.
Next high seller was the extremely rare 1912 production bottle Six Danseuses selling as Lot 40. The great bottle featured a design of three pairs of dancing nudes intertwined with a trailing garland, the body of the bottle reminiscent of the shape of many of the Lalique Inkwells. The brown stained bottle, against an estimate of JPY3,000,000 – JPY5,000,000 made a hammer price of JPY2,700,000, and a premium inclusive JPY3,105,000 or about $40,000.
Again, the hammer being 90% of the low estimate, this may have been another one trick pony *** but it looked to this writer like a condition dependent fair deal for the new owner.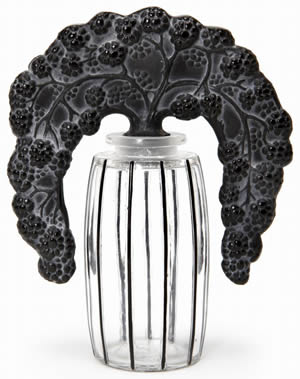 Third high seller was Lot 42, the tiara stoppered 1919 model Bouchon Fleurs De Pommier, which hit a hammer of JPY2,000,000 against an estimate of JPY1,000,000 – JPY1,500,000. The premium inclusive total of JPY2,300,000 represented about $30,000, exceeding the high estimate.
Fourth best seller was Lot 44, the Bouchon Mures Perfume Bottle with a black glass tiara stopper, also known as the Blackberry Perfume Bottle.
This clean looking example made JPY1,700,000 compared to a pre-sale estimate of JPY1,500,000 – JPY2,500,000 and its all inclusive total price of JPY1,955,000/$25,000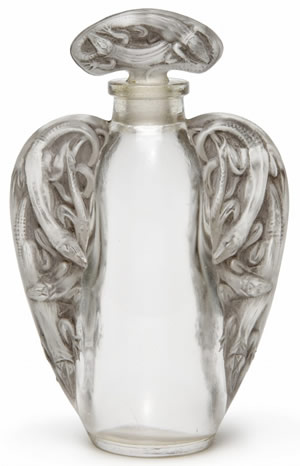 Lot 36, the Lezards Perfume Bottle also exceeded the high estimate, making a hammer of JPY1,600,000 against an estimate of JPY800,000 – JPY1,300,000. The premium inclusive total of JPY1,840,000/$23,500 made this the fifth high selling bottle in the sale.
And of course, to access the extensive information at RLalique.com about the great R.Lalique Flacons, go to the Lalique Perfume Bottles section of the Rene Lalique Bio.
We will leave you all with the words of George Eliot ****, which echo the feelings of so many Lalique Sellers in the current ebullient market: "Delicious autumn! My very soul is wedded to it, and if I were a bird I would fly about the earth seeking the successive autumns."
** Est-Ouest is East-West in French. In Japanese it's Est-Ouest!
*** One trick pony is an American expression from the early 1900's describing an animal at one of the many small traveling circuses around the country that could only perform one trick. The expression was later made more famous by Paul Simon as the title of his 1980 movie and song of the same name. Call our use a bit of literary license.
**** George Eliot is the pen name for the 19th century English writer Mary Ann Evans. She published her works under a male nom de plume feeling her writing would be taken more seriously. Her seminal novel Middlemarch is considered by many to be one of the greatest works in all of English literature.
All Articles on These Topics: R Lalique Rene Lalique Auctions News and Results, Rene Lalique Perfume Bottles - R Lalique Perfumes