"Close but no cigar" is an American expression that likely originated at carnivals where cigars were given away as prizes at the various games of chance. Some early slot machines also awarded cigars to winners and may have contributed to the spread of this expression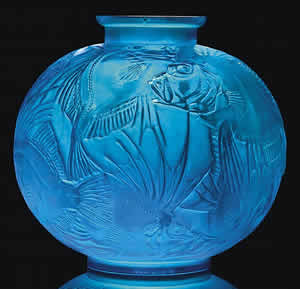 Well, at Christie's South Kensington's Semi-Annual Lalique Sale, the high seller was Lot 143, a nice looking electric blue glass R. Lalique Poissons Vase. Against an estimate of £30,000 to £50,000 or about $48,000 to $80,000 (at the estimated 1.6 U.S. dollars to a British pound used throughout this article), the vase made £65,000/$104,000, and with the buyers premium, an all-in total of £79,250/$126,800.
A record price at auction for a Lalique Poissons Vase! A record price at auction for a Lalique blue glass vase! But the total price (which does not include possible other charges) was just shy of what they might call in the American Southwest, the Big Enchilada; the record high price at auction for a colored glass Lalique production vase. Not quite the turkey** we were hoping but a great Rene Lalique result nonetheless.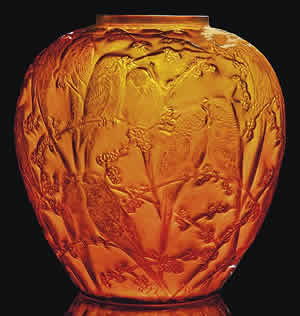 This is of course only minor consolation for the buyer who if rumor is correct, hailed from across the channel, and may therefore be responsible for as much as $10,000 to $13,000 or so of added charges related to either VAT or Import Duties or both, which when combined with the reported result, would make for a record payment if not a record price:). Basically, send the cigar ….. and the turkey.
Notably, two other R. Lalique Poissons Vases were offered up as Lots 124 and 142, with the prior, an amber glass example making all-in (as are all further prices in this article unless stated otherwise) £32,450/$51,920, and the later cased red glass example hitting a bit more at £34,850/$55,760. Though less than half the high selling Poissons Vase price, these represented the 3rd and 4th high selling lots in the auction. Nothing fishy here. Notably the result for Lot 142 was roughly equal to the record price at auction for a Red Poissons Vase achieved just last month.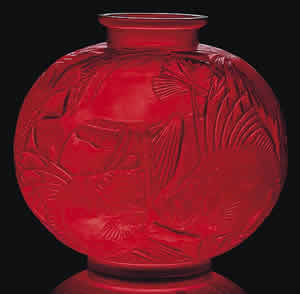 2nd high seller was another colored glass vase, Lot 141, a Perruches Vase in amber glass that sold for £36,050/$57,680.
And rounding out the top five was a nice looking press molded opalescent glass Bacchantes Vase selling as Lot 125 for £30,000/$48,000.
Some lots (among others) which seemed to make seriously strong and likely record prices include Lot 140, the cased opalescent Perruches Vase at £30,000/$48,000, the cased opalescent Alicante Vase Lot 126 at £25,000/$40,000, and the Muguet Bowl in opalescent glass as Lot 32 for £6,875/$11,000.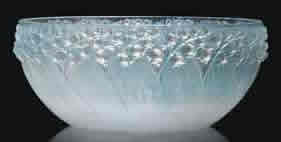 All in all, for Christie's a sale total of £591,050/$945,580 for 105 sold lots or an average of about £5,629/9,006 of which the R. Lalique glass was 90 lots making £564,524/$903,210 or an average for each Rene Lalique item of about £6,272/$10,036. See all the results on the Christie's website.
If you are interested in more information about Lalique Auctions visit the Rene Lalique Biography Lalique Auctions section from which you can access all the great auction resources here at the Worldwide Gathering Place for Everything R.Lalique!
** Turkey: In American bowling three strikes in a row were called a "triple". But around the turn of 20th Century, at a time when the game was more difficult, a tradition arose where a player making three strikes in row on Thanksgiving Day or Christmas Day would get a live turkey as a prize. Today, no live turkey, but the appellation has stuck and is now colloquially used to describe almost any three successes in row, bowling or otherwise.