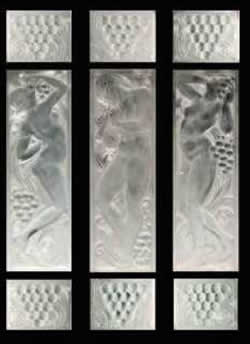 Rene Lalique results at Christie's Paris "L'âge d'or du rail – Souvenirs de la Compagnie Internationale des Wagons-lits" were oriented towards the high end, continuing a long string of generally very strong sales prices at auction for the works of the Great Lalique. This strong price trend has been in place for several years, and the rare Lalique items in this train related sale conducted by Christie's followed and extended that trend.
Christie's offered up 12 late 1920's designed Rene Lalique Architectural Panel Lots and one related lot of a pair of the model of armchairs used for train compartments with fabric by Suzanne Lalique (which made €11,250 all-in, or "all-aboard" *** one might say, which is the case for all prices mentioned in this article). The armchair Lot and Lot 147, the maquette for a compartment for a sleeping car with mahogany and decorative inset panels, both sold to the new Musee Lalique, the latter being pre-empted by the Musee at the low estimate.
The wonderful Rene Lalique wood and glass panels rarely come up at auction, and are usually fiercely competed for when they appear. Sept 27th, 2011 was no exception.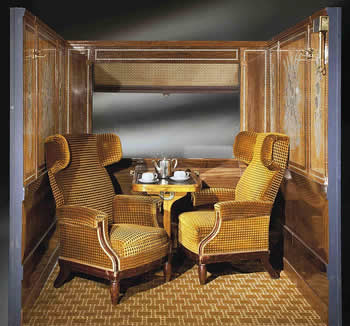 The intrigue amongst the various competing interested parties for rare and high quality R Lalique at auction is often worthy of Orient Express plot status. In this rare instance some of the offered items themselves can also be said to have reached that plot level as well.
The Lalique train lots were 143 thru 155, and things got rolling right out of the station with Lot 143 (pictured), the 9 piece glass panel Figurines Et Raisins making the high R. Lalique sale price of €133,000. This would prove to be the high price not just of any R Lalique panel in the sale, but the high selling lot of the auction as well.

This was followed by the decorated wood with glass inserts panel Bouquet De Fleurs which at roughly 32 inches by 15 inches, made €67,000. Lot 148, another slightly different 9 piece Figurines Et Raisins Panel, got what would turn out to be 2nd place in the Lalique high sales compartment at €91,000, and the third high selling lot of the entire auction. Fourth place for R Lalique went to Lot 147 (pictured), a restored maquette for a compartment featuring R. Lalique panels, which made €53,800.
Also pictured is Lot 151, another Bouquet De Fleurs panel version, roughly 3 feet by 1 foot, which sold for €11,875.
In total the 12 Rene Lalique panel lots made €472,225 (roughly $640,000). This was about 40% above the total high estimates of €344,700, with a 100% sales rate, as all 12 lots sold. The average price per lot was €39,352. These totals and averages exclude Lot 145, the pair of related armchairs mentioned above.
Kudos to Christie's Paris for engineering another great RLalique sales offering!
*** The phrase "all aboard" originated as a train conductor "get on the train, we're leaving" warning in the United States. The phrase has nautical origins (which makes sense because in the early 19th century, the majority of the European population in the new world likely arrived by boat :), but was first recorded as being used on trains in 1837 in America, and its use has since spread to other forms of transportation.
All Articles on These Topics: R Lalique Architecture - Rene Lalique Architecture, R Lalique Rene Lalique Auctions News and Results