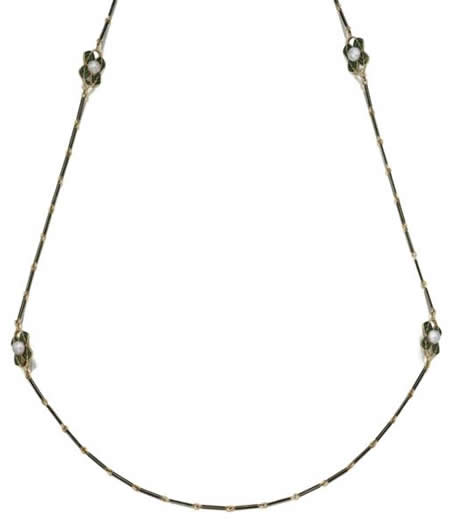 Rene Lalique Jewelry came thru once again with another firm sales result at Sotheby's New York on April 14th. The only R. Lalique item in their Sale of Magnificent Jewels, Lot 277 was a nearly three foot long Longchain Necklace which featured four basically identical design elements of green enameled and gold leaves decorated with a half pearl on each side of each leaf. These four elements were interspersed between green enamel rods.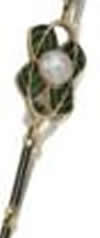 Against an estimate of $20,000 to $30,00, it came right in the mid-range for a hammer price of $26,000, with the 25% buyers premium pushing the final all-in total sale price to $32,500.
Longchain necklaces are uniquely suited to modern fashion because elegant examples not overloaded with design elements can be worn to accompany both more formal or informal dress. But with the size of Lalique's design work on the elements being small in relation to the overall scope of the piece, a necklace such as this one might not garner the kind of price that a unique Lalique brooch or other item would demand.
Of course, there is the whole "un-flashy" look about a piece such as this one. And this necklace at this price is actually wearable in ways that some of the higher priced Rene Lalique Jewellery might not be. This Longchain also has the wonderful flexibility of being suitable for the roaring 20's flapper** long chain look, or it can be worn with an extra wrap around the neck to shorten it up. Either way, it's an accoutrement and not the center of attention.
Elegant and restrained are the two words that come to mind when seeing a Lalique necklace such as this in person. And while it is far from the most expensive Lalique Jewelry item to cross the block recently, it has an appeal at least as great today as when it was created over 100 years ago.
For more information about the great jewelry of Rene Lalique, head over to the Lalique Jewelry section of the Rene Lalique Bio, where you'll find links to all the vast jewelry resources on RLalique.com. Or Lalique Longchain Necklace will take you straight to our original auction listing.
** Flapper is word used to describe young women that ignored social norms in the first few decades of the 1900's. Put together thoughts like Jazz, prohibition in the U.S., dancing, smoking, drinking, short skirts, makeup, and driving a car (heaven forfend :), and you begin to get the stereotypical picture of an emerging liberal counterculture represented by the "flappers" in the more stern social setting of 100 years ago. Of course getting the vote for women was also a liberal counterculture idea in the earliest part of the 20th century!
All Articles on These Topics: R Lalique Rene Lalique Auctions News and Results, Rene Lalique Jewelry and R Lalique Jewelry