Rene Lalique could not have a better representative to carry the water of his great art nouveau production than the wonderful Ivory Maiden Lalique Pendant that appeared as Lot 405 in Geneva Switzerland on May 17th as the single Rene Lalique unique jewelry piece in the Sotheby's sale of "Magnificent Jewels and Noble Jewels".
And this particular Lalique Pendant in this type of sale setting, provided as good an example as any to compare and contrast the jewelry artwork of Rene Lalique and its typical restrained use of valuable gems, with the large precious gemstone jewelry pieces so prevalent at top jewelry sales.
The pendant features a subdued carved female figure made from ivory, standing on a pedestal framed in a blue and lavender enameled floral art nouveau surround. The pendant is suspended from an enameled chain of rod or baton shaped links. And the presentation is finished with the classic Lalique Pearl Drop suspended from the bottom of the piece by a mount of small diamonds.
It is an amazing representative of the many incredible artful jewelry objects created by Lalique at the top of his artistic jewelry skills just after the turn of the century. This piece, created in the middle of the first decade after 1900, was destined to be one of the pieces that represent the end years of Lalique's concentration on individual and unique objects.
It would not be long after the creation of this gem that fate would bring Lalique and Francois Coty together, and sweep them both up in the spreading industrial revolution of mass production, mass marketing, invention, and economies of scale.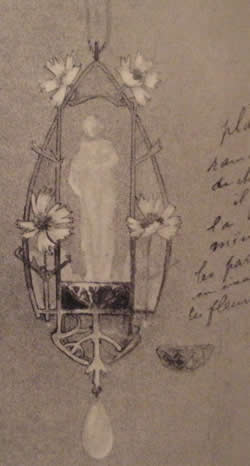 Helping things along at the auction was the fact that this pendant is shown in an original Rene Lalique Drawing reproduced in the seminal Sigrid Barten book on Lalique's Jewelry and Unique Objects, Rene Lalique, Schmuck und Objet's d'art 1890-1910 where it appears on Page 330; a little documentation never hurting a final price of course.
Against an estimate of CHF80,000 – CHF105,000 (roughly $92,000 to $120,000), the fabulous pendant was sold for CHF218,500 (about $250,000) to include the buyer's premium.
The final price was over three times the low estimate and nearly 2 and 1/2 times the high estimate, an achievement not entirely unfamiliar of late to followers of this website.
Another jewel of a result for the great Lalique!
All Articles on These Topics: R Lalique Rene Lalique Auctions News and Results, Rene Lalique Jewelry and R Lalique Jewelry