When you think about auction houses around the world that handle large amounts of R. Lalique, you naturally think first of the 4 big companies that claim to have the highest total dollar sales. They all conduct auctions in multiple locations and they all get a substantial amount of R. Lalique.
But what you might not know, is that the No. 5 leading auction house for R. Lalique items doesn't have a salesroom in Paris, or London, or New York. Nope! And it's not L.A. or Chicago either.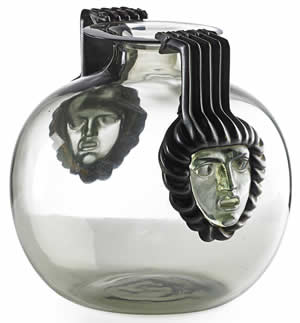 For the No. 5 you'd want to take a trip to a former ferry location on the Delaware River just a stone's throw from Pennsylvania. It's a small town in a rural area that in the early 1800's was named, in a longstanding American tradition, after a politician in same year it got its first post office! Well, 200 years later, there is still only one post office.
And while the town's population seemed like it was going to break the 4000 persons ceiling in 1990 when it reached over 3900 residents, it still has not been able to do so even 25 years later.
To be fair, we keep calling it a town but it is a city; one of the smallest cities in the United States. And contrary to what might come to mind when the geography challenged neophytes that rely heavily on stereotypes might understandably think when they hear "New Jersey", Lambertville is not Newark. Not even close.
Lambertville is a great quiet, artsy, quaint, antique haunt, seemingly in the middle of nowhere. When you throw in a surprising selection of unique restaurants and some amazing bed-and-breakfast lodgings, you have the makings of a very pleasant long-weekend only an hour and a half outside of New York City.
And getting to the point of our story, if you are an R. Lalique collector, well it can be really pleasant. Because Lambertville is home to the Rago Arts And Auction Center, likely the world's No. 5 auction house seller of R. Lalique over the last 10 to 15 years. Rago has sold an average of around 200 R. Lalique pieces per year over that time frame.
On October 16th, 2015 Rago will add to their great R. Lalique history with a near 80 lot offering of a wonderful looking single owner collection.**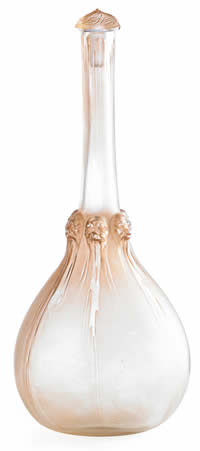 About 50 of the lots are vases, and about 30 of those vases are colored vases.
The biggest pre-sale estimate belongs to Lot 1, a topaz glass bronze handled Cluny Vase estimated at $80,000 – $100,000. The colored vase selection includes several Perruches, several Ronces, and 2 each of Monnaie Du Papes and Formoses.
For non-colored glass vases there is the seldom seen Los Angeles Vase and an enameled Antilopes Vase, as well as many others.
There are also some non-vase rarities including an Elephants Bowl ($12,000 – $16,000), a Caravelle Decoration ($65,000 – $80,000), and a Normandie Lamp ($6,000 – $8,000).
You can see all the lots in the catalogue online HERE!
Three great things about this sale jump out from the catalogue. First, overall the pieces look great. Second, the selection of items in the sale is exactly the marketable kind of items that many collectors are looking for today. And third, in the main*** the estimates appear very reasonable. It doesn't look like they're starting out at top dollar and hoping to move up from there. It appears they plan to sell the stuff.
Those three points are further enhanced by the fact that Rago states that they guarantee the condition reports that you will find online linked from every lot in the sale. If something looks good you can read the guaranteed condition report right there.
Frank Maraschiello, a former Director at Bonhams in New York City, has recently affiliated with Rago. A lot of the staff at Rago has handled a bunch of R. Lalique over the years, and Frank has seen a decent amount as well. He can be reached through the main phone number for the auction house: (609) 397-9374.
When you talk to Frank about the pieces of interest, also ask him about the guarantee of the condition reports. But remember, satisfy yourself first. Do your homework first. The guarantee is a great bonus, but it's just that, a bonus. If they mess-up, and then you mess-up, you have another backstop. A backstop you should not be expecting to need because you did your homework!
With the great knowledge and experience of the Rago staff; the great looking selection, the reasonable estimates, and the continuing good market for R. Lalique, it has all the makings of another successful Rago sale, and another great day for the great Rene Lalique.
** Well there are actually two joint owners listed in the catalogue. But for "offering" purposes and assumedly some others, they are considered to be one. 🙂
*** "In the main" means "for the most part".