Like all other markets for just about any kind of product or service, the market for the works of Rene Lalique attracts new scammers from time to time. Note that we say "new scammers" to differentiate for purposes of this article any of the handful of notorious usual suspects that might be classified as "old scammers"! 🙂
Ebay is a bit of a magnet for scams, though safe trading on Ebay is as easy as being careful and following their procedures so that you can get made whole if your common sense gets pushed aside from time to time. Heck as we noted in discussing this problem previously, rumor has it one of the notorious usual suspects that you would think might recognize a scam when it appears is rumored to have been taken in by a stolen photo listing on an R. Lalique Red Poissons Vase a while back!
All that said, we thought we'd bring the latest reason to think twice before throwing caution to the wind. Here is a link to a saved/cached image version of the original 221253254631 listing online.*** It's offered by a recently registered zero feedback user.
And we present two photos, one from the current Ebay ad, and one from a Chardons Vase listed here on RLalique.com. Twin vases, twin lighting, twin glare spots, twin photos! What are the odds?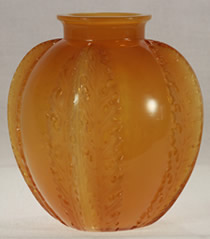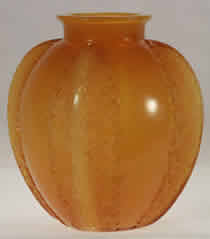 How do you protect yourself from these types of scams? Here are few of the ways you can lower your risk of a headache, a loss, or both.
Always ask for additional photos; maybe one of the vase next to a soda can for example. Or one with a ruler laid across the top rim of the vase. Basically, any photos not likely to be in the seller's picture inventory if they don't have the item in-hand. You should also check RLalique.com's new R. Lalique Catalogue and see if any of the photos look a little too similar to the ones in the auction you're considering. Finally, never wire funds or pay by check for an online auction. Use a payment service such as paypal and a credit card to give yourself added protection.
Basically, when you're ready to get rolling on your next must have online purchase, just keep in mind the iconic words of the late Michael Conrad!
*** You may have to use the zoom function of your browser (or whatever program opens images for you) to get the cached image to expand in the window if it does not appear full size. After clicking on the link to the item, a new window will open with the cached image in it. On a Mac, just click on the image and see if that expands it. If not, press the apple key and click on the cached image in your browser window. On a PC, hold down the alt key while clicking on the cached image.
All Articles on These Topics: R Lalique and Rene Lalique Fakes-Copies-Frauds, R Lalique Vases and Rene Lalique Vases