Christie's June 16th semi-annual sale of R. Lalique added to what has been a long string of twice yearly solid to stellar performances stretching back for some time. The sale made a premium inclusive* £584,375/$911,625** of which £570,000/$889,000 was for the 91 sold R. Lalique lots, or an average of approximately £6264/$9800 for the R. Lalique.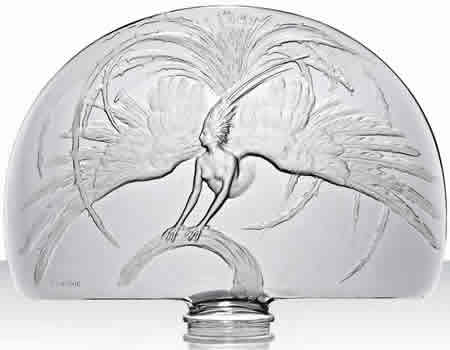 As is more often the case than not, most of the offered lots were vases (70 of the 128 R. Lalique lots***), and they took up the better part of the high sellers after the top spot. That honor went to the rare model Source De La Fontaine Statue that sold as Lot 50 for £30,000/$47,000.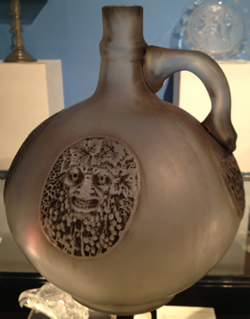 This shows that the sale had good depth when looked at by prices achieved, as no single lot accounted for even 6% of the sale total.
The next top four prices were all vases (save one item that tied for 5th place) as follows:
2. Lot 67 Perruches Vase Cased White Opalescent £23,750/$37,000
3. Lot 44 Perruches Vase Cased Red £22,500/$35,000
4. Lot 09 Quatre Masques Vase with handle £21,250/$33,000
5. TIE Lot 01 Serpent Vase with heavy patina £20,000/$31,000
5. TIE Lot 06 Firebird Decoration without the original base £20,000/$31,000
The sold percentage by lots was 98/137 or 71.5% overall, and 91/128 or 71% for the R. Lalique.
The opalescent Perruches Vase was a strong price. But one other sale item deserving of special mention was Lot 7, a clear glass Chamois Vase Model No. 1075 shown below.
This would typically be about a £500/$800 vase on a good day.
But with red staining and enamel it made £13,125/$20,500. Ignoring the fact that if the vase were red glass it may not have made that kind of number, somebody got themselves about $20,000 of red paint and enamel (P&E)!
We can't say for sure if the applied coloring was original or not because we never handled the vase.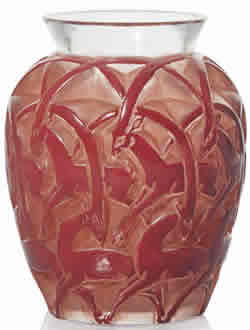 However we can say without hesitation that with the high price paid for the P&E, we'll undoubtedly be seeing more P&E vases with wonderful colors in the future.
That wry**** observation aside, once again Joy McCall and her great staff came through with a good selection of items including a lot of colored glass vases. Their presentation was top notch, the customer service was high level, and the promotion was thorough. The result was another good day for Christie's and another great day for R. Lalique.
* All sale figures used are premium inclusive.
** All dollar amounts are based on the estimate of $1.56 per British Pound and are rounded.
*** 2 of the R. Lalique lots were only partly R. Lalique.
**** "Wry" is dry and sometimes ironic humor. Consider this from actor Kiefer Sutherland as Jack Bauer talking to a bad guy on the American T.V. Series 24 – "The only reason that you're conscious right now is because I don't want to carry you." Of course he might not have been joking. Interestingly, Kiefer's full name is Kiefer William Frederick Dempsey George Rufus Sutherland. Aspirations of royalty? His dad is the great Canadian actor Donald Sutherland, who is kindly remembered for his role as Hawkeye Pierce in the original 1970 movie Mash. Of course 45 years later, Donald is most famous for his role in the Hunger Games movies. However for true aficionados of mindless entertainment (count this writer all-in for that), his most important and lifetime achievement role (think Charlton Heston as Moses in Cecil B. DeMille's 1956 movie The Ten Commandments) was in the 1978 National Lampoon movie Animal House. Most people I talk to (an admittedly and curiously narrow group) have seen that movie at least a dozen times.
All Articles on These Topics: R Lalique Rene Lalique Auctions News and Results, R Lalique Vases and Rene Lalique Vases, Rene Lalique Statues Figurines: R Lalique Statues