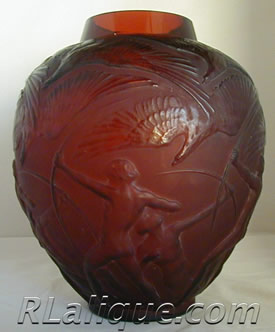 Rene Lalique Vases and other great R Lalique Items have been added to the section on works of  Lalique For Sale here at RLalique.com at very attractive prices. Vases such as the Lalique Vase Archers in Gray Glass and Amber Glass priced at only $8000 each.
Or take a look at the great looking Electric Blue Rene Lalique Pendant Grenouilles shown here and priced at only $1500. These are three good examples of the kinds of pricing on the new Lalique For Sale items that have just been listed.
And don't forget if you click on the photo of any item in the Lalique Sales Section, a much larger version of that same photo opens up for you to see. Keep an eye out for several more wonderful Lalique For Sale pieces over the next couple of weeks as we list more works of the great Rene Lalique.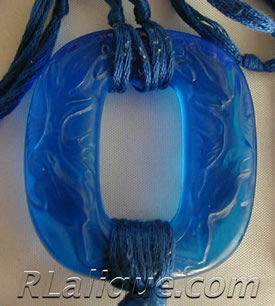 But in the meantime, you'll find at least 50 great R Lalique items posted for sale right now. There's everything from R Lalique Vases to Lalique Cachets, Perfume Bottles, Menu Boards, Bowls, Glasses, Boxes and Decanters. And if you don't see something you are actively searching for or looking to purchase, let us know. If we can't find it for you, we'll put it in our Lalique Wanted Section and get the word out to our worldwide readership to help you acquire that special Lalique item to add to your collection.