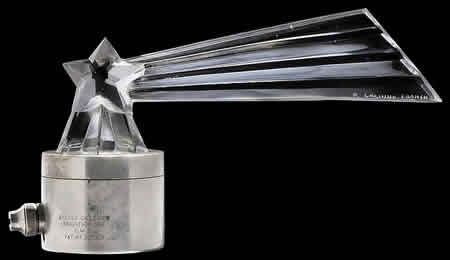 Rene Lalique sales continue to make strong results at auction as shown at the December 9th semi-annual sale of R. Lalique at Christies South Kensington salerooms.
Christies offered up 239 mostly R. Lalique lots, with 172 of those lots selling for a total price including buyers premium (all prices in this article include the premium) of £698,263. Christies figured the equivalent US dollars at $1,103,959 using an exchange rate of around $1.58**. The take-up rate in numbers of lots was 72%, and in British Pounds it was 68%.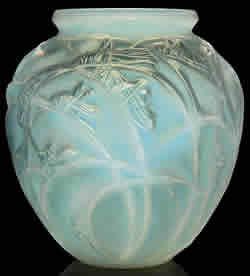 Top seller, and no surprise was Lot 23, the Lalique Car Mascot Comete, which made £58,850/$92,042 against a spot on estimate of £50,000 – £60,000. A fair price, it sold to the local trade for stock. A few of the other pieces that were in the running before the auction for high seller, such as the rare (and wonderful design) Tresor de la Mer Perfume Presentation****, a lot which was rumored to have serious issues, failed to sell. And a couple of others that might have been, just did not catch the attention of the bidders to the degree necessary to move them into first place!
Second high seller, and a bit of surprise was the cased white opalescent Lalique Vase Sauterelles, which against an estimate of £10,000 – £15,000, reached £30,000/$47,430. No doubt this is a world record price for this model vase in cased opalescent glass.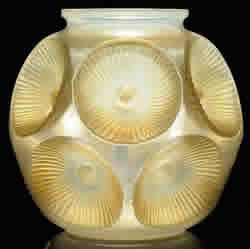 Note: Keep an eye on the Rene Lalique Sales Section at RLalique.com. There's already a good selection of colored glass and other vases, and it is rumored that another Cased White Opalescent Sauterelles Vase will be offered in the near future.
The great early (1912) Rene Lalique grasshopper vase design got serious interest throughout the sale as a green glass Sauterelles sold as Lot 54 for £21,250/$33,696, and a frosted and patinated Sauterelles topped $10,000 making £6,875/$10,869!
Third high seller was the interesting 1931 Lalique Enfant Statue. The statue, possibly made as the centerpiece for a table, had a well documented provenance from Rene Lalique's workshops, and was a good-looking and attractive design as well. Against an estimate of £25,000 – £30,000, it made £27,500/$43,478.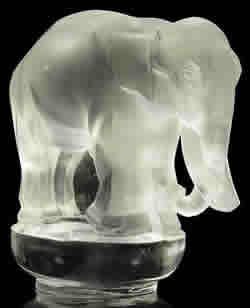 Next high seller was Lot 207, the OK looking (we don't know about the condition) yellow amber opalescent Suzanne Statue which sold for #23,750/$37,549.
It tied in price with Lot 236, a green Perruches Vase, and squeaked in just ahead of Lot 225, the blue Perruches Vase at #22,500/$35,573.
It's apparent that at least for now we've reached new consistent price levels for many of the various colors of Perruches vases, with several sales this year in the range of $35,000 to $45,000.
Matching the blue Perruches Vase price was the good looking and scare Lot 30, the Picardie Vase.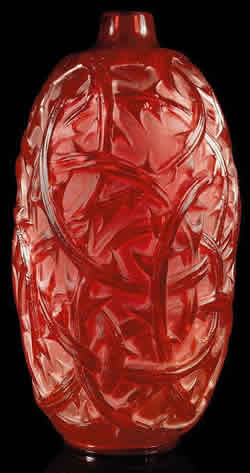 Notable upside surprises included Lot 1, the Toby Paperweight which made £5,250/$8,300 to start the sale off with a bang, and Lot 56, the Red Ronces Vase at £10,000/$15,810 certainly another world record price continuing the red hot Lalique Red Vase trend. Even some lesser priced lots outdid themselves such as Lot 147 consisting of a Chiens Bowl and Chicoree Bowl which made £2,500/$3,953.
Or how about a Palestre Vase with a replaced base (yes, a replaced bottom) that sold for £17,500/$27,668, just sliding into the top 10 seller list? Things are really strong when you see that.
The Christies results owe as much to the great selection assembled by Joy McCall and the knowledgeable staff at Christies, as they do to the overall strong market trends. This sale, with some great new records and strength throughout most areas, may turn out to have the highest sale total of the year for R. Lalique in a single auction. But the result is no outlier, as even less publicized and smaller offering auctions have achieved some significant price gains for Lalique's works, which we will undoubtedly bring to your attention in the not too distant future.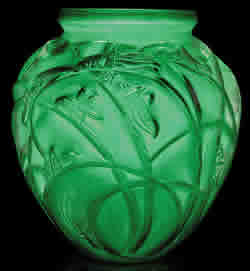 In the meantime, remember that even in strong markets, caution must be exercised in your collecting efforts. Getting caught up in the sweep, and spending heavily on assembled items, paying top dollar for low quality examples, or buying other pieces that you might avoid if you knew better (or if you got a second opinion), is no way to create a world class collection. Read Rene Lalique reference books, get as R. Lalique educated as you can, handle as much R. Lalique as you can, get independent R. Lalique advice, take care in your associations, avoid hucksters and fraudsters (they will always get the better of you), and exercise restraint and caution as you would in any financial dealings. If you do all this, you are likely to enjoy the results of your collecting efforts to a far greater degree, hopefully for a lifetime instead of a short time, than you will if you throw caution to the wind.
** The exchange rate of $1.58 on the day of the sale would not have been generally available to most buyers depending on the transaction size, method of payment, and to some degree the importance of the buyer with their financial intermediary. But for simplicity sake, we are using the Christies rate for all conversions in this article.
**** The 1936 Tresor de la Mer Perfume Presentation, made by Rene Lalique for Saks, is the highest selling Rene Lalique Perfume at auction in history, making over $200,000 in November 2006.
All Articles on These Topics: R Lalique Rene Lalique Auctions News and Results, R Lalique Vases and Rene Lalique Vases, Rene Lalique Paperweights - Lalique Paperweights, Rene Lalique Statues Figurines: R Lalique Statues