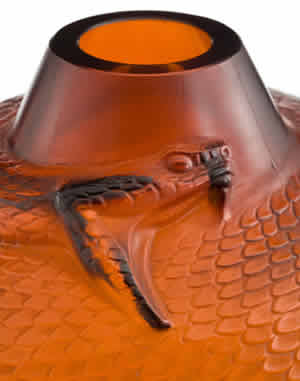 Rene Lalique Antiques made another great showing December 4th at Heritage Auctions in New York City at their sale of Lalique, Art Glass, and Perfume Bottles. Heritage offered 177 R. Lalique items in Session 2 of the 3 Session Sale***, and then 48 more R. Lalique pieces in an internet only bidding Session 3. All of the 177 lots in Session 2 were reported sold (which may not be correct, we thought there were half dozen no-sales from watching the auction but we could be wrong about that), and 45 of the 48 in the Internet only Session 3 were sold. Total R. Lalique sale offerings were 225, total reported sold were 222 for a reported take-up rate 98.6%.

Total sales dollars for the 222 lots were $869,906 or an average of $3918 per lot. Even if we are right about the small number of no-sales, the take-up rate would still be above 95%, and the lot average and sale total would not be materially affected.
High seller was the great looking Lalique Serpent Vase in rich amber glass selling as Lot No. 70334. An outstanding example of this increasingly hard to find model (a New York Lalique Dealer was overheard to say it was a "5" – "1. Best 2. One 3. I've 4. Ever 5. Seen"), it hammered town at $47,500 and totaled $56,762 including the 19.5% buyers premium. This is almost certainly a world record auction price for this model. Coincidentally, the Lalique Sale in New York last year for Heritage also saw a Rene Lalique Serpent Vase in amber glass as the high selling lot. Last year's offering made a hammer price of $40,000, and $47,800 all-in.
2nd high seller, and a bit of a surprise placement, was the Source De La Fontaine Statue Echo, which made an all-in $33,460 selling as Lot No. 70338. Note: In the Past Lalique Auctions Section at RLalique.com, you'll find R. Lalique past sales broken down into many categories. It's worth checking out!
After the Echo, next high seller was a dark amber Lalique Gros Scarabees Vase, that made $28,680 selling as Lot No. 70332.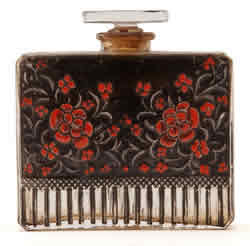 Two other lots topped $20,000, including the Red Poissons Vase at $23,900 and the great looking Lot 70171, the 1925 black and orange enameled Roditi & Sons Perfume bottle Raquel Meller making $20,315 all-in. This is one of the most striking and seldom seen of all Rene Lalique Perfume Bottles (the link will take you to the Rene Lalique Bio Perfume Bottle section where you will find links to all R. Lalique Perfume Bottle resources on RLalique.com).
Spots six and seven were taken up by a frosted Victoire Mascot and an Amber Perruches Vase, both making north of $19,000 all-in.
Another great sale, an amazing take-up rate, strong pricing and even a bit of world record pricing.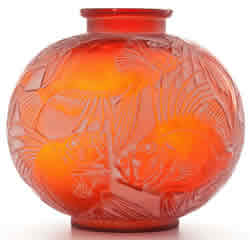 Is this sounding familiar or what?
*** Note: At least one lot of R. Lalique was a mixed lot with other items and is reported as an R. Lalique lot.
All Articles on These Topics: R Lalique Rene Lalique Auctions News and Results, R Lalique Vases and Rene Lalique Vases, Rene Lalique Perfume Bottles - R Lalique Perfumes, Rene Lalique Statues Figurines: R Lalique Statues