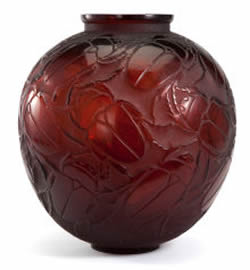 Today, December 1st, 2010, we set the record at RLalique.com for most auctions listed in the Worldwide R. Lalique Auctions Section of the website at one time, with 100 auctions listed coming up around the world that have R. Lalique in them! From Budapest to Boston, and from Melbourne to Manasquan (that's in New Jersey:), great R. Lalique works coming up for auction such as those pictured here! Global warming has nothing on RLalique.com. At World Headquarters we are HOT!
And, in the don't break your elbow while patting yourself on the back department (oh yea, we've got a department for that too), even more impressive, those auctions are spread around 14 countries! That's right 14, which is a new record for the number of countries listed at any one time.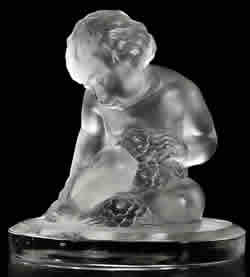 Here's the country list for inquiring minds:
Australia
Belgium
Canada
France
Germany
Great Britain
Hungary
Italy
New Zealand
Scotland
South Africa
Sweden
Switzerland
United States

We also set a record in the R. Lalique Police Department this month with 50 active listings on the Police Report Page at one time!
As our reach grows and the popularity of the site continues to grows, more and more information flows into World Headquarters and back out to benefit those of you that follow the site and are involved with the output of Rene Lalique.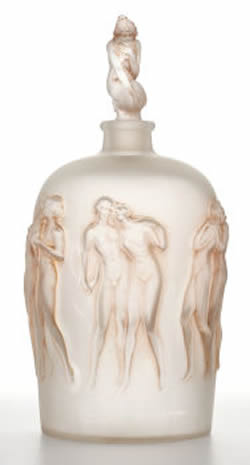 More bidders, more auction action for the works of the great Lalique, more exposure in the art world, more publicity, better prices: Everyone benefits!
And think about joining the growing list of Collectors and Enthusiasts of the great Lalique that help keep us informed, emailing in auction information, information on fakes news, pricing and results, even condition information if you think it's important. Pick any email address on the site if you think something will be helpful to the growing worldwide collector community and send it in. You'll be helping a lot of R. Lalique enthusiasts by getting involved, and you'll be helping yourself by contributing to the improvement of the collecting and enthusiasts' field which you have in common with a lot of people you know, and lot more that you don't.
R. Lalique is setting records. So are we. Spread the word.
All Articles on These Topics: R Lalique RLalique and Rene Lalique Blog, RLalique.com