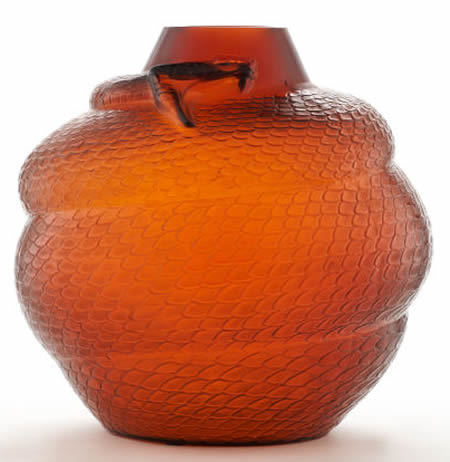 Rene Lalique Auction results were strong once again, this time at Heritage Auctions In New York City on November 10th.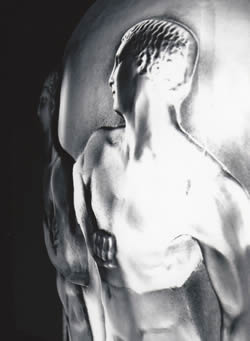 The Rene Lalique lots in the Heritage Sale (which also included some modern Lalique Crystal pieces) totaled 108 items, of which 90 sold, for a take-up rate of 83%. Total sales for R Lalique including the 19.5% buyer's premium were $487,410, making the average sold lot price $5,416. This total includes two lots of R Lalique and related books and other publications, which bring the average down slightly.
As is typical, the great Rene Lalique Vases led the way both for high prices and for total dollar sales. High seller by nearly a 50% margin over the 2nd place lot(s), was the stunning Rene Lalique Deco Vase Serpent in Amber Glass, which brought a premium inclusive price of $47,800.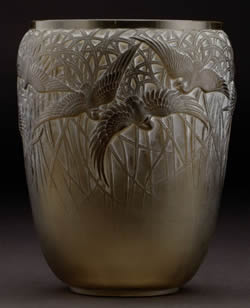 Four other vases tied for 2nd place at $31,070 all-in: Borromee in Blue Glass, the large Palestre Vase in clear and frosted glass covered with gray patina, and the deco black enameled vases Tourbillons and Oranges, both in clear and frosted glass. 6th place in the money department went to the Rene Lalique Car Mascot Victoire that made $26,290 including the premium.
Things dropped off a bit after that, with the next 5 high sellers making between $13,000 and $15,000 all-in. This group was a mixed bunch consisting of the vases Milan in Green Glass and Aigrettes in Olive Green Glass, the car mascot Longchamps A, the luminaire Tulipes (a lighted plaque on a metal stand), and the statue Grand Nue Longue Cheveux Socle Lierre (Grand Nue).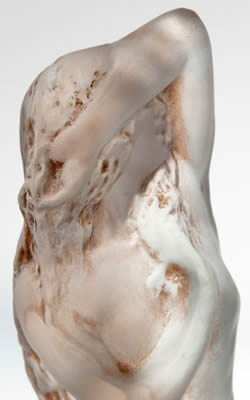 All told and all-in there were 12 lots above $10,000 accounting for $278,435 or about 56 percent of the total dollars for the 92 sold lots, with the 12th high seller being Lot No. 1, the rare Lezards Perfume bottle, which made $11,950.
The sale total for Rene Lalique at this Heritage Sale would place this auction third in the year 2009 for total R Lalique sales at a single auction. First place goes to the Lalique Jewelry (and Lalique Chalice) sold at Christies New York on October 21st where just six lots made about $1,778,000. Second place would be the November 11th Lalique Auction at Christies South Kensington in London where 120 lots (of which 11 did not sell) made a sale total for R Lalique of about $750,000.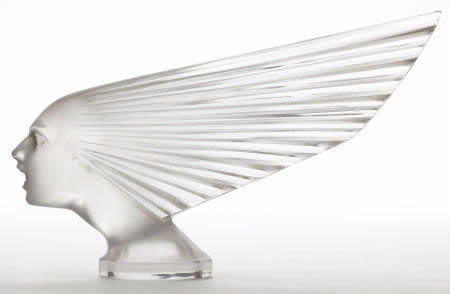 All-in-all a great result and another in a long string of strong Rene Lalique Auction results showing the depth of popularity for the works of Rene Lalique as they continue to perform well worldwide at auction.
All Articles on These Topics: R Lalique Rene Lalique Auctions News and Results, R Lalique Vases and Rene Lalique Vases, Rene Lalique Car Mascots and R Lalique Car Mascots, Rene Lalique Statues Figurines: R Lalique Statues