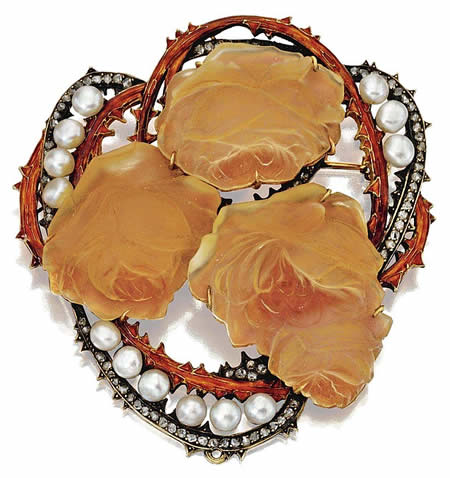 Rene Lalique Jewelry continued its trend of strong auction sales prices yesterday in the November 9, 2009 Magnificent Jewels Sale at Sothebys New York. The wonderful Lalique Roses Brooch made from diamonds, pearls, glass, and enamel, and which has graced the home page of RLalique.com for the last several weeks, sold as Lot 88 for $86,500 all-in against a pre-sale estimate of $20,000 to $30,000! This continues the estimate crushing trend of auction prices garnered by unique Rene Lalique jewelry and other unique works created in the late 19th Century and early in the 20th Century.
Further details concerning this jewel of a brooch can be found in the RLalique.com Rene Lalique Auction Results page for the brooch, or by first going to the Lalique Auctions Past section of the website. Additionally, Rene Lalique Jewelry will take you to all articles in the RLalique.com News and Blog which relate to the unique jewelry creations of Rene Lalique, and Rene Lalique Biography will get you detailed information about the rise of Rene Lalique in the late 1800's to become the world's most celebrated jeweler.

Finally, you'll find in our Rene Lalique Auctions Section that more unique jewellery of Rene Lalique, including the wonderful gold and enamel figural brooch pictured here, is on tap for late January in the UK.
All Articles on These Topics: R Lalique Rene Lalique Auctions News and Results, Rene Lalique Jewelry and R Lalique Jewelry