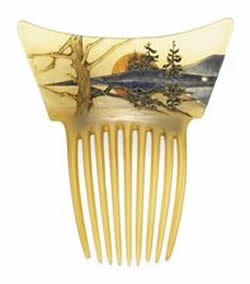 The Rene Lalique Jewelry at Christies New York on October 21st consisted of five lots of jewelry, (including the great hair comb shown here) and the Lalique Religious Chalice we discussed in an earlier report. All unique and original works of Rene Lalique, with mid-range estimates averaging nearly $250,000 for the six great pieces!
All six sold at the auction, for a total including premium of $1,778,750 or just a hair (comb) under an average price of $300,000!
Speaking of hair combs, the great looking Rene Lalique Hair Comb described as "Art Nouveau Horn and Enamel" was first on the auction block. Against an estimate of $18,000 to $20,000, it made a premium inclusive estimate crushing $92,500! This writer does not have enough hair to even need a comb, else the bidding likely would have continued even past that point 🙂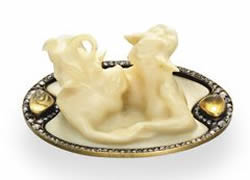 Second up was the Rene Lalique Brooch featuring "two carved ivory bathers" in high relief". The brooch made roughly double it's $20,000 to $30,000 estimate, finding a home at a premium inclusive $56,250 total price.
As things would have it, these great Lalique pieces were just the appetizer, as the main course, high seller of the Rene Lalique pieces, and the piece that has graced the home page here at RLalique.com for the last several weeks, was next to sell.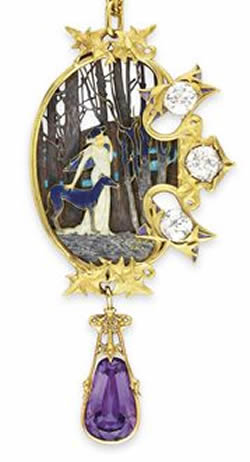 It was " AN ART NOUVEAU MULTI-GEM AND ENAMEL PENDANT NECKLACE, BY RENE LALIQUE The openwork oval-shaped enamel pendant, depicting Sarah Bernhardt as Mélissande in La Princesse Lointaine, walking through the woods with her dog, within a sculpted 18k gold leaf frame, set along one side with three old European-cut diamonds, suspending a drop-shaped amethyst, within a sculpted gold surround, to the gold fine link neckchain, mounted in 18k gold, circa 1898, 24 ins., with French assay mark, in a Lalique green leather fitted case".
Quite a pendant it was; a tour de force of the techniques, talent and subject matter of Rene Lalique. To further entice buyers, it sold with a book that had some relevance to the entire story of Rene Lalique. The book was described as follows: " … accompanied by a beige leather-bound copy of the script of La Princesse Lointaine, a gift to Sarah Bernhardt from Edmond Rostand, the front decorated with a gold and silver-topped gold lily stalk, the blossoms set with rose-cut diamonds and cabochon citrines, the sculpted gold foliate clasp set with garnets, peridots, tourmalines and amethyst, mounted in gold, 1895, 5½ x 8 ins., in an Edmond Rostand black leather case Pendant signed Lalique for René Lalique, script signed by Edmond Rostand."
Sarah Benrhardt, Rene Lalique, Edmond Rostand, Paris 1895, art, art nouveau, jewelry, theatre; it was enough to entice any aficionado of the period and the subject. The pendant was the high seller of the Lalique pieces, outselling even the boxed suite to come, and making a premium inclusive total price of $554,500 against a spot-on estimate of $400,000 to $600,000.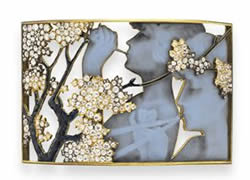 The fourth Lalique lot to appear was a dog collar: "AN ART NOUVEAU ENAMEL AND DIAMOND DOG COLLAR, BY RENE LALIQUE Designed as a rectangular openwork panel depicting two light blue enamel revelers playing their pipes, with dark blue enamel tree branches and old mine and rose-cut diamond leaves, mounted in 18k gold, circa 1900". Now who's dog wouldn't need a collar like this for those special occasions. Seriously, every dog has it's day, and so apparently does every dog collar! This collar made $446,500 against a wide but conservative pre-sale estimate of $150,000 to $250,000.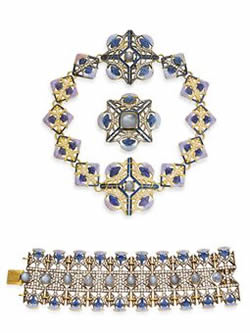 Number five on the R Lalique list, was the set of jewelry described as follows: "A SUITE OF ART NOUVEAU DIAMOND, STAR SAPPHIRE AND ENAMEL "THISTLE" JEWELRY, BY RENE LALIQUE Comprising a necklace, designed as a latticework of dark blue, lavender and pink textured enamel thistle motifs, enhanced by single and rose-cut diamond leaves and thorns, with geometric dark blue enamel detail, the center plaque and clasp set with an oval star sapphire; a bracelet and brooch en suite, mounted in 18k gold, circa 1900, necklace 14¾ ins., bracelet 6½ ins., with French assay marks and maker's marks, (necklace may also be worn as two bracelets, 7¼ ins. each), in a R. Lalique blue leather fitted case". What a great lot: an original set of matched jewelry from the great Rene Lalique! Against an estimate of $400,000 to $600,000, it sold for $482,500 including premium. A "sweet" set of jewelry it was!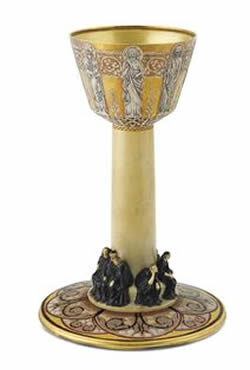 Last but not least of the works of Lalique was the great Rene Lalique Religious Chalice we previously wrote about: "AN ART NOUVEAU IVORY, GOLD AND ENAMEL CHALICE, BY RENE LALIQUE The white, brown and beige enamel and gold base, depicting scrolling vines and leaves, extending an ivory stem, the base set with nine seated sculpted ivory worshipers in painted black robes, to the gold cup decorated with a series of eight white enamel Apostles, with white enamel ferns and scrolling vine detail, circa 1903-1905, 12½ x 8¼ ins., in a Lalique black leather fitted case". The chalice, having a much narrower appeal than the typical jewelry items, was the only one of the six items failing (barely) to make the low estimate, yet selling for a great price of $146,500 against the estimated $150,000 to $250,000.
See more Rene Lalique Religion related items, or more Rene Lalique Jewelry sales.
A jewel of a sale for the "inventor of modern jewelry", whose great unique artwork in all mediums from glass to jewelry are in high demand over 100 years after their creation. You can read more about Lalique at our Rene Lalique Biography page, and of course, you will find many fabulously illustrated jewelry reference items including a great Rene Lalique Hair Comb Exhibition Book in our library section on Rene Lalique Books & Catalogues From Modern Exhibitions.
All Articles on These Topics: R Lalique Rene Lalique Auctions News and Results, Rene Lalique Combs and R Lalique Hair Combs, Rene Lalique Jewelry and R Lalique Jewelry